10 Best Travel Wallets & Passport Holders reviewed & compared
Misplacing your passport is one of the worst experiences you can have on any trip.
Agreed?
This is why the travel wallet is one of the most important travel accessories out there. One simple browse through the internet and you will be bombarded with thousands of options to choose from.
Whether your priority is looks, functionality, durability, or a mixture of all the above, we've got you covered. We've rounded up everything from simple solutions like basic passport holders to wallets that can hold the entire family's documents in one place.
Vacations are meant to be stress-free; instead of worrying about your passport or fumbling around in your carry-on for your hotel reservations or IDs, why not pick one of the best travel wallets that give you some peace of mind?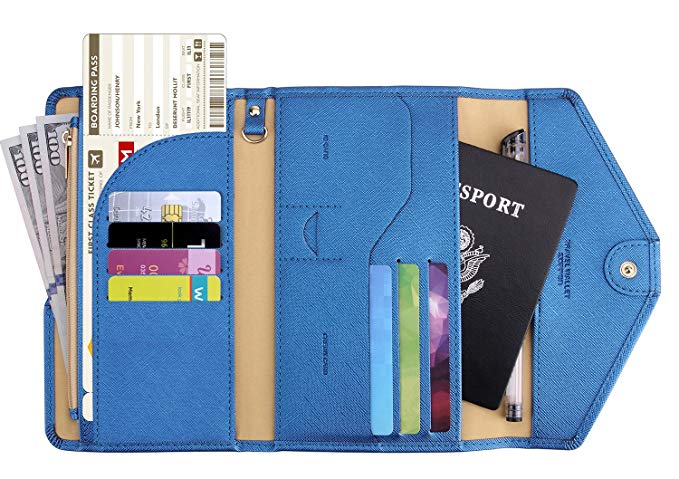 1. Zoppen RFID Blocking Travel Wallet
skip to full review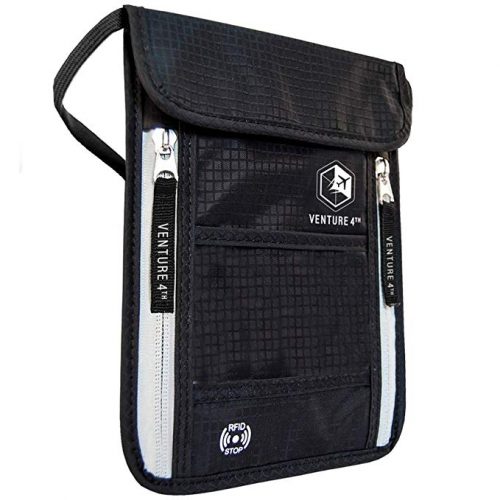 2. Venture 4th - Passport Holder / Neck Wallet
skip to full review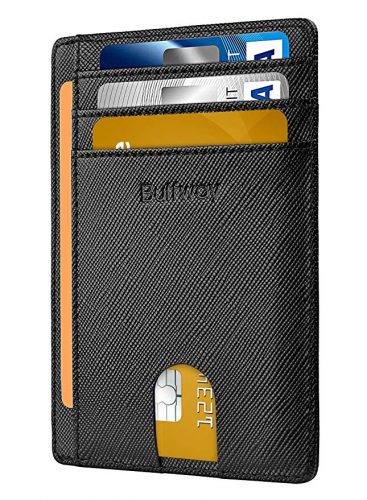 3. Buffway Slim Front Pocket Wallet
skip to full review
10 Best Travel Wallets in 2020
We've tried to pick passport wallets suitable for everyone from solo travelers to families.
How to choose the best travel wallet for your needs
Based on you or your family's needs, you can either opt for a passport holder, a simple neck wallet, or another type. You also have to consider what price range works for you in this process. No matter what you're looking for, there are several important factors that everyone needs to consider when buying a travel wallet.
Material / Durability:
Obviously, material greatly determines a travel wallet's durability. Leather has its advantages over other long-lasting materials in terms of looks. Nylon options are usually waterproof, which makes them super useful. Considering your wallet will hold your important documents and money, a waterproof or even water-resistant option was something we highly valued on our list.
With money belts, the surface material doesn't matter so much, but with neck & clutch wallets, it's very important. Look for neck or clutch travel wallets that have a soft lining so that it doesn't give you a rash and is easy to grip.

The main thing we looked for is how the wallet fares over time. In the image above, you can see fraying on the edges. This damages both the wallet's aesthetic appeal and function. Models like the Tumi, although they're more expensive, exhibited a lot less of this and rank quite high on our list. While the rugged look is appealing to some, we made sure we chose models that don't display wear and tear so they can be used for a long time.
Even if you do opt for a non-leather option, the stitching needs to be consistently good. Our top picks really reflect that. However, if leather is your preferred choice, then we recommend picking travel wallets that use 100% high-quality leather that handles wear well.
Size:
Naturally, this is quite subjective; we chose ones that we think have a good balance between size and utility. More pockets are better, but if you are unable to fit it comfortably in your backpack or purse, it's pretty much of no use. The Zoppen is one of the larger options we've decided to include anyway because of its excellent design.
Organizational features:
This aspect isn't always synonymous with size. Look for a passport wallet that can hold all your travel documents and still maintain a low profile. This where the ones like the ZeroGrid, Buffway all excel. In the instance you don't travel very often (which can apply to many people) your wallet should be okay for everyday use. Little features like clear ID card sections, space for phones go a long way. The different compartments in these travel wallets need to be easily accessible. There is no point having compartments if you cant readily access them.
Security:
The benefits of having RFID blocking have been rigorously debated over the years, and the consensus is that RFID theft is generally negligible. Nonetheless, if you want to be ultra-safe, there plenty on the list to choose from.
If the travel wallet of your choosing has a wrist, belt or neck strap, it has to be made of either super tough fabric or anti-theft material. This significantly reduces the chances that someone can cut it and run. The levels of protection offered by RFID blocking travel wallets can vary. The more expensive ones do tend to do a better job.
Looks:
If you're a frequent traveler, you probably want a stylish travel wallet that resonates with your personality. Leather can look a tad dull to some folks. We've generally gone for utility over fashion on our list, but still it's definitely something worth considering in your search.

Travel Wallet Comparison
FAQ
Q: Is RFID technology necessary?
A: Again, this is subjective. If you utilize RFID cards then its a handy feature to have. Many cards actually don't use RFID technology anyway so you are safe by default. Its certainly not a necessity but most top products offer some level of protection anyway.
Q: My travel wallet doesn't have RFID protection. Is there a way to still protect my cards?
A: You can wrap your cards in sheets of aluminum foil or buy separate RFID card sleeves. You will get some level of protection but its not a foolproof solution.
Q: What should you not carry in your travel wallets?
A: All your important documents & cash. Despite the secure feeling, you get its always better to split & keep some of your cash hidden anyway in your luggage or carry on. Putting it all together can be quite risky. Also, when heading through airports it's better to keep things like earphones in your hands or in your backpack as you might have to remove them for security checks anyway.
Bottom Line
There are a considerable number of similar travel wallets on the market today. Each of the top options has its own distinct positive traits that work well in certain scenarios. If you're after one that can double up for everyday use, has great construction, and contains plenty of pockets, go with the Travelambo. If having a wallet around your neck is your style, then the Yomo is ideal for you. Neck wallets are also generally considered to be the safest option since you can't easily lose them. We hope our list makes your choices clearer. If you think another model belongs in our ultimate guide, let us know!
Sources:
https://www.wikihow.com/Keep-RFID-Credit-Cards-Safe
http://legalshred.com/aluminum-foil-identity-protection/