10 Best Travel Wallets & Passport Holders reviewed & compared
Misplacing your passport is one of the worst experiences you can have.
Agreed?
This is why the travel wallet is one of the most important travel accessories out there. One simple browse through the internet and you will be bombarded with thousands of options to choose from.
Whether your priority is looks, functionality, durability, or a mixture of all the above, we've got you covered. We've rounded up everything from simple solutions like basic passport holders to wallets that can hold the entire family's documents in one place.
Vacations are meant to be stress-free; instead of worrying about your passport or fumbling around in your carry-on for your hotel reservations or IDs, why not pick one of the best travel wallets that gives you some peace of mind?
Our 10 best travel wallet picks
Every traveler from the frequent flyer to the occasional backpacker can find a great passport holder or wallet on the list below.

Key Features
RFID blocking
Available in 7 different colors
Several practical slots for essentials
Excellent quality
This gorgeous and stylish accessory is the perfect women's travel wallet. It comes in seven different colors including black, blue, brown, green, pink, purple, red, and yellow. It is super practical with space for your passport, ID, tickets, cash, credit cards, and any other documents you may need to bring. This piece boasts RFID blocking so that you don't have to worry about anyone stealing your information. There are several pockets, including a zippered pocket, flap pocket, and a larger-sized one. Many users have said that all these pockets make organization a cinch! The only downside to this wallet is that there isn't a ton of space for phones and other accessories, so you would have to pick and choose which items to take or find a different place to store them.

Key Features:
Available in 5 colors
Quite large – can fit your phone and more easily
RFID blocking + bonus sleeves (optional)
Breathable material
Water-resistant
If you are looking for the perfect neck wallet, this model by Venture 4th could be the one for you. First up, coming in at 5.5 x 8 inches, it's a medium to large-sized neck wallet. You can store pretty much all your essential documents, keys, phone, etc. with considerable ease. Comfort is usually the main issue when dealing with neck wallets, and the Venture 4th is pretty good in that regard, as mentioned by numerous users.
The strap is thick enough not to break and thin enough not to be a burden. Another pro for us is the transparent ID section. This is pretty handy when you are out partying or heading to a theme park; it can save you the trouble of removing your ID every time. Yes, this is designed as a passport holder for travelers, but you can use it daily too. The size is perfect for storing things like movie tickets, cash, etc.

Key Features:
RFID blocking
Water-resistant
Nylon fabric
Available in 5 colors
Plenty of sections
This nylon travel wallet is the perfect accessory for seasoned travelers. It is made of high-quality material and features a passport pocket, many slots for credit cards and IDs, a phone pouch, and money-holder compartment as well. We also liked the fact that it is water-resistant, which makes it great for protecting your belongings. The only negative thing that buyers could find about it was that the travel wallet doesn't fit in pant pockets very comfortably. It definitely is slightly on the longer side and even your boarding pass will fit inside. Overall, this is a pretty good choice for someone looking for a wallet to keep inside another bag. The wrist strap is also handy.

Key Features:
High-quality imported leather
Well-made & durable
Aesthetically very simple
RFID ID security
10 card slots
A bit pricey
No wallet list is complete without a Tumi, and the Nassau Travel Organizer would be our pick for Tumi lovers and travelers alike. Unlike the Alpha accessories multi-window card case, this one does hold currency and has a whopping ten card slots. The Nassau Travel Organizer is certainly built to last, and unlike cheaper alternatives, it doesn't fray at the edges easily and maintains its appearance for much longer. There is also an ID slot for easy access, and this travel wallet is also available in two colors.

Key Features:
Compact pouch design
Made with RFID-blocking material
Zippered pocket
Three inner compartments
Attaches to belt
If you're looking for a cheaper option, you could always go for this minimalistic pouch. This is a great men's travel wallet because you can easily attach it to your belt with its two belt loops. The zippered pocket comes with three inner compartments to keep your cash, receipts, and documents safe. The pouch is made with RFID-blocking material so that you stay protected (although some users have said that it doesn't work as reliably as other RFID wallets). But, reviewers do say that it fits comfortably under your pants, making it the perfect option for big city travel.

Key Features:
Slim design
RFID blocking
Available in 7 colors
I find the Travelambo fantastic. They fit perfectly in your front pocket so you can keep your money, ID, and credit cards safe. This is a great wallet to use when you get to a destination because they are safer than carrying around a wallet in your back pocket or purse that doesn't zip. They are just the right size to carry your essentials. Some users noted that you can't carry a ton of cards in this wallet, although that's what it is designed for.  But, because it is made with genuine leather, you can expect there to be a bit of give over time, which will ultimately allow you to fit more inside.

Key Features:
Electromagnetic opaque shielding material
Durable
Comes with a lifetime warranty
Tarriss's customer service is really good
This large travel wallet is perfect for both men and women. It's not the most stylish one in the world, but this classic design will hold everything you need for your trip. You can fit your passport, boarding pass, credit cards, money, and more inside this travel document holder. It also has side pockets that you could use for your phone or other easy-access items. Customers hardly had any trouble with this wallet's breathability or durability, so this wallet would work great for people who travel frequently. Some users did have issues with it not being rigid enough. Other than that, people seem to enjoy the simplistic style of the wallet.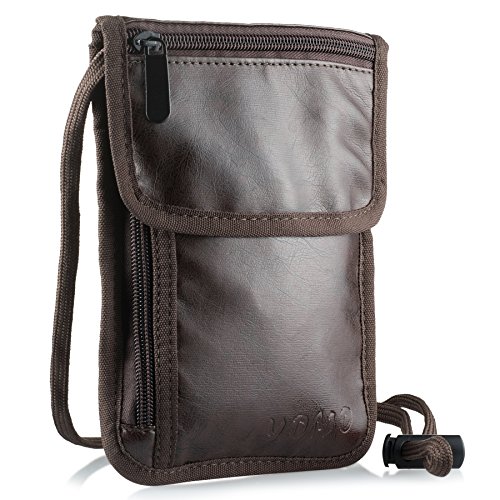 Key Features:
Available in 1 color and 7 non-leather color variants
5 pockets
Can hold cell phones, including all iPhones
Zipper closure
Vegan leather
YOMO's 2018 rendition of the classic neck wallet made from vegan leather is another one of our favorites. It can easily hold your passport, cell phone, cards, cash, keys, etc. It features lab-tested RFID protection and is quite aesthetically appealing. It's also 100% waterproof thanks to the vegan leather used. Vegan leather is essentially synthetic leather, which means it's usually made from PVC and polyurethane. The lining and the string around your neck are always contentious points that separate good neck wallets from the best. YOMO uses a super soft lining so the string won't irritate your skin. The wallet is very well-built and will last you a long time, despite the fact that vegan leather is usually not as durable as real leather.

Key Features:
Available in 6 colors
RFID protection
Slim and durable
Inexpensive
Sometimes, you just want something that's slim, simple, and functional. This awesome travel wallet ticks all these boxes. It might not hold a phone or a pen, but your passport, credit cards, coins, and money fit easily. It's slim to the point where you can almost call it a passport cover with a few sections. Needless to say, you can also use this every day when not traveling. It's quite handy in scenarios where you need to step out and do some shopping but don't want to take your entire bag and/or leave your documents behind in your hotel room. The build quality is sort of a trade-off for the price, since interiors are not very sturdy. Many users also initially reported a strong chemical smell.

Key Features:
Suitable for groups and families
User-friendly
RFID-blocking liner
Spacious design
For those of you who travel with kids, a travel document holder that can hold everyone's passports and boarding passes is a great investment. This one can fit up to four passports (although many customers noted that it is a bit hard to get that fourth passport in), boarding passes, credit cards, cash, coins, and keys. It even comes with a detachable strap if you'd prefer to wear it around your neck or shoulder while in the airport. People really love it because of how spacious it is and its high-quality design.
How to choose the best travel wallet for your needs
Based on you or your family's needs, you can either opt for a passport holder, a simple neck wallet, or another type. You also have to consider what price range works for you in this process. No matter what you're looking for, there are several important factors that everyone needs to consider when making a purchase like this.
Material / Durability:
Obviously, material greatly determines a wallet's durability. Leather has its advantages over other long-lasting materials in terms of looks. Nylon options are usually waterproof, which makes them super useful. Considering your wallet will hold your important documents and money, a waterproof or even water-resistant option was something we highly valued on our list.
With pocket or belt wallet options, the surface material doesn't matter so much, but with neck & clutch wallets, it's very important. Look for neck or clutch wallets that have a soft lining so that it doesn't give you a rash and is easy to grip.

The main thing we looked for is how the wallet fares over time. In the image above, you can see fraying on the edges. This damages both the wallet's aesthetic appeal and function. Models like the Tumi, although they're more expensive, exhibited a lot less of this and rank quite high on our list. While the rugged look is appealing to some, we made sure we chose models that don't display wear and tear so they can be used for a long time.
Even if you do opt for a non-leather option, the stitching needs to be consistently good. Our top picks really reflect that. However, if leather is your preferred choice, then we recommend picking options that use 100% high-quality leather that handles wear well.
Size:
Naturally, this is quite subjective; we chose ones that we think have a good balance between size and utility. More pockets are better, but if you are unable to fit it comfortably in your backpack or purse, it's pretty much of no use. The Zoppen is one of the larger options we've decided to include anyway because of its excellent design.
Security: 
The benefits of having RFID blocking have been rigorously debated over the years, and the consensus is that RFID theft is generally negligible. Nonetheless, if you want to be ultra-safe, there plenty on the list to choose from.
If the wallet of your choosing has a wrist, belt or neck strap, it has to be made of either super tough fabric or anti-theft material. This significantly reduces the chances that someone can cut it and run.
Looks:
If you're a frequent traveler, you probably want a stylish wallet that resonates with your personality. Leather can look a tad dull to some folks. We've generally gone for utility over fashion on our list, but still it's definitely something worth considering in your search.

Travel Wallet Comparison
Bottom Line
There are a considerable number of similar travel wallets on the market today. Each of the top options has its own distinct positive traits that makes it work well in certain scenarios. If you're after one that can double up for everyday use, has great construction, and contains plenty of pockets, go with the Travelambo. If having a wallet around your neck is your style, then the Yomo is ideal for you. Neck wallets are also generally considered to be the safest option since you can't easily lose them. We hope our list makes your choices clearer. If you think another model belongs here, let us know!
Win the gear we test
Every month we receive a lot of gear from major travel brands for testing. Instead of letting these go to waste or selling it, we would like to give it away to our subscribers.
Your email is kept safe, you will receive no spam from us.