10 Best Rain Ponchos in 2020 reviewed
We all know that rain ponchos will never feature in Milan's Fashion Week, but let's be honest, nobody looks good in a downpour and nobody likes arriving at their next destination dripping wet, only to find that every last piece of underwear inside your backpack has turned into a soggy lump.
So, we might as well be practical about this. While rain ponchos may not be flattering, they are still a valuable addition to your day bag.
Generally speaking, they're much lighter than a rain jacket, pack up smaller, cover both you and your gear, and they've come a long way from the overpriced bin bags which our mothers forced us to wear on water rides at amusement parks.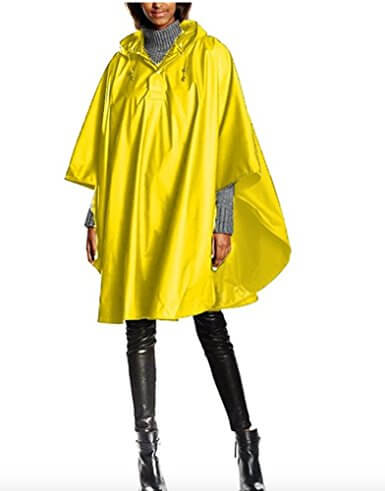 1. Charles River Apparel
skip to full review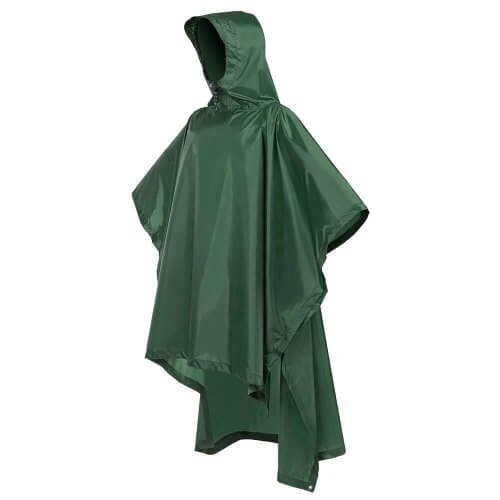 2. Terra Hiker
skip to full review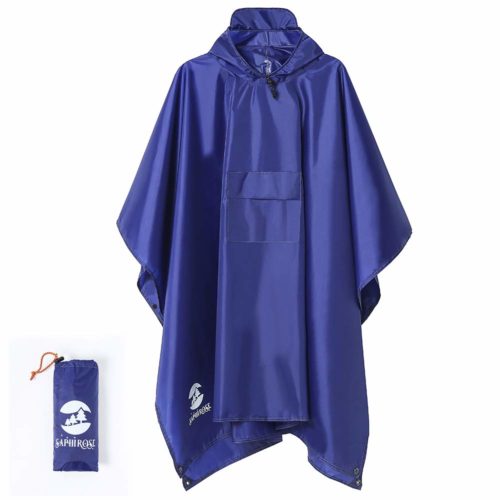 3. SaphiRose Hooded Rain Poncho
skip to full review
Sort for:
10 Best Rain Ponchos
Nowadays, there are actually quite a few options to choose from but don't panic because we've done the research for you and put together a list of the top rain ponchos in the market.
What's the difference between a rain poncho and a rain jacket?
Rain ponchos have a longer and looser fit, covering the head to the mid-thighs or knees, whereas raincoats usually fit the body and finish at the hips so there's no extra space for a backpack and no protection for your legs. Another key difference is that a rain poncho has a simpler design and fewer seams which means there's less opportunity for water to leak through. The fabric is normally a single layer of light-weight plastic which is extremely waterproof and windproof compared to a standard rain jacket which is much heavier due to the fabric and inner lining.
The advantage of a raincoat over a rain poncho is that it provides better protection from rain during crosswinds, it's less prone to snagging on low lying branches and brambles and the close fit provides far better insulation.
Another difference worth mentioning is that a rain poncho is essentially a piece of tarp with a hood and a few seams which makes it fairly versatile. While a raincoat can only be used as a coat, a rain poncho can double as a tent, ground or even a blanket.

Things to consider when choosing the best rain ponchos
Which Style should I Choose?
You would be forgiven for thinking that, when it comes to rain ponchos, one size fits all also applies to the shape of the poncho when actually, there are a few more options than the usual 'tent' fit. The classic poncho will be long, covering the upper body and down to the knees with proper sleeves so it fits on over your head. Most modern ponchos will snap closed at the sides creating a looser fit and more ventilation.
Q: I am over 6ft tall, will any of these ponchos be long enough for me?
A. The ponchos listed on this page will certainly cover your upper body and thighs but for people over 6ft ponchos like the Charles River Apparel Pacific Poncho and Linenlux will probably not reach to the knees. Instead, the military-style rain ponchos by JTENG, Snugpack, and Terra Hiker would be a better fit.
Q: Do rain ponchos catch fire?
A: Yes, this is definitely one to be wary of. Storing ponchos in high temperatures or exposing them to fire can definitely damage the poncho. It's better to keep a safe distance when near backpacking stoves, campfires etc.
For Hikers, the first important factor to consider is if the rain poncho will be large enough to cover most of your body, as well as your pack, without too much extra material which can catch on branches and brambles. Next is the durability and, of course, the level of waterproofing. You might also look for a poncho with reinforced eyelets in the hem which are useful for turning it into a rain or sun shelter. The more multifunctional your poncho is the more useful it will be for extreme outdoor sports.
Meanwhile, cyclists will want to consider a poncho which is shorter, a closer fit, to avoid extra fabric flapping in the wind. Elasticated sleeves are important to keep the rain out as you'll be moving at a faster speed and a large adjustable hood which will fit over a helmet without falling down.
Backpackers and travelers may not need a heavy duty rain poncho like hikers would so a light-weight poncho might be better. As you'll likely be using it within cities you'll probably also opt for a more stylish poncho like the Linenlux or Totes Unisex Rain Poncho.
Finally, if you're only looking for a poncho to get you to and from the office in the London rain or something to take to an amusement park then you'll want something light-weight, compact and, probably, the cheaper the better.
Q: Are all the above unisex ? Or are there specific rain ponchos for men/women?
A. All of our top 10 rain ponchos are unisex items, suitable for both men and women. Some of our choices come in a range of colors and designs, some of which may not appeal to both genders but you'll have the option to choose your preferred style. They are also a standard'"one-size-fits-all" and will, therefore, fit most people.
Q: How are these different from the ones that are sold in dollar stores?
A: Well, the reusable ponchos are made from good quality polyester or vinyl so they won't feel cheap and nasty like the ones from the dollar store. That said, they are still essentially made of plastic so when the product is first opened it will probably smell a little unpleasant. Letting it air out for a day should take away the plastic smell.
Waterproofing
Obviously, all rain ponchos are designed to be waterproof and made of waterproof material, usually, vinyl or polyester both of which are highly water resistant and light-weight. Heavy duty ponchos will undoubtedly withstand heavy rain for longer but other things to look out for are:
Drawstring hoods – The hood section is where rain is most likely to enter from as it's the largest opening. Make sure that the poncho you choose has an adjustable hood so you can pull it tight around your face.

Snaps and zips are also handy and the poncho will be more breathable but also have a greater chance of leaking rain compared to ponchos with sleeves which are closed at the sides.
As a general rule, all ponchos will have taped or welded seams which prevent water from entering and you can also check the manufacturer's description for the waterproof rating.
Q: Would they withstand waterfalls?
A: If you're standing alongside the falls or nearby then yes, they should have no problem keeping you dry. If you want to go through the falls then we recommend a dry suit and an inflatable boat instead! On that note, we'd like to point out that even the top waterproof rain ponchos have their limits and in certain situations, a proper raincoat would be more appropriate.
Weight
Weight is a very important factor when choosing your poncho because, ultimately, you're going to have to carry it all the time that you're not wearing it. Most reusable rain ponchos will weigh between 250 grams and 500 grams depending on their size and the fabric they are made from. So, although the JTENG Rain Poncho has all the right features for outdoors and extreme sports, it is also the heaviest item on our list.
We've made sure that our list includes only the most practical rain ponchos and excluded any overly-heavy products. The extra weight might be worthwhile for what you get, however, if you just want something to store inside your day bag in case of emergency then a poncho which is around 250-300 grams would be a better option. If your biggest priority is keeping the weight down, then you can't beat a disposable poncho which typically won't weigh more than 100 grams.
Q: Would the poncho cover a person plus a wheelchair?
A: Most of the ponchos listed on this page will be large enough to cover a wheelchair with the exception of Live Better Outdoors disposable poncho, Opret Poncho and the Snugpack Patrol Poncho which have closed sides and a narrower fit.
Useful Features for Hikers
The best rain ponchos for hikers are longer in length and usually have extra space at the back, like the Snugpack Patrol Poncho, to accommodate a large backpack. We recommend a poncho which is closed at the sides for hikes in heavy rain or cooler conditions, and one with snaps for better ventilation in warmer climates.

The color is also worth considering; For example, a neon yellow poncho is likely to scare away any wildlife before you even get close. A military green or camouflage design would be a bit subtler.
You'll want to choose a poncho with a large drawstring hood, ideally one with an overhang which prevents rain from dripping onto your face. Some ponchos also have chest zippers which make it easier to pull on and off over the head but bear in mind that if the zip doesn't have a storm flap then this will just be another opening that water can seep in through.
Q: Does it provide some warmth?
A: Yes, due to the material used the ponchos are windproof and will, therefore, protect you from the worst of the cold. How much warmth they provide depends on the design of the poncho. One with sleeves and closed sides will be better for keeping your body heat in so you definitely won't want to wear a heavy jacket underneath. Ponchos with open sides are not as effective at keeping you warm.
Ripstop polyester is the best fabric in terms of durability, and, of course, the weight is very important too, because, unless you'll be replacing your tent with a rain poncho you'll want to choose one which weighs less than half a kilo.
Other useful features include eyelets and grommets which can be attached to tent pegs or walking poles to make a tarp tent for you or for your luggage, or as an extra fly sheet if you get caught out camping in a storm.
Q: Would the poncho cover me and my backpack?
A: Some of the ponchos on our top 10, such as the Terra Hiker Rain Poncho and the Snugpack Patrol Poncho, are specifically aimed at hikers and backpackers so you'll have no problem covering even the largest backpacks. Products on our list which are not aimed at hikers will be roomy enough to fit at least a day bag underneath.
Q: Does it come with a carry bag?
A: Yes, even our choice of disposable rain poncho comes with a convenient pouch for storing it. The reusable ponchos either pack away inside the front pocket (if it has a pocket) or they come with a light-weight fabric or mesh bag with either a drawstring or zip.
Reusable vs Disposable
We always recommend purchasing reusable products when possible, and not just because we're a bunch of environment loving tree-huggers. In the long term, a reusable rain poncho will save you money as disposables will quickly tear and need replacing after just a few uses. Reusable ponchos are made from a much stronger material and are therefore much more practical for outdoor sports like hiking.
So, what are the benefits of a disposable rain poncho? Well, they're much cheaper for starters, so if you only plan to use it once in a blue moon then you probably won't want to pay out for a reusable rain poncho. Also, for travelers with limited luggage, the size and weight of a disposable poncho will be more appealing, plus you can throw it away after which will save you even more space as well as the hassle of drying it.
Q: Do biodegradable rain ponchos exist/ work well?
A: Yes, there are a few companies that produce rain ponchos from materials other than plastic but these don't tend to be as good as their plastic/ polythene counterparts or can be a bit hard to obtain & can be purchased through inquiries from companies. (From what we know so far) The plastic that the rain ponchos are made of, take a very long time to degrade so please be mindful and try to purchase disposable ponchos as infrequently as possible.

Price
Obviously, you'll want to consider the price of the poncho and how that fits into your budget. Generally speaking, a reusable rain poncho will set you back between $15 and $35, while a multi-pack of disposable rain ponchos will cost you considerably less. Less heavy-duty ponchos, such as the one from Frogg Toggs are on the cheaper end of the scale, whereas durable ponchos such as the Charles River Apparel and the Snugpack Patrol Poncho are longer lasting but also carry a hefty price tag.