Best hiking socks 2019 Reviewed
Searching for the best hiking socks for all conditions? Let us guide you with our top picks regarding the best socks for hiking for women and men in 2019.
If you love trekking then you definitely will know the difference a quality pair of hiking socks makes as opposed to regular socks. Everything from comfort to warmth are provided to ensure you can hike through the toughest routes. The list we've compiled showcases some of our top picks in the market today. If you are looking for a pair that can stay with you whilst you hike through Patagonia or the Himalayas in Nepal then our picks can help. We've been backpacking, hiking and camping with these to really put them to the test. Top quality hiking socks are definitely on the pricier side but do offer amazing advantages. We've weighed all these options based on factors like: Comfort, Durability & Care, Insulation and Drying time.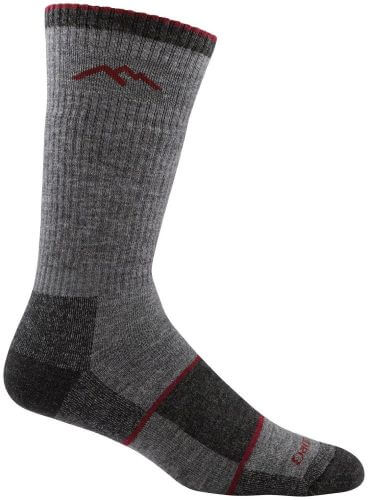 1. Darn Tough Men's Merino Wool Hiker Boot Sock
skip to full review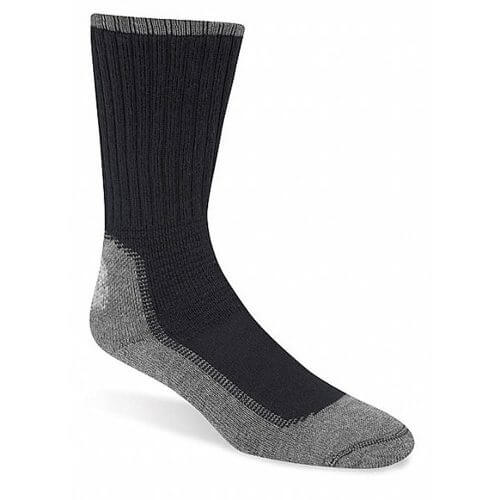 2. Wigwam Women's Hiking/Outdoor Pro Length Sock
skip to full review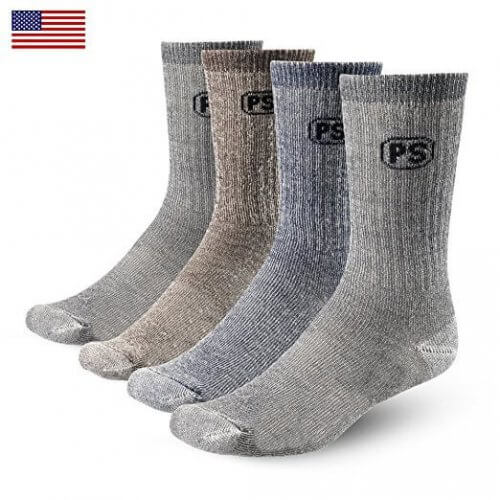 3. People Socks Unisex Crew Socks (4 Pairs)
skip to full review
6 Best Hiking Socks
Factors you need to consider when buying hiking socks – Buying Guide
Hiking Conditions
The type of socks you opt for greatly depends on the purpose. The best hiking socks for a particular scenario can vary greatly. The one commonality is the height of the sock you opt for. Crew socks are perfect since they sit about 6 or more inches above the heel. Basically look for one that is about 3-4 inches higher than the top of the boot so you are completely protected. If you are planning on undertaking some easy hikes then thinner socks like the Smartwool Ultra light will suffice. They will keep you warm and have marginally more cushioning than sock liners.
If the hike is of moderate difficulty then by all means opt for a mid-weight option. Look for a pair that has good insulation and padding so that high impact doesn't result in blisters or discomfort. We would recommend using the People socks and similar variants in these scenarios. Wearing them with liners will also help with wicking away sweat.
Supposing the itinerary includes conquering the toughest terrain and cold temperature for a long duration, opt for mountaineering socks. The Darn tough hiker boot or the mountaineering option will suit you extremely well in the most challenging of conditions. A point to remember is that these socks won't serve you well in warm conditions or if you are thinking of backpacking around the globe.
Material Used
Merino Wool is definitely the material of choice when it comes to hiking. Natural hiking conditions lay the foundation for what you would like your socks to do. Merino Wool has the ability to wick moisture away, regulate temperature so that you feel comfortable at all times and does not gain an odor quickly. This last property is important as most people who go camping or trekking would like to wear their socks again on the 2nd or 3rd day too.
Merino wool is extremely light as well compared to cotton so you are not weighed down additionally on your journey. Another property that merino wool boasts over cotton is that it can dry when it's wet which makes it ideal for these types of situations. Merino Wool is always less than 24 microns in diameter with the ultra-fine being just 11.5 microns in diameter. These ultra-fine fibres are commonly used when blending with silk and cashmere. Silk has good wicking properties and is often used in making sock liners.
Whilst having merino wool as part of the constitution having more is necessarily not better. Some options with about 60% merino wool as opposed to closer to 80% hold up very well in trekking conditions in the long run. Merino wool is not itchy at all unlike some other wool varieties.
Durability
The durability of the sock we found varies depending upon how we maintain them. Whilst Merino wool is very handy in these situations it needs to be washed carefully. A warm machine wash we found gives you the best results without damaging the socks in the long run. If you've been on a pretty messy trek then we recommend you turn the sock inside out when machine washing to get better results. Also avoiding drying these fabrics in a dryer will help preserve the quality. Some pairs like the Kirkland and smartwool tend to degrade quicker if tumble dried. From all the ones we tested the Darn Tough seemed to give the best results followed by the people socks.
Wicking & Drying Speed
One of the main causes of blisters on your skin is moisture. The skin friction is the worst when the skin is moist. Keeping it dry really helps. Wicking is basically the ability to absorb moisture through capillary action. An additional benefit is that it also helps delay the appearance of odor. Cotton options are extremely bad at this.  Drying speed is an important factor if you decide to go on an extended trip. We found that most of these have similar drying times varying between four to six hours on average.
Other factors
There are many different thicknesses on offer ultralight, midweight etc. For majority of seasons and places using a lightweight would be the best option we felt. We found that they are comfy to use in daily life as well. If you are trekking in tropical climate which is generally hotter, opt for an ultralight. These don't offer as much padding as the others but will definitely improve breath-ability. The common term mentioned frequently is 3 season hiking. The lightweight or even midweight coupled with a thin liner will get you the best possible results, in terms of breath-ability, warmth and padding.