10 Best Beach Coolers in 2020 reviewed
Summer is here so it's time to hit the beach, go for a hike, jump on a plane to La Costa Brava, or pack the car for a weekend camping trip. Whatever your preference, you'll need a good beach cooler filled with ice-cold foods and beverages to accompany you on your journey.
It doesn't matter if you choose to travel with family, friends or your next-door neighbor, or if you're simply heading to top up your tan because there are many coolers available to suit every type of traveler and every budget.
From compact collapsible coolers for tucking into your suitcase, multifunctional cooler sets, waterproof daysacks-style coolers for backpacking and water sports to heavy-duty hard-sided coolers for road trippers and wilderness explorers – our list aims to provide a suitable option for every type of traveler.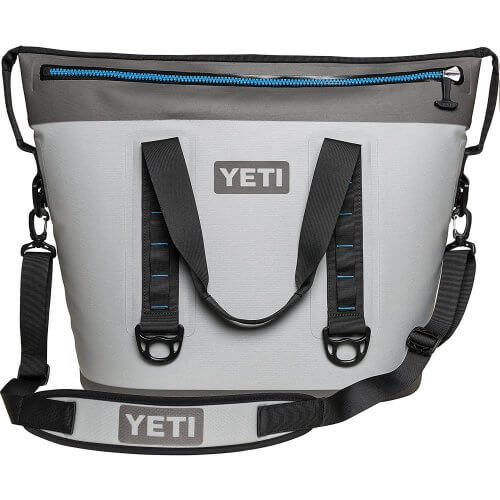 1. Yeti - Hopper 2
skip to full review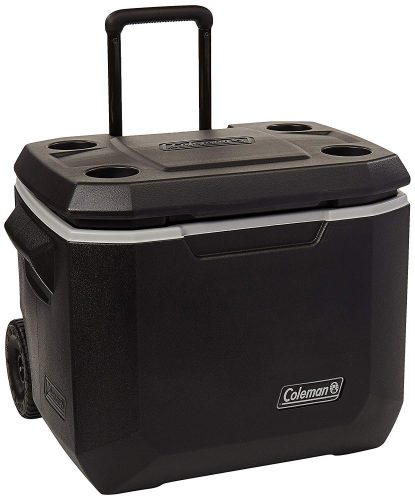 2. Coleman Wheeled Cooler
skip to full review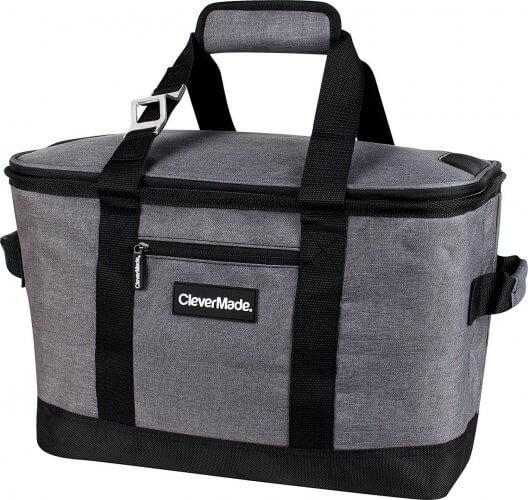 3. CleverMade- SnapBasket
skip to full review
Sort for:
10 Best Beach Coolers in 2020
Criteria We Used to Evaluate
Beach coolers are nothing new but there is certainly a lot of variety between each brand and model so it's important to look at the individual features that each cooler offers. The facets that we paid close attention to are:
Quality of Materials
Size and Weight
Price
Additional Features
Versatility is also important and we have discussed this aspect as well in a section below. However, we feel that this shouldn't be given priority over other, more functional factors, concerning beach coolers.
Quality of Materials
This is priority #1 as far as we are concerned because we expect the best beach coolers to be waterproof, durable and reasonably lightweight. We also want to know that the cooler will actually keep things cool for a decent amount of time. High-quality hard-sided coolers, like the Yeti Tundra 45, tend to have thick walls and feature insulation made from steel-based fabrics which are able to hold ice for over 24 hours. In soft-sided coolers, we look for brands which use aluminum-based fabrics for insulation which tend to be more flexible, lightweight, and pack up relatively small.
We also looked for features such as leakproof welded seams and rip-stop fabric which are both waterproof and highly durable. Likewise, the straps, handles, or rollers should be strong enough to carry the weight of the cooler when full, without straining the materials. We, therefore, look for hard-wearing materials such as military grade polyester rope, seatbelt webbing, padded shoulder straps, and large wheels which are suitable for rough terrain.
Size and Weight
Of course, you'll want to know how many cans and bottles you can take to the beach with you. To find out, we prefer to look at capacity before the product's dimensions. Any cooler can fit in a beach tent but this is a more practical way to measure its usefulness to you. Personal use coolers, such as the ICEMULE, are able to carry approximately 6-8 cans plus ice, where larger coolers designed for multi-day trips or groups can hold over 20 cans. Soft-sided coolers are often more popular for solo-use or for road trips, therefore, we look for coolers which are very portable and able to fit in the footwell of the car.
We also look at the weight of the cooler. If the cooler is designed to be carried on your back or shoulder then we expect it to be very light when empty. many of the coolers on our list have simple designs which weigh less than 2 pounds so they won't be adding much additional weight to your load.
Price
On our list, we've included beach coolers which will suit a range of budgets. Of course, we expect the price to reflect the quality and durability of each item. Higher priced coolers, such as the TWO Hopper and Tundra 45 by Yeti, come with guarantees and the promise of a reputable brand name. For these prices we also expect top of the range insulation materials and for the cooler to last for a considerable amount of time. We still expect budget range coolers, such as the Coleman Wheeled Cooler and the CleverMade SnapBasket to be functional, practical, and to keep food and drinks cool for the promised length of time, however, these products may have a less durable design and lower grade insulation compared to their premium competitors.
Additional Features
Most of the coolers on our list have additional features which make them useful in a variety of situations. Our hard-sided coolers feature molded cup-holders and built-in seats on the lids which can double as picnic tables for a comfortable day at the beach. Similarly, the collapsible cooler from Arctic Zone comes with an additional rolling cart which makes it more portable and practical for carrying heavy loads. We also like brands such as Yeti which have grip point attachments, for securing the cooler in place or attaching accessories, and tote coolers from OdyseaCo and Wildhorn which feature large compartments for carrying non-food items.

Other Factors to Consider
Hard Cooler Vs Soft Cooler
When it comes to choosing a soft or a harside-side beach cooler remember that both designs have their advantages and disadvantages. Usually, hard-sided coolers use better insulation meaning that the contents will stay colder for longer periods of time, of course, this also makes hard-side coolers heavier and considerably bulkier than soft side-coolers which tend to be more flexible and lighter. This means that they often pack away very small making them better for traveling or for occasional use. Of course, the insulation used in soft-sided coolers is usually thinner and most will only keep your cola cool for a few hours even if you keep it under a beach umbrella.
Versatility
If you are purchasing a beach cooler specifically for use at the beach then versatility is not so important. However, when you're traveling, backpacking or hiking with a beach cooler than a product with more than one purpose would be far more useful. For example, solo travellers might like the Aruba Beach Tote from OdyseaCo because it can double as a picnic bag or a city day bag, where day hikers would probably be better off with the One Savvy Girl Ultralight Backpacking Cooler which can also be used as a beach/camping chair and will conveniently carry all your drinks, lunch, and personal items.
FAQ
Q: Which is better, a beach tote bag with a cooler or a dedicated cooler?
A: Usually, a dedicated hard-side or soft-sided cooler is better at keeping drinks cold and holding ice for longer periods. Beach totes with built-in coolers, on the other hand, tend to work better with ice packs than actual ice and are better suited for short trips or when you will be walking a lot. Beach totes are designed to be carried on one shoulder so you don't want to be putting too much weight inside it. The advantage of beach totes is that they usually have separate compartments for towels, swimwear and so on, so you only need to carry one bag. This is more convenient if you're a solo traveler or a parent with your hands full of excited children.
Q: Are there any coolers that float or do all hard-side coolers float?
A: Some coolers, such as the ICEMULE are designed for water sports and will, therefore, float even when filled with drinks and ice. Premium hard-side coolers such as the Yeti Tundra are also able to float but not all hard-side coolers have this ability so it's best to check the manufacturers' details or do a trial run in your bathtub before tossing your cooler overboard.
Hard side coolers are generally stronger too. They can last for decades, be used as an extra seat, stood on, or even dropped without causing too much damage, whereas a soft side cooler is more prone to rips and abrasions and sitting or standing on a soft-side cooler would make an awful mess.
Q: Are coolers with speakers useful or not?
A: Although we haven't included any in our top 10, there are a variety of soft & hard-sided coolers with built-in speakers on the market. There is a range of duffle bags, backpacks, and classic box style coolers with or without rollers. Of course, there are some advantages to having an all-in-one entertainment and cooler system, as it takes less space in the car and is more convenient than carrying speakers and a cooler separately. Coolers with speakers generally operate with iPhones/iPod or Android devices too, so it will connect to almost any device. This is ideal for a group picnic or a beach party; however, the extra feature is likely to make the cooler heavier and considerably more expensive. You'll also need to think about the practicality of charging the battery on a longer trip.
Q: Can you convert a non-wheeled cooler by adding wheels?
A: As a matter of fact – yes, yes you can. Amazon has a great selection of wheel kits which can easily be adjusted and fitted to your existing coolers. The kits are equipped with straps and additional hardware so they can be attached to a cooler without much trouble. This is a great option if you already have a standard cooler and want to upgrade to a wheeled one – without splurging on a brand new one.
Q: What are the advantages of having a wheeled beach cooler?
A: While most wheeled coolers offer pretty much the same features as the regular ones ( built-in cup holders, adjustable handles and leak-proof fabrics), they also provide the benefit of easy transport and maneuverability. This is especially important for heavy-duty coolers with huge capacities, seeing how carrying a case that large and heavy can be overwhelming.
Having a wheeled cooler allows you to push or pull the cooler to your convenience, making the whole portability matter that much easier.