9 Best Delsey Luggage in 2020 reviewed & compared
Delsey, as you probably know is one of the better luggage brands out there. Buying a luggage is no small investment and I think you would agree that just buying 1 or a set and traveling with that for as long as possible is the best way to go.
Whether you are here looking for a new luggage & Delsey is one of the brands you are considering
Or
You have owned a Delsey suitcase for many years and are looking for an upgrade…
We've got you covered.
Note: Your preferences and needs may vary so we've gone for a wide variety of options & you can opt for different sizes in a particular collection or series too.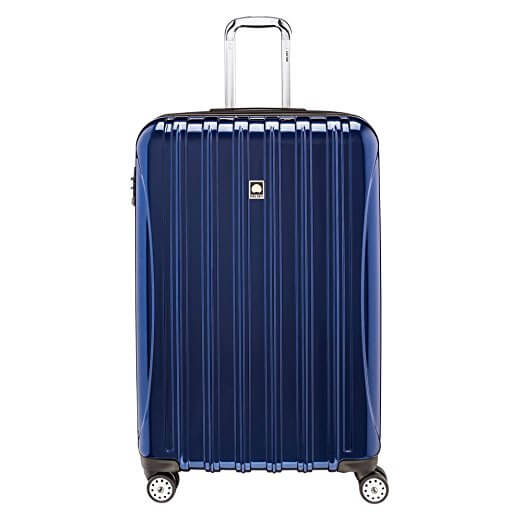 1. Delsey - Helium Aero 29" Spinner
skip to full review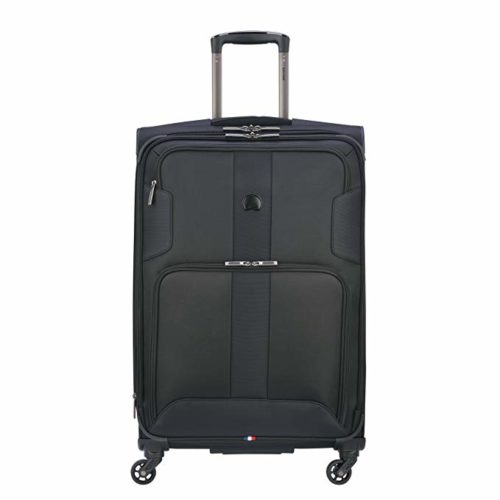 2. Delsey - Sky Max 25"
skip to full review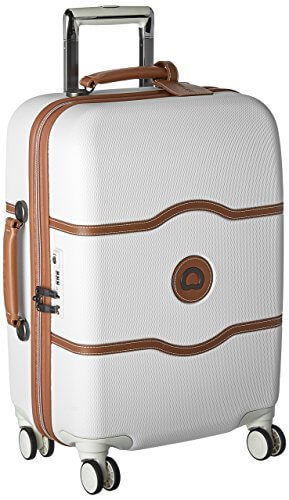 3. Delsey - Chatelet Hard+ 21"
skip to full review
Sort for:
9 Best Delsey Luggage in 2020
Our Delsey luggage reviews cover everything from under seat options to carry-on to international checked luggage options that are available in the market today.
Delsey Luggage Comparison
Model
Image
Size
Weight
Variants in the Series
1.Delsey Helium Aero 29"
29" x 19.5" x 12.5"
12.5 lbs
21", 25", 29"
2. Delsey Sky Max
24.5" x 17" x 10.75"
8 lbs
garment bag, Underseater,21",25" 29"
3. Delsey Chatelet Hard+ 21"
Body: 20.25" x 14.25" x 9.5"
Overall: 23.5" x 15.25" x 9.75
9.3 lbs
Backpack, shoulder bag, duffel, Underseater,21", 24", 28"
4. Delsey Helium Titanium 29"
Body: 29" x 19.5" x 12.5"
Overall: 32" x 20" x 12.75"
11.7 lbs
19", 21", 25", 29"
5. Delsey Quilted Rolling UnderSeat
9" x 14.5" x 14"
5 lbs
-
6. Delsey Hyperglide 21"
Body: 20.5" x 13.5" x 9.5"
Overall: 22.75" x 14.25" x 9.5"
5.8 lbs
Underseater, 21", 25", 29", Garment Bag
7. Delsey Helium Sky 29"
29 x 19.5" x 11.5"

10.6 lbs
21", 25", 29"
8. Delsey Hyperglide Garment Bag
22.75" x 19.5" x 11.5"
10 lbs
21", 25",29"Garment bag
9. Delsey Chatelet Hard+ 29" (Large)
Body: 27.5" x 20" x 12.5"
Overall: 30.25" x 21" x 12.75"
12.6 lbs
Underseater, 21", 25", 29",
Note: The variant in bold is the one we have reviewed
How to choose the best Delsey luggage
Delsey Paris was founded way back in 1946 and has a stellar reputation for producing top quality luggage for consumers. Delsey is one of the more established mainstream brands like Samsonite with excellent design elements. Aesthetically Delsey options are quite elegant but we've used more than just looks to pick our list. Here are what we looked at when picking. These could be useful when you are making your decision too!
The durability of zippers, handles, wheels etc
Have you ever heard of a statement like…"I wish the quality of X was like it was 10 years ago." We sure would have come across such statements time & time again so how does Delsey fare when it comes to durability with these offerings? The build quality of the wheels, the ability to source replacements were very important to us. Additionally, the dual wheel system (so essentially wheel pairs) we found to have a slight edge on the single wheeled spinners. There were barely any reports of handles coming off. The ability of the handle to extend and lock in at different heights & lock in was another element we looked at. Zipper quality has traditionally been very good on Delsey suitcases and this is something that seems like a small issue but has bigger consequences.
Size Range
The external dimensions of a luggage can be pretty important. Especially if you are traveling on budget airlines like Ryanair you need to make sure your carry-on or checked bag match requirements. Most of the suitcases we've listed come in 3 to 4 size variants all the way from under seater options to 29" checked luggage. We preferred options that have consistent quality throughout the different sizes. The Aero, Chatelet & Montmartre series' excel at this.
Q: Are some that you mentioned on the list available as 1 set?
A: At the time of writing, most of the ones listed here are sold by Delsey as sets. So you can typically buy the carry-on a mid-sized option and the larger 29″ option together. There are other luggage sets that are quite good as well.
Packing & Organization
This is pretty much the essence of any suitcase and the more organization your luggage offers you the better. This we thought was key considering the Delseys' aren't something we would chuck into the budget category. Delsey's easy access shoe section was a massive positive for us since it's quite common to switch between footwear and avoiding the hassle of unpacking everything is a win-win situation. Many models feature plenty of pockets not just your standard fabric lined section or mesh separation. The Chatelet series has rich interiors if that's something that's high on your list.
Value
This is definitely something that is subjective but most Delseys are in the affordable – mid-price range. You need to probably ascertain if the quality benefits you are after, reflect the price in your eyes.
Features like overweight Indicators & tracking codes
Overweight indicators which are a feature on many Delseys' (usually on the 25" & 29" versions only) we thought were a nice touch along with web tracking codes. Tracking codes help the person who recovers your luggage to contact you.
To Sum it up:
We hope these Delsey luggage reviews give you a clearer idea of the advantages & disadvantages of the different models. The Helium Aero was definitely one of our favorites for both smaller & larger suitcases.