10 Best Carry on Luggage in 2020 reviewed & compared
These days it's more important than ever to have top-of-the-line carry-on luggage.
Since airlines began raising their baggage & excess baggage fees, traveling with just your carry-on has become the smart thing to do, especially on shorter trips.
Efficient packing methods and a high-quality carry-on bag can ensure that you never have to check-in baggage unnecessarily again.
For frequent travelers, things like a lifetime warranty covering airline damage will cost you more but save you a lot in the long run. Some of the options on our list will comfortably allow you to pack for 3-4 day trips as well.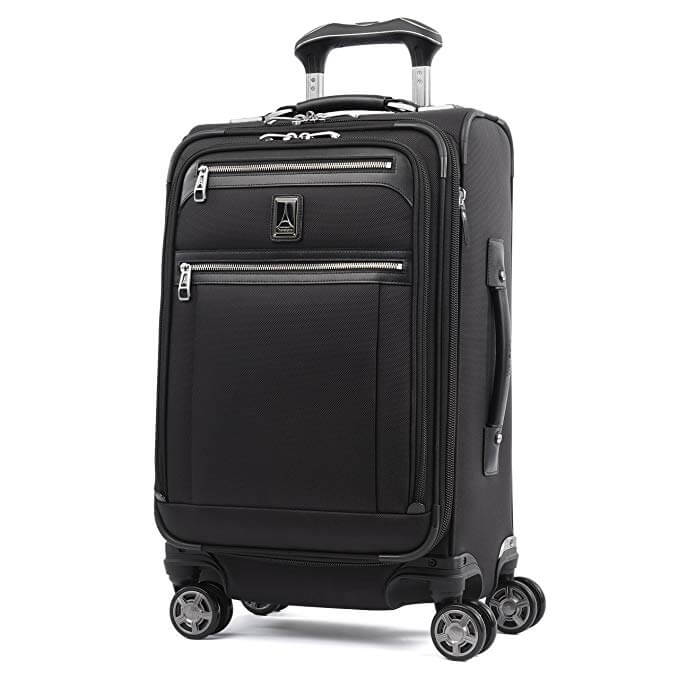 1. Travelpro - Platinum Elite 21"
Highlights
Light. Excellent build quality. Good warranty. Self-aligning wheels.
skip to full review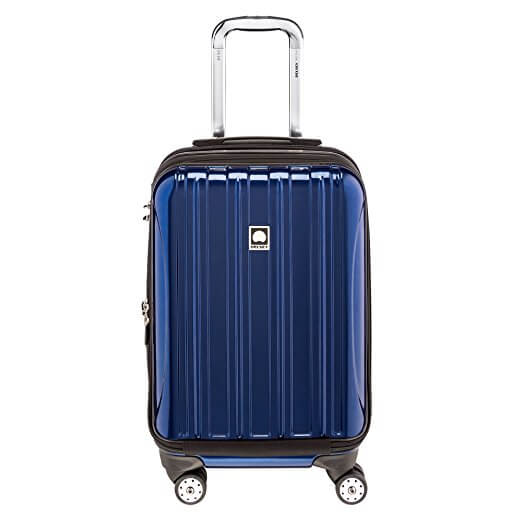 2. Delsey - Helium Aero 19"
Highlights
Stylish. Light. Durable. Ideal for international travel.
skip to full review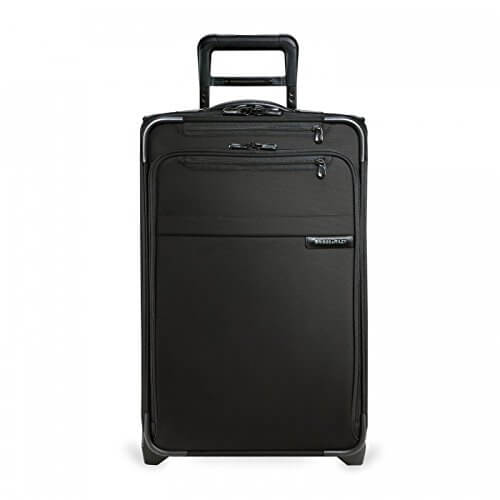 3. Briggs & Riley - Baseline 22"
Highlights
Best build quality. Lifetime warranty covering airline damage. Spacious.
skip to full review
Sort for:
10 Best Carry-on luggage in 2020
We've combed through a whole bunch of carry-ons and picked out the best carry-on suitcases for international travel as well as domestic. (Typical carry-ons are between 19" and 22.") Some of them have matching sets too!
Carry on Luggage Comparison
Important Carry on Luggage Considerations
Picking carry-on luggage is never easy with all of the types, sizes, and traits to sift through. For us to give you an accurate review, we considered the following factors to ensure all the luggage we picked met or exceeded certain standards. The criteria outlined below can set the benchmark for your decision-making process and help you find the best carry-on suitcase to fit your needs.


Size & Weight
Size and weight are the two aspects that vary the most from one suitcase brand to another. Your packing style and the weight restrictions of your airline play an important role here.
Most of the luggage on our list tend to fall between 19" and 22". The reality is that the external dimensions of many bags on the market slightly exceed the 22" mark, but airlines generally ignore this as long as they fit in the overhead compartment.
If you want to completely avoid the hassle of having to check in your baggage occasionally, try to pick one that adheres to the strictest rules out there. The Delsey is an especially good option for international travelers.
In terms of weight, hard-shells are generally on the heavier side while duffle bags and some soft-sided options like the Osprey Ozone & the TravelPro Maxlite 5 are the ones to opt for if you're a heavy packer. Make sure to consider the overall weight of the luggage before packing though. In best cases, a standalone carry-on shouldn't weigh more than 7.5 lbs at a time when empty. After all, if the bag is already heavy on its own, imagine the trouble you'll have carrying that luggage around when fully packed.
One thing to keep in mind is that airlines include handles and wheels when measuring the dimensions of your carry-on, so if you're worried about your baggage exceeding the limits due to these factors, you just might want to opt for luggage with "hidden" wheels and handles such as the AmazonBasics Underseat Luggage.
Hard-sided or Soft-sided Carry on
Although the list above contains almost an equal number of both, we prefer soft-sided options over hard-sided ones. It is important to consider how you intend to use your carry on. If you are thinking of regularly checking it in, then a hard-sided variant might offer better protection. Also, carry-on luggage isn't typically exposed to luggage carousels or baggage handlers, so you can get away with the slightly inferior frame integrity of a soft-sided variant. You can check out the differences between the two in the table below:
Hardside
Softside
Variants
ABS, Polycarbonate
Polyester/Nylon Variants (Ballistic, Ripstop)
Aesthetics
Brighter & darker color options but can scratch easily
Mainly darker colors with better abrasion resistance
Overall Durability
Very good (Model Dependent)
Very good (Model Dependent)
Weight
Very Light
Light (feature & brand dependent)
Flexibility
Inflexible
Highly Flexible
Protection
Excellent (Ideal for fragile items)
Good
Organizational Features
Very limited
A wide variety
Price
Cheaper
Varies based on features
Note: When talking about durability we considered the handles, zippers etc., not just the material alone. While the polycarbonate on its own is quite durable, many softside models have sturdier wheels, handles etc. (overall package)

Aluminum luggage such as the Rimowa models are not so common but are the best in terms of durability.

Tegris by Tumi is a polypropylene thermoplastic composite that has excellent impact resistance but is extremely expensive. Tegris is also 100% recyclable and is certainly one to watch in the future.

Wheels
While this may seem rather simple at first, wheel quality is a crucial factor in choosing your carry-on. Cabin luggage doesn't get tossed around as much as its checked-in counterpart. The part of the suitcase that is really put through its paces is the wheels. There's nothing worse than when a wheel breaks off and your luggage loses all its functionality. Try to opt for a 4-wheeler if you are looking to reduce stress on your shoulders.

If maneuverability is of paramount importance to you, a two-wheeler holds the edge here. 4-wheelers are sometimes larger since their wheel mounts are fully external, whereas the 2-wheelers are embedded into the bag a bit more. You may also want to factor in the general gradient of the terrain where you are traveling since a 4-wheeler can easily roll away if not placed on its side.
Wheels do come with certain downsides as well. Although they do offer plenty of mobility and alleviate the handling process of the baggage, they also add to the overall weight of the bag. A quality set of wheels generally comes with a sturdy frame to hold them, which can add a significant amount of weight to your bag.
The presence of wheels has another slight disadvantage that relates to packing space. Some of the suitcases are built with wheels and handles embedded inside the baggage, something that can be deemed detrimental if you're trying to maximize your packing capacity.
Practicality
When we looked at the sheer practicality of carry-on bags, we were looking at things like the number of external pockets, quality of the zippers & handles, the length of the handles, suiter availability, compartments, etc. While external pockets are good, a limited number of them are ideal, otherwise, they can keep your bag from passing the sizer allowance. Self-repairing zippers that you can put back into place were highly valued.

The number of handles is also important. Ideally, there should be a handle at the top & the side and both should be easy to grip. Another feature to look for is handle length. Since carry-ons are much shorter than check-in items, your shoulder can feel a lot of discomfort if the handle does not extend to help you out.
Suiters are an essential item for business folk and it's always handy to have them. Suitcases like the B&R excel at having a good balance of all the necessary features. Some other essential features include tie-down straps, wet pockets for toiletries, secure pockets for electronics and even packing cubes.
Warranty
Most luggage comes with a limited warranty that usually does not cover airline damage. This will serve you well in most scenarios, but if you are a frequent flyer, having a suitcase that does cover airline damage gives you greater peace of mind in the long run. If you cover some serious mileage, opt for the Platinum Elite or the Baseline to ensure you are not disappointed. Don't forget to read further reviews on your purchase platforms to see how good manufacturers are when fulfilling their warranties. This is something we looked at closely.
Osprey gives a fine example of good customer service by offering the Osprey All Mighty Guarantee, where they provide repairs and replacements on all of their products with no additional costs whatsoever.
Smart features & others

The latest fad in luggage features is electronic capabilities. Things like in-built power banks, location tracking, digital locks, weighing scales and more are becoming more popular. If features like these matter to you, always make sure that they don't compromise the case's core functionality. You can alternatively look at things like the TILE tags amongst others to augment your normal luggage and ensure it always stays safe.
Some of the luggage on our list comes with handy USB ports and power bank pockets, something that can be deemed beneficial for freelance and business travelers who carry their work with them.
FAQ's
Q: What is Considered a Carry-On Luggage?
A: As the name suggests, carry-on luggage is a bag you carry with you inside the airplane. The maximum dimensions for a carry-on bag are 9" x 14" x 22" (22 cm x 35 cm x 56 cm).
Carry-on baggage can be in the form of a smaller-sized suitcase, a duffel bag or backpack, as long as it meets the airline sizing regulations.
Q: Do the size limits vary regionally or airline by airline?
A: While the requirements may vary from country to country, most restrictions are set by the airline itself. That being said, it's always a good idea to check directly with the airline to make sure that your carry-on fits the airline's size limit. Most US carriers are fairly generous and do accommodate an extra cm or two at times and have no major restrictions on the weight limit. In the case of the United States, the most important thing is that your luggage fits in the overhead bin or under the seat of the specific shuttle. Of course, this may differ in regard to domestic and international flights.
In our experience, budget airlines across Europe tend to be very strict with respect to the sizing. If you're flying internationally and using connecting flights, your best bet is to check the baggage allowance for each airline individually.
Q: What is the maximum allowed weight for carry-on luggage?
A: This varies from airline to airline even within the United States. It is probably best if you check with your airline when you fly or when you book your ticket. While some airlines are quite lenient when it comes to weight limits, some are more strict and follow specific sizing charts.
Asian countries, in particular, tend to allow much less for carry-on. For example, if you are traveling through Thailand, your carry-on cannot weigh more than 7kgs.
It's smart to check the restrictions before the flight and inform yourself of any rules and regulations in regard to personal items.
Q: Does my laptop bag count as a carry on?
A: Laptops, small briefcases, purses, wallets & the like are considered "personal items," and their weight is usually not included when calculating the total weight of your hand luggage. Still, be sure to check with your airline, since in some rare cases airlines might include personal items in their calculations.
Q: What Should You Pack in a Carry-On Luggage?
A: A carry-on bag is generally used for items you'd like to keep close during your flight. While this can differ from one person to another, some of the most common items you should pack in your carry-on luggage include travel documents, money and credit cards, medications, electronics, and valuable and fragile items.
While some of these picks are obvious, others are listed as mere precautions, seeing how checked-in baggage is often manhandled and lost in transport. Packing these items in a carry-on bag ensures that you have all your essentials nearby in case of an emergency.
Keep in mind that e-cigarettes, lithium batteries, and power banks must be stowed in carry-on luggage and are not allowed to be checked in due to safety regulations.
Q: What Items are Not Allowed in a Carry-On?
A: There is quite a number of restrictions when it comes to carry-on luggage. The most common one, relating to liquids, states that passengers are only allowed to bring up to 3.4 oz (100 ml) of liquids packed neatly in a see-through container. The liquid allowance relates to toiletries and beverages, but also liquid foods, aerosols sprays, certain makeup items, liquid foods, etc.
Another similar rule relates to powdery substances. According to TSA, powders in quantities larger than 12 oz (350 ml) may be subject to additional screenings and examinations.
Sharp objects such as knives, tools, box cutters, nail clippers, and files are also not permitted in carry-on baggage. Possibly the most obvious one is firearms and any other types of weapons.
Aside from these, lighters and matches are also not allowed in carry-on bags, as well as any other flammable and explosive items.
Img: Bluesmart connected Carry on by Maurizio Pesce – cc by 2.0.