11 Best Microfiber & Quick Dry Travel Towels in 2020
Packing for your summer holidays? Getting ready for a hiking expedition?
Either way, you'd better remember to bring a towel.
To be specific, a lightweight, quick-drying travel towel—one that doesn't start smelling like mothballs because it takes longer than a transatlantic flight to dry and one that won't take up more luggage space than your clothing.
Regular bath towels (usually made from cotton) are far from ideal for travel because of their size, weight & drying time which is why microfiber travel towels are the way to go.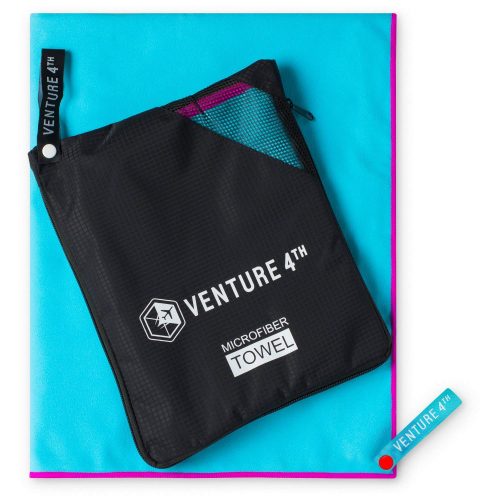 1. Venture4th Quick Dry Microfiber Towel
Highlights
Ultra-compact, Anti-bacterial. Can dry up to 10X quicker than regular cotton towels. Beach, Travel, Sports, Outdoors
skip to full review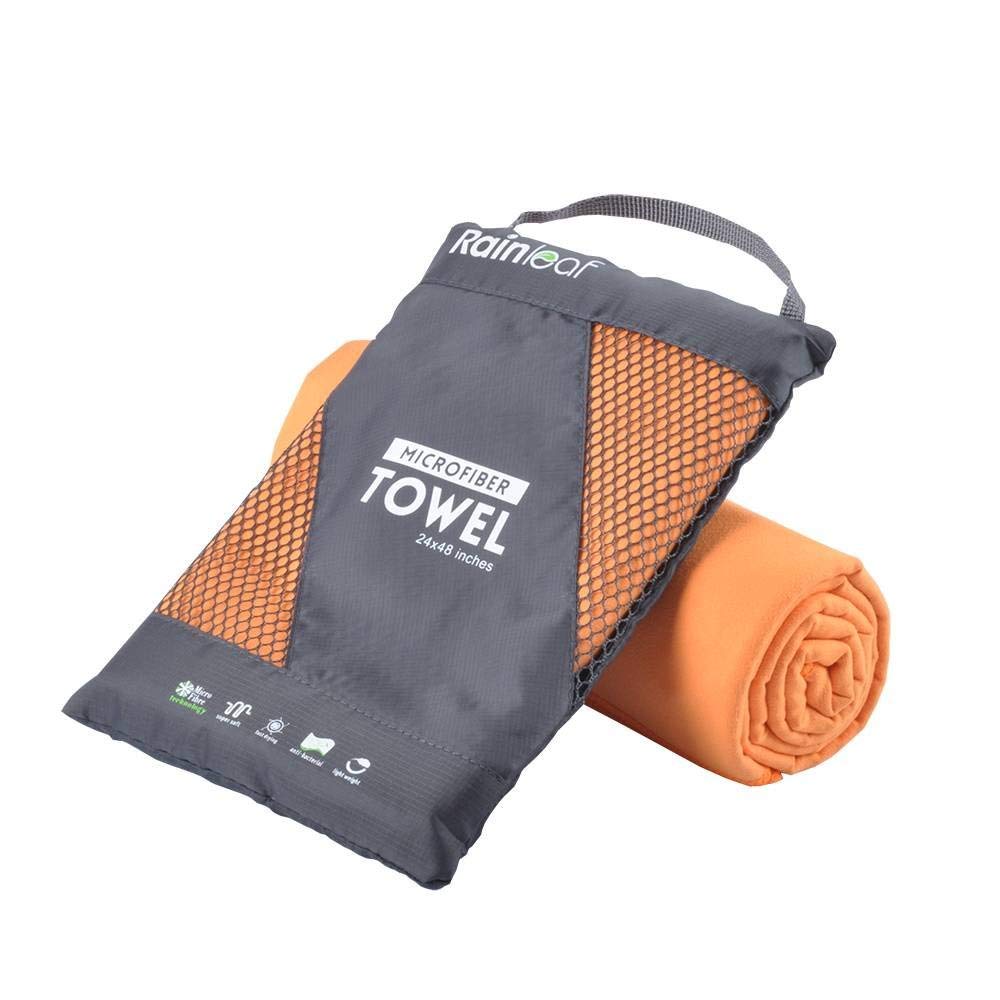 2. Rain Leaf Microfiber Towel
Highlights
High quality, super compact & comes with a lifetime warranty. Large selection of sizes & colors to choose from
skip to full review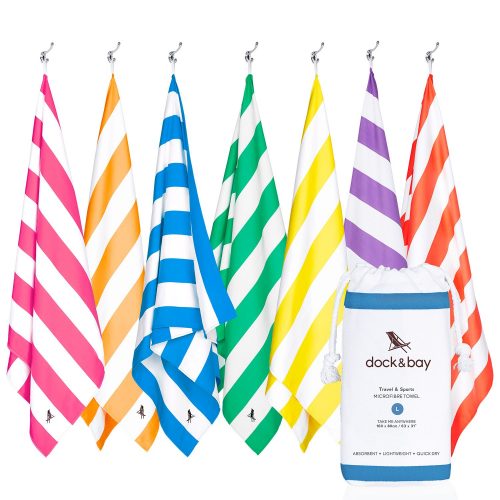 3. Dock & Bay microfiber towel
Highlights
A light, sand free, quick-dry option ideal for the beach, pool & for travel. Plenty of color & pattern options
skip to full review
11 Best Travel Towels in 2020
Even though there are many quick-dry travel towel variants in the market, we found that microfiber options perform very well in terms of how compact they are, how light they are etc. We've narrowed it down so that you can't really go wrong with any of the following picks.
How to choose the best travel towel
You'd think that picking an awesome travel towel would easy—and you'd be right, as long as you know what to look for. To help you make your choice, we'll let you in on a little secret. The following criteria are all factors that we considered when selecting our list, the same should apply when you make your decision.
Absorbency
We can all agree that, lightweight or not, a towel which doesn't actually dry you is a waste of packing space. We looked for towels made from highly absorbent fabrics, like the microfiber travel towels from Wise Owl Outfitters and Youphoria which promise to hold 5 times their weight in water.
Quick Drying
You should be able to use a travel towel multiple times on the same day or pack it away within a half an hour of using it. Therefore, it should be made from a quick-drying fabric that can air-dry much faster than a normal cotton towel.
Antibacterial
A travel towel is likely to spend a lot of its life inside a suitcase and may sometimes be packed away while it's still damp. In light of this, we looked for travel towels made from fabric with an antibacterial/anti-microbial coating, which prevents mold and unpleasant smells from developing.
Comfort
You'll be using this towel a lot on your travels, so it's important that it doesn't irritate or scratch your skin. We selected products with a high thread count to give your towel a softer, suede-like feel.
Compact Size & Lightweight
Ideally, a travel towel won't take up the bulk of your luggage, but we think a larger size (beach or bath size) is a good choice for beachgoers as well as budget travelers, who will be sharing hostel bathrooms. The travel towel for business users can be a smaller size, as you'll most likely be using it to freshen up in bathrooms on route to the office.
Many of the products on our list, including the Rain Leaf and Venture4th, are available in multiple sizes from hand towel to beach towel. You can pick the size that best suits your needs.
Like any travel item, the packing size and weight are very important. Even a large beach sized towel shouldn't take up more space than a t-shirt when folded, and the total weight, including carrying case, shouldn't be more than 10 oz.

Additional Features
Carry Case: A waterproof carry case allows you to pack the towel into your luggage while still damp. It also protects the towel from ripping or snagging. Most of the items on our list come with breathable drawstrings, flap, or zippered bags. We generally prefer the zippered option as it is easier to access the towel, but drawstring bags can be useful for travelers who prefer to roll their clothes. We also look out for cases with carrying handles or loops for attaching it outside of a backpack or suitcase.
Hanging Loops: Having a loop is useful for hanging your towel in the shower and for drying it after. The benefit of a snap loop is that you'll be able to open and hook the loop around something, i.e. a tree when camping, to keep it from blowing away.
Type & Materials
Travel towels are made from various materials. We expect the best travel towels to be effective at absorbing water, to have a balanced size to weight ratio, and to be quick-drying. For this reason, the majority of travel towels on our list are made from microfiber, but other recommended materials include….
Turkish Cotton
Made from a weave of thin cotton, Turkish Cotton is super absorbent and lightweight. The fabric is very soft on the skin and feels a lot more natural than a microfiber towel. They pack up much smaller than a regular towel and have the advantage of being multifunctional, serving very well as a scarf or blanket. The only downside is that they are slightly bulkier than a microfiber towel and take longer to dry.
Linen
Linen is an eco-friendly fabric which dries quickly compared to a regular towel, but still slower than a microfiber towel. The advantage is that linen is naturally antibacterial and odor-preventing. The disadvantage is that it tends to feel a little rough on the skin.
Bamboo
Bamboo is another lightweight and eco-friendly option. Bamboo towels are quick to air-dry, contain natural anti-bacterial qualities, and feel similar to cotton. They are usually a bit more expensive than microfiber, linen, or cotton towels.

FAQ
Q: Are these towels suitable for pets?
A: Microfiber towels are actually much more effective than a regular towel for drying off cats or dogs (or other furry pets). The high absorbency levels and antibacterial coating let you dry your furry friend with fewer strokes and leaves you with a much fresher smelling towel. Turkish cotton towels are more delicate and therefore not recommended for use on pets.
Q: Is Microfiber eco-friendly?
A: Unfortunately, the verdict is still out on this one. Compared to a natural fabric like cotton or linen, the answer is no. Microfiber is essentially made from tiny plastic fibers, so it's manufacturing process is certainly not green and the product itself is not biodegradable. That said, many microfiber towels are made from a blend using polyester and nylon fibers, which are technically recyclable. Another green point for microfiber towels is their durability. With the correct care, they can last for years. Likewise, they don't need washing often, thereby minimizing water wastage.
Q: How do I care for a microfiber towel?
A. A microfiber towel can be washed by hand or machine using regular detergent, but bleach and fabric softener will make the towel less effective. Avoid washing the towel with light colors or with cotton fabrics as well. It is best to allow the towel to air-dry, but it can be tumble-dried on low heat. High heat can cause the towel to shrink.
Sources:
https://www.explainthatstuff.com/microfibercloths.html