7 Best Travel Bottles in 2020 for your liquid toiletries
If you're a frequent traveler who only travels with a carry-on, then you must know that the liquid limit is the absolute worst thing to happen to this world. Well, that and the Game of Thrones finale of course.
Although there's no way to bypass these restrictions, there is a way to make this daunting process a bit more organized, hassle-free and most importantly – leak-proof.
Without further ado, we give you 7 of the best TSA-approved containers for your liquids so you can pack away in your carry-on and be on your merry way! (Hopefully with no delays.)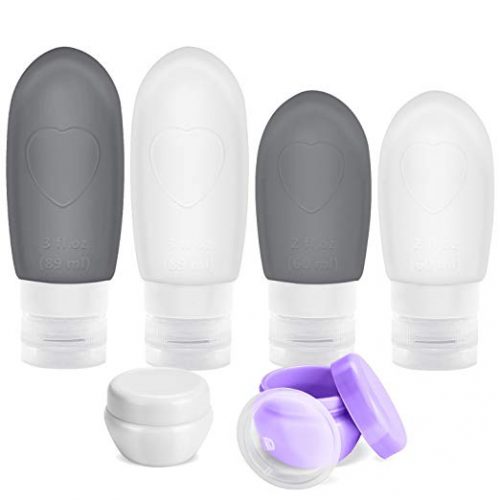 1. Oursunshine Travel Bottles
skip to full review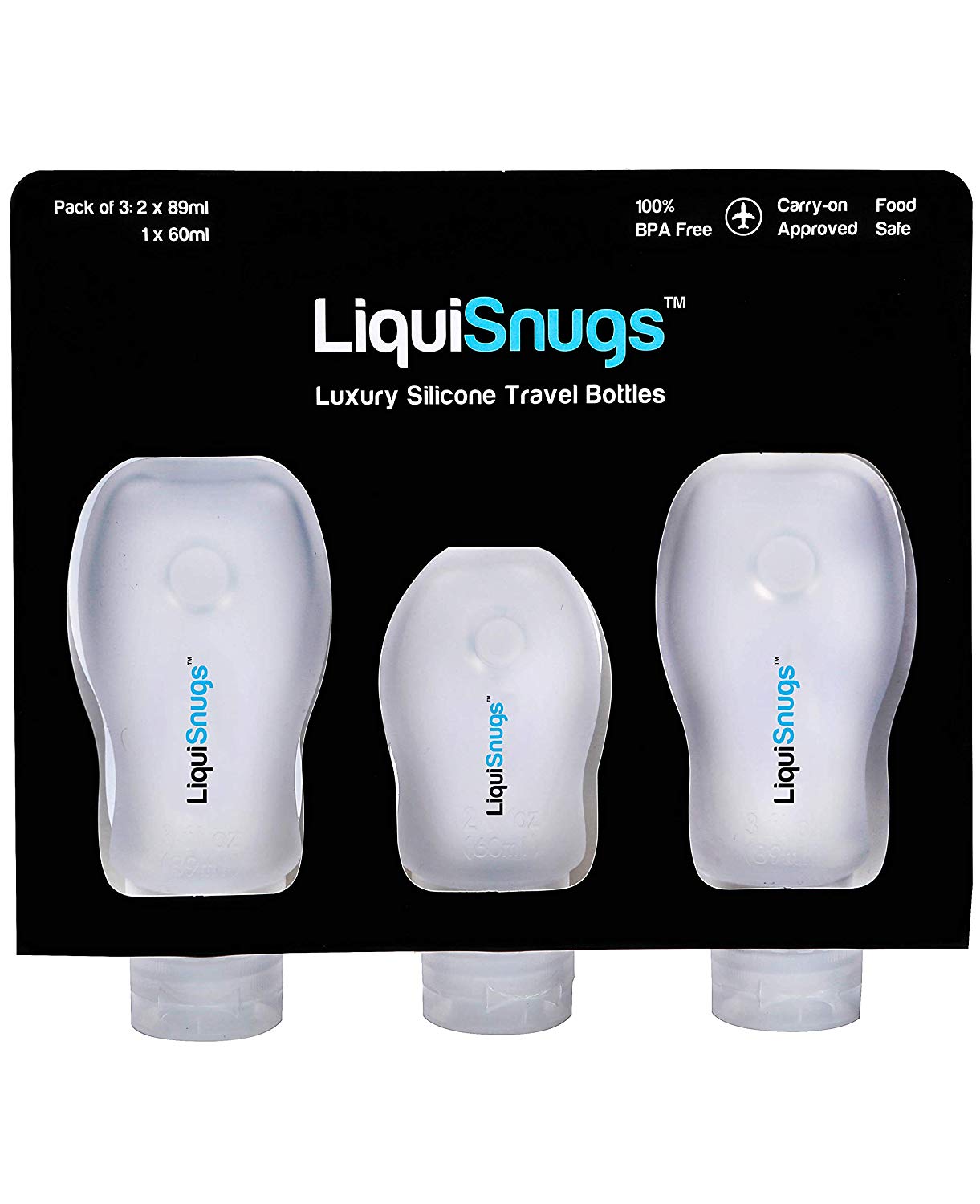 2. LiquiSnugs Silicone Travel Bottles
skip to full review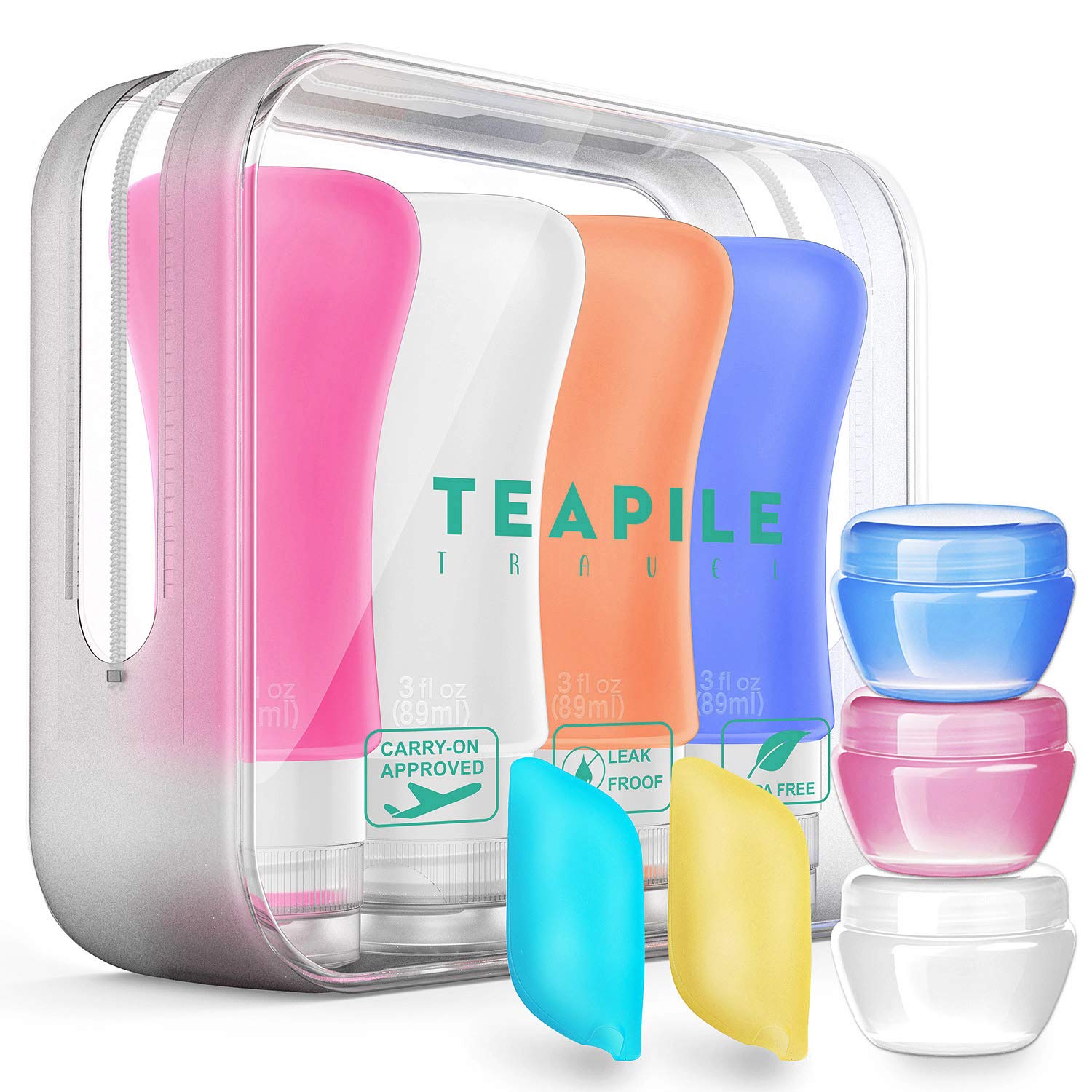 3. Teapile - 9 Pack TSA Approved Containers
skip to full review
7 Best Travel Toiletry Bottles in 2020
Our list contains everything from quart sized bottles, liquid containers for your cosmetics & options that include a clear toiletry bag too.
How to Choose the Best Travel Toiletry Bottles?
When talking about travel gear, choosing a set of toiletry bottles might not be your first priority or even the second, but it should definitely find a way onto your list.
These useful containers can save you a lot of trouble while on the road, so let's check out what are some of the things to look for in travel size bottles.
Size and Shape
Well…duh.
Travel size bottles – hence the name.
They need to be TSA-approved, meaning they shouldn't exceed a size of 3.4oz (100 ml.) The reason why we need to mention this is that, although advertised as travel bottles, there are some containers that don't strictly follow the size charts, meaning you could end up buying a set of toiletry bottles that exceed the limit by just a few ounces…and you could learn this while going through security. Not the best situation to find yourself in, right?
In order to avoid this, make sure to:
Check the description of the product you're purchasing
Measure the bottles prior to your trip
Check the airline requirements again – just in case
Aside from the guidelines, another reason to pay attention to the size of the bottles is portability. There is a wide range of TSA-approved containers and they can vary quite a bit in terms of shape and size.
If you're packing lightly and looking for space saving solutions, then you just might want to choose smaller-sized containers. These are also more convenient if you're planning a shorter trip or a brief weekend getaway.
The shape of the containers also plays a role here. While most of the toiletry containers are bottle-shaped, there are also cream jars that are usually more compact, less bulky and can easily fit in your pocket or a side compartment.
Material
The type of material is another important aspect to consider when purchasing toiletry bottles. While this is a matter of practicality, it's also a matter of something far more important than that – your health.
Most of the containers on our list are made from flexible silicone, which helps you squeeze out the very last drop of your liquid – so you know you're not wasting any product. Another great thing about silicone is that it's pliable and soft, so you won't have to worry about breaking your bottles.
In combination with silicone, the containers are mostly equipped with shatterproof plastic lids and caps designed to keep your liquids safe and sound.
There are also containers made entirely out of plastic, which lack in the flexibility department but are extremely durable and easy to clean.
These TSA-approved bottles usually feature multiple layer protection, which makes them extra durable and leak-proof, which is another thing to keep in mind.
Of course, all of this won't matter very much if the bottle holding your product is toxic to you and the environment, right?
That being said, make sure to look for toiletry bottles that are made from food grade (PET) material and are BPA-free. The PET material ensures that the bottles have passed all the regulations regarding food safety, meaning you can use them not only for storing shampoo and conditioner but condiments, sauces and other food-related items as well!
Aside from that, BisPhenol A (BPA) is an industrial chemical used in the production of plastics, which is known to cause some major health issues. If you can't find information about this in the product description, we recommend contacting the manufacturer directly in order to make sure that your toiletry containers are indeed BPA-free.
Lastly, don't forget to read any precautions or guidelines relating to certain substances. Apparently, certain manufacturers have made it known that their toiletry containers are not to be used to store specific liquids and chemicals. Products such as hair serums, polishers, volumizers, and certain oils could cause a chemical reaction when in contact with the silicone.
If you wish to avoid creating a tiny laboratory in your backpack or suitcase, we recommend taking the time to consider all the safety concerns regarding these products.
Closing Mechanism
While they take the smallest part of the product, lids and caps are actually the most important details concerning toiletry containers. Their purpose is to keep all those liquids tightly shut inside the bottles, making sure that there's no room for leaks and messes.
There are a few different closing mechanisms to choose from and depending on the toiletry set you decide on, you might even receive additional caps and lids to fit on your travel bottles.
Here, we'll mention the three most common types of lids you might encounter:
Flip-Tops
Screw-Tops
Spray-Tops
The most common type of lid is the flip-top. You simply flip the top open, squeeze the container and the contents come oozing out. The great thing about these lids is that they allow you to control just how much liquid you want to squeeze out. On the other hand, the top can easily break from excessive use, leaving the substance-exposed and rendering the lid useless. Also, if filled to the brim, the closing mechanism might create a vacuum in the bottle, which when combined with pressure from air travel might cause the lid to pop out and dispose of the liquids all over your luggage.
In order to avoid this, make sure not to fill the container to the top, but to look for an optimal 80-90% of liquid per bottle.
Screw-tops are usually seen on toiletry jars which are a great option for face creams or lotions. These types of tops and containers are not a good choice for runny liquids as you can't really control how much you're getting out. On the other hand, most of the containers with screw-tops come with tiny spatulas and pipettes that make handling the contents a bit easier.
Bottles with spray-tops are a great choice if you're carrying perfume or some other sprayable liquid. These tops don't respond well to high-pressure surroundings, so it's best to avoid carrying any dangerous substances or liquids in these types of containers.
Regardless of what type of top you choose, you'll want to make sure that it's strong, durable and leak-proof. Aside from that, it's important for the caps to be easy to remove, so you can refill them with no additional hassle. You might also want to consider caps with labels, which allow you to mark which container holds which substance.
FAQ's
Q: How Many Toiletry Bottles Can I Bring on a Plane?
A: The general rule for liquid allowance is 3-1-1. This means that you're allowed to bring 3.4-ounce bottles (or less), 1 quart-sized plastic bag and 1 bag per passenger.
Some airports might differ from others in terms of allowance, but this is the general rule followed by most airports and airlines in the world.
Q: What Should I Put in My Travel Containers?
A: Travel containers are designed to hold all your essential toiletries – hence the name. Most toiletry containers are filled with shampoo, conditioner, liquid soap, shower gels etc. Of course, their use extends to more than just toiletries. You can use TSA-approved bottles to store drinks, liquid or semi-liquid food, contact eye solution and any other, non-dangerous substances of similar consistency.
Q: How Long Does a Toiletry Bottle Shampoo Last?
A: It depends on a variety of factors such as how often you use it, whether you're the only one using it, the length of your hair etc. In general, if you're the sole user of shampoo and wash your hair once a day, the travel shampoo might last for a week. More if you have really short hair.
Q: Is Toothpaste Considered a Liquid? What About Deodorant?
A: Toothpaste is considered a liquid and it must undergo the TSA check, meaning it should be stored in travel size containers. Deodorant, on the other hand, depends on consistency. Stick deodorants can be carried onto a plane in any size, while gel-based and liquid deodorants must be stored in TSA-approved bottles.
Q: Do Travel Toiletry Bottles Need to be See-Through?
A: No, the tiny travel size bottles don't need to be transparent and buying different colored containers might actually help you differentiate between the contents of the bottles. BUT the resealable toiletry bag that carries all the bottles MUST be see-through, so the TSA guards can easily inspect the contents.
Q: How Can I Make Sure That My Bottles Won't Leak?
A: Make sure to choose quality containers and bottles made from durable, leak-proof plastic or silicone. Also, keep in mind the quality of the bag you'll be carrying all your bottles in. The bag should be resealable, preferably with a leak-proof zipper and made from strong, durable, see-through plastic.
Sources:
https://www.tsa.gov/travel/security-screening/liquids-rule
https://www.skyscanner.net/news/tips/liquids-in-hand-luggage
https://www.travelfashiongirl.com/how-to-pack-liquids-for-carry-on/