10+ Best luggage tags, Labels & Identifiers to spot your luggage easily in 2020
I'm sure you've been in a situation where:
You're tired after a long flight…
You just want to find your luggage and get home ASAP…
And you're waiting for your luggage at the carousel for 30 minutes, only to realize that the black suitcase (which happens to resemble 10 others at least) that's been circling for the last 29 minutes is actually yours!
Experiences like this are never pleasant. With the luggage tags we've picked out, you can ensure that you not only get your luggage quickly but also never lose it.
The perfect luggage tags are versatile and can be used with carry-on luggage, check-in baggage, or even backpacks to keep them safe and identify them quickly.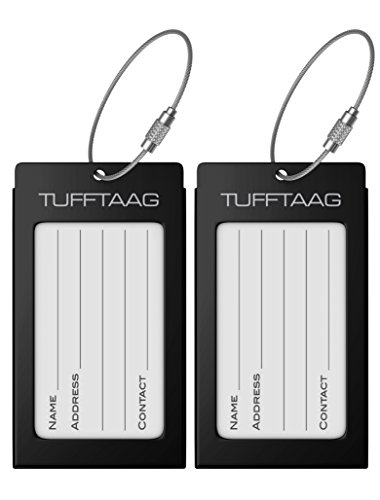 1. TUFFTAAG PAIR Travel ID Bag Tag
Highlights
Good size/ Easy to spot. Very sturdy.
skip to full review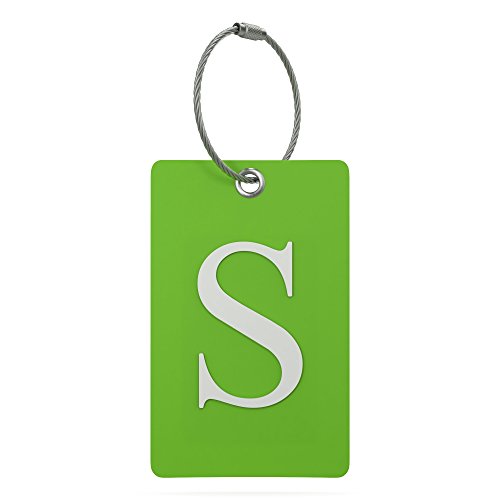 2. Tag with Initials by Shacke
Highlights
Very Durable. Customizable.
skip to full review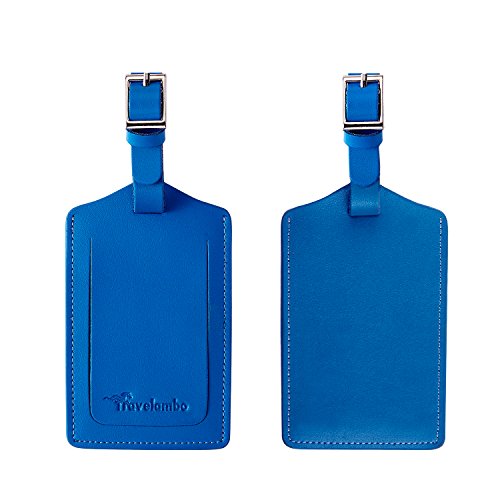 3. Travelambo Genuine Leather Luggage Tags
Highlights
Light. Flexible. Made from genuine leather.
skip to full review
12 Best Luggage tags & identifiers in 2020
We've broken down the different types of tags, what to look for and all the best name tags, handle wraps and GPS tags as well.
5 TYPES OF TAGS AND IDENTIFIERS
You might think luggage tags are simple, but, there are actually 4 different types of luggage tags you typically find on the market…
Ordinary Luggage Tags
These are your traditional tags that most people use on their handbags and suitcases. They come with straps made of different materials and have space for you to fill out your name; you can simply write it in or have it printed for better personalization. Airlines often give out these baggage tags (which are often rectangular), or they can come as a free accessory when you buy the top travel luggage on the market. The downsides with the free ones are durability and the fact that they don't stand out much from other people's tags.

Smart Luggage Tags
Smart luggage tags, or QR tags, allow you to trace your luggage quickly in the airport or help you find lost or stolen luggage. Even though better airline practices have resulted in less lost luggage, there are still a significant number of occurrences. These tags utilize QR codes, GPS, or Bluetooth, depending upon the design. There are also alternatives where a tag can simply be activated and you can track the bag through the manufacturer's website. Another major advantage with these is that they can easily be used on any handbag, backpack, keychain, wallet, or suitcase.
Luggage Stickers
Good old stickers will do the trick if you are looking for something simple and economical. These function like personalized luggage tags, allowing you or the authorities to easily identify your luggage. The downsides with these are 1.) stickers can damage the material of some bags, leaving an ugly stain from the glue, and 2.) they can't be tracked remotely and can only help you in limited scenarios.
Luggage Handle Wraps
The luggage handle wrap is another kind of identifier that can simplify your baggage claim experience. It can also help authorities locate the luggage easily when misplaced. The wrap, unlike regular tags or smart tags, does not contain any information, so it cannot be directly returned to their owner. These do have the added benefit of providing a very comfy grip, which can make pulling your suitcase that much easier.
Straps & decorative tufts
These are generally highly versatile & effective at identifying your luggage. Florescent straps can be used as an identifier or even to secure a travel pillow or smaller bag. They usually come with a secure strap so the chance of them falling off your luggage is minimal. Decorative options like Pom-Poms are very cool. They are a fun, yet effective alternative. A downside with this type is that there's usually no room for a business card or ID of any kind. Something which is quite common on aluminum luggage tags & the likes.
How to choose the best luggage tags
Visibility
The appearance of your tag is important for aesthetic reasons, but even more important for visibility. If your tag doesn't help you spot your suitcase or backpack quickly, then it doesn't fully serve its purpose. Always look for a tag that is unique and stands out.

You can also opt for tags based on your likes and dislikes. An example of a cool luggage tag for someone could be a Spider-man or Iron Man tag. These would be quite unique and ensure there's no chance of getting your suitcases mixed up. That is also the reason why flashy colors are our preferred choice.
The airlines always hand out a couple of paper tags at the check-in counter, why can't I just use those?
Well, for starters, those are all identical. They're typically just handed out for your carry-on and not your checked luggage and can also be torn quite easily. In some airports, stepping out onto the tarmac into a bit of light rain is not uncommon, so paper tags can be destroyed very quickly. These are also devoid of smart tracking features that you can otherwise have at your disposal. The advantage is that they are quite eco-friendly. If your suitcase (like some B&R luggage) has a retractable tag then those are definitely beneficial.

Functionality
When we talk about functionality for a luggage tag, we usually talk about how clearly it presents your information. Look for a tag that clearly displays your name, or whatever info you deem essential. Some tags need to be opened or taken apart to view the name. At the same time, products that hide info like addresses can be useful; you have to decide what your preferences are. If you decide to print your tag info, keep in mind that some ink can fade rapidly. A good label can be used on any set of luggage and will always be insulated from weather elements. Smart tags add a whole bunch of functionality features but make sure the ones that are most important to you are present.
Durability
Luggage tags come in a wide variety of materials. These range from PVC to plastic to leather to aluminum. Generally, the size and the flexibility of the tag impacts how well it survives your travels. Look for products that have satisfaction guarantees—these are usually an indication of a solid product. Aluminum tends to be the lightest yet flimsiest of all the aforementioned materials. Plastic is not exactly environmentally friendly either, so try to opt for a metallic or leather option if durability is your number one criterion.

Type of strap
The strap is important in determining the durability and functionality as well. Steel straps are common because they have repeatedly shown to be quite sturdy and tough. Leather straps are a great choice if the overall build quality is high; otherwise, the edges can start fraying easily. Additionally, watch out for excessive sharpness in some tags and straps.
If you've ever taken a cab from an airport, then you've seen how some taxi drivers throw your suitcase in the back. We've chosen ones that are flexible but firm at the same time.
Personalization
This is probably the most important feature for many people, but we feel personalized tags need to be as durable as regular tags in order to be worth the extra couple of bucks. The Shacke and the GP we've chosen can be customized to an extent, but we highly valued the visibility these provided in addition to the initials and engraving. You can always get very clever with what you choose to display.
Smart Functions
Smart luggage tags can track your luggage in numerous ways. If you are looking for a tag that provides you peace of mind, opt for a smart tag that works with Bluetooth or can be actively tracked at all times. Tags like the ReturnMe or the Dynotag are options for you to consider, but they're still dependent on the device to contact the respective service, which then puts the device in touch with you. The Tile mate we thought has a bit of an edge in this department since you can directly track your luggage. Some of the brands also provide a pet ID tag service, so can travel with your little friends anywhere in the world with greater peace of mind.