10 Best travel blankets in 2020 reviewed
Searching for the best travel blanket in 2020? Check out our pros & cons, factors to consider and reviews of recent travel blankets for airplanes & more.
Looking for that extra bit of comfort in any scenario is never a bad thing, is it?
We travelers have many different preferences and inclinations. Some enjoy flights, train and bus rides and some don't. Either way, we always want more comfort.
Love to snuggle? or Is hygiene everything for you?
A simple thing such as having a great travel blanket can keep you warm and fuzzy and make your flight, train ride or road trip closer to being perfect.
Besides, it's not uncommon for the travel blankets given by the airlines to be too short, too thin or itchy even.
Picking the right blanket isn't hard and this list should make it even easier for you!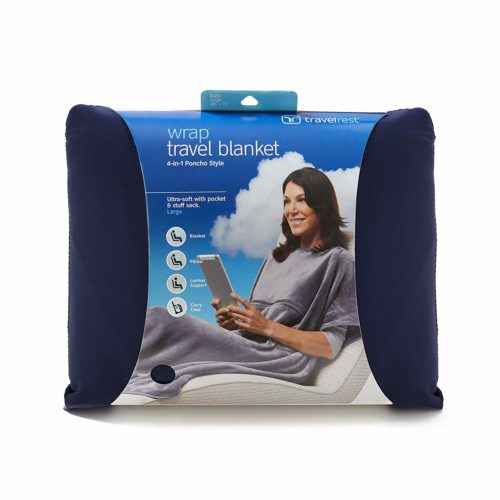 1. Travelrest 4-in-1 Premier Plus Travel Blanket with Pocket
skip to full review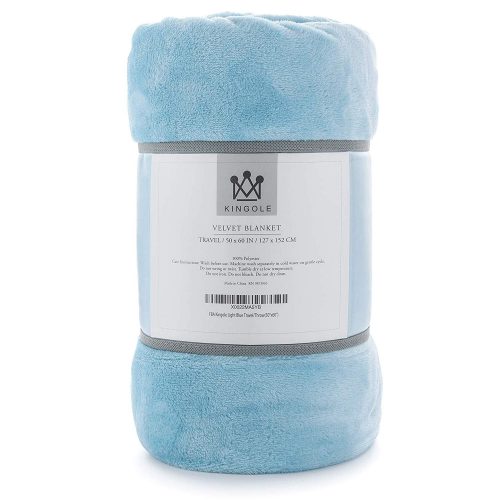 2. Kingole
skip to full review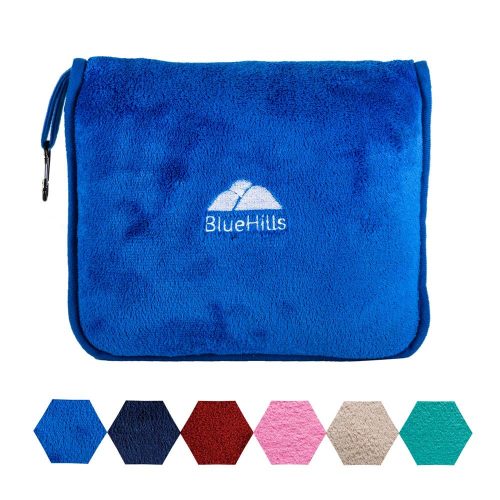 3. BlueHills Blanket/Pillow
skip to full review
 Top 10 travel blankets for airplanes & more 
We've ploughed through some great options and picked out the following 11 travel blankets. Some of which double up as both a travel blanket and lumbar support among other uses too.
How to choose the best travel blanket for your needs
Choosing the perfect blanket primarily depends on these 5 factors which are fairly straightforward.
Level of Comfort
Size
Practicality & Weight
Durability
Price
Level of Comfort: Silky & fluffy blankets are the key to getting a good sleep on airplanes. The level of comfort often boils down to the material on offer and the design of the blanket. Comfort ideally should extend to scenarios when you are not using the blanket too. We highly valued designs that are versatile and if your blanket can fold into a pillow or is a very compact travel blanket then it should be high on your shopping list.
Generally, premium quality blankets are made from a combination of synthetic materials as well as materials like wool, cotton and the likes. This usually delivers the ideal balance between comfort durability & price. The quality of construction matters a lot and even some 100% polyester blankets can really offer amazing comfort.
You also need the blanket to be able to be able to wick away moisture since any slight turbulence on an aircraft can make you spill your drink. Other than keeping you warm moisture wicking capability is an important functional element.
Q: There are a number of 4 in 1s on the list, do the pillow versions provide the same level of comfort as a proper travel pillow?
A: No, whilst you get some support if you need proper neck or lumbar support then opt for a travel pillow that is not just a rolled up blanket.

Size: Another important factor you need to consider is how much space having this travel blanket is going to cost you.  For instance, if your blanket can't be placed into a pouch or rolled up easily for transportation. As you can see from our list above they do come in many shapes & sizes and most often the trade-off is between having something that is thicker, super comfy, soft and thinner & lightweight.


Practicality & Weight: These are pretty important. If your blanket happens to have a mechanism by which it can be tied to your luggage or your bag it will be more useful. We highly valued options which have this imagine having to lug a pillow & a blanket around especially if you are looking to travel light.
Dovetailing on that point is weight. These are all not essential accessories to most so they really need to be light. A heavy quilt kind of material just won't do when you are traveling. Those need to be put away often times in your luggage as you can't exactly wear them all the time.
If you really like to travel light then opting for the tucker travel 4 in 1 would make a lot of sense. If you are willing to sacrifice some space and a few grams here & there then you can even opt for the micro plush blanket by Lewis & Clark.
Q: Hold on a sec, don't most airlines provide one?
A: Nope! Budget airlines certainly don't and not all of those flights are an hour long. Some are 3+ hours which can leave you feeling a bit cold. 

Durability: The construction of the blanket plays a large role in determining its durability. Generally, thinner ones tend to rip, fade or fray quite easily. Thicker ones tend to last you much longer. In terms of outright durability traits then it's the material itself. Synthetics like Polyester tend to last much longer than blankets made of pure wool or cotton, however, the latter is definitely the comfier option.
Look for ones that have water resistant or just dust resistant exteriors. Otherwise, your blanket can gather a lot of dirt when moving around the airport or in vehicles, especially when clasped to the outside.
Also, check to see if they can be machine washed. Tumble dryers are not always readily available in hostels. Some blankets dry faster than others on our list. A quicker drying option would be best as even a little bit of turbulence can cause a spill on your new soft blanket.

Price: As with almost any product that you have to buy the price does play a role. Most good travel blankets will cost you between $15 and $35. Typically anything over or lesser is not going to get the job done for opposite reasons. Silky & fluffy blankets are the key to getting a good sleep on airplanes. 4 in 1 options might cost you a tad more but are definitely worth it if you are looking for something more than a simple piece of cloth.