8 Best Travel Umbrellas in 2020
Whether you're commuting to work, walking to the shops, or traveling to far of places, one thing you can be sure of is that, at some point, you will encounter a bit of rain. Without any waterproof gear at hand you're faced with two options, dash to the closest convenient shelter and stubbornly wait out the bad weather, or soldier on through the downpour till you're soaked to the bone but at your destination. You might agree that neither options are ideal which is why lightweight travel umbrella should be very high on your kit list.
A compact travel umbrella is far more practical than lugging full waterproofs around on a backpacking trip and certainly score better than plastic rain ponchos on the style side of things. Umbrellas are practical for both hot and cold climates and pack up so small you won't need to think twice about slipping into your handbag or carry-on.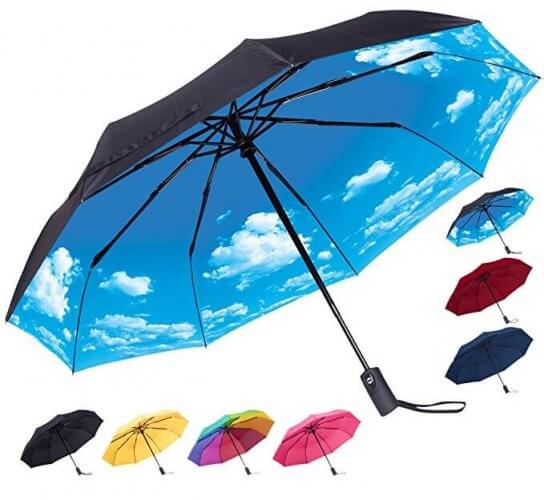 1. Rain-Mate
skip to full review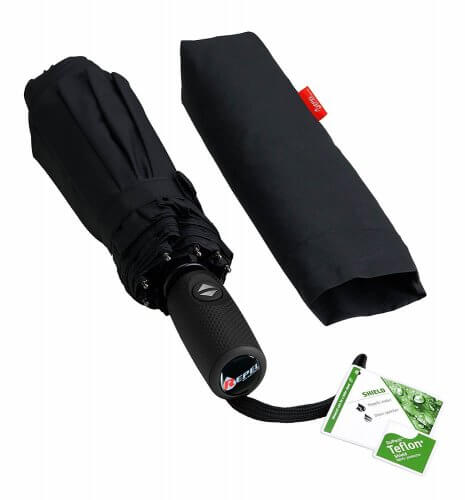 2. Repel
skip to full review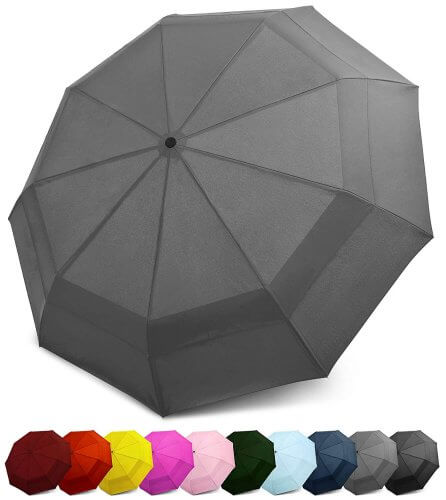 3. EEZ-Y
skip to full review
Sort for:
8 Best Travel Umbrellas to keep you dry in 2020
There are plenty of excellent travel sized umbrellas on the market which are strong, durable, quick-drying, and some even have a subtle and stylish design. Our list tries to cover them all.
Criteria we used to pick
There's more than just colors and patterns to look at when investing in a good quality travel umbrella. By quality, we don't just mean buying an umbrella that won't that won't flip inside out or break in two after a few gusts of wind, we also mean an umbrella which is lightweight, practical, portable, comfortable to hold, durable, and of course, waterproof. The following are the most important features we look for when choosing a good quality travel umbrella.

Waterproof and Windproof
Of course, even the most basic umbrellas should have a reasonable level of waterproofing, but some fabrics are far more resistant than others and when you get caught out in a heavy shower you'll really notice the difference. The best umbrellas are generally made from lightweight nylon or polyester which are highly water resistant. Although the highest quality umbrellas make use of pongee fabric which deflects water rather than absorbing it. We also look for umbrellas, like the EEZ-Y Compact Travel Umbrella, which have a quick-drying 210T Teflon coating.
Aside from the waterproofing materials, we look at the canopy size. Most travel umbrellas will feature a canopy between 38 and 42 inches. Those with a larger surface area, like the Totes Open Wooden Stick Umbrella, will provide more protection from the winds and rain, however, if the umbrella doesn't have a strong frame, it will be more prone to flipping. Conversely, umbrellas with a canopy smaller than 38 inches are less likely to turn inside out but they probably won't keep your lower body dry, which is why umbrella hats, although fun, have never really taken off.
Durable Materials
We expect a good travel umbrella to be usable for a number of years rather than months without showing major signs of wear or damage. Therefore, we look for umbrellas which use hard wearing materials such as stainless steel, and reinforced fiberglass. The cheaper umbrellas that you can find for a few dollars at the supermarket tend to use a 6 to 8 aluminum rib frame which is prone to rust and unlikely to withstand strong winds or the rigors of travel.
Q: What Does the Lifetime Guarantee Include?
A: The lifetime guarantee for the items on our list can vary slightly as they are all from different manufacturers. Generally speaking, however, a lifetime guarantee will cover damages and breakages which are caused by a manufacturing fault. For example, if the automatic open/close system becomes jammed or if the umbrella does not live up to its windproof claims. In these cases, you will probably be provided with a replacement (rather than a repaired) product. The specifics of this, however, is always up to the manufacturer.
The majority of items on our list are manufactured with 9 to 10 ribs which are reinforced with fail-safe fiberglass struts and hinges which means that the frame will hold its shape and snap back into place without breaking if caught in a heavy gust. Most of the items in our top 8 also feature stainless steel shafts and, while this can make the umbrellas a little heavier, it also makes them less prone to rust or breakage.

Q: What are the advantages of Pongee Fabric?
A: Due to its very fine thread and overall density Pongee is highly resistant to breaks and abrasions, it is also highly water-resistant and generally more durable than polyester or nylon. It also holds its color far better than polyester or nylon and doesn't fade in in sunlight. The biggest advantage of an umbrella made from pongee fabric is that it dries very quickly and is resistant to mold and mildew so you'll be able to put it away soon after use without worrying about damage or bad odors.
Size, Weight, and Portability
Any Londoner will tell you that its worth having an umbrella handy in all four season, so to avoid weighing yourself down, it's important that your new travel umbrella is portable. We like travel umbrellas which fold up small enough that you can slip them into your bag and forget that they're there. Similarly, we look for umbrellas which are lightweight so that you don't have to pump weights in order to hold them up.
Q: Is it large enough to keep to two people dry?
A: The items on our list are for single use however those with a larger canopy, such as the Totes Wooden Stick Umbrella which is 48-inches wide, can comfortably cover two people.
We've found that most good travel umbrellas weigh between 1 pound and half a pound and will easily fit inside a handbag or car door. Ideally, the umbrella can also be attached to the outside of your backpack for quick access when the rain starts or for letting it air dry.
The items on our list all weigh below 1 pound and collapse to around 12 inches in length making them very convenient to carry around. We've also picked out a couple, like the Vumos and Tinams travel umbrellas, which come with waterproof cases for drip-free storage.

Useful Features
All of the travel umbrellas on our list have automatic open/close mechanisms. This feature allows you to open and close the umbrella at the touch of a button so you'll always have one hand free to hold your coffee. It may seem like scary new technology to some and unnecessary to others, but we've found it to be very beneficial, particularly when you're heading to the office with an arm full of papers or approaching the airport with luggage in hand.
Price
We all know that you can pick up a budget umbrella at the local supermarket for a few dollars and while you might be smiling when you save a few bucks, you probably won't be so pleased when your new umbrella turns itself inside out in a gentle breeze. The bottom line is that it's worth paying a bit more for a higher quality product. These umbrella tent to cost between $10 and $25 and products at the upper end of the price scale generally come from well-established companies which carry out rigorous testing on their products.