7 Best Travel Yoga Mats for your journeys in 2020
Planning to spend your summer in a remote yoga retreat? Or perhaps you're simply looking to stay active and aware during your travels?
Whatever the reason, chances are that you'll need a portable and functional yoga mat to accompany you through this journey. Unlike regular mats, travel yoga mats are specifically designed to alleviate the process of traveling and commuting from point A to point B.
We've combed through the interwebs to find the most lightweight, durable and practical travel yoga mats that money can buy. So, if you're looking to perfect your flow as you venture out into the world, you should definitely check out these 7 best yoga mats for travel.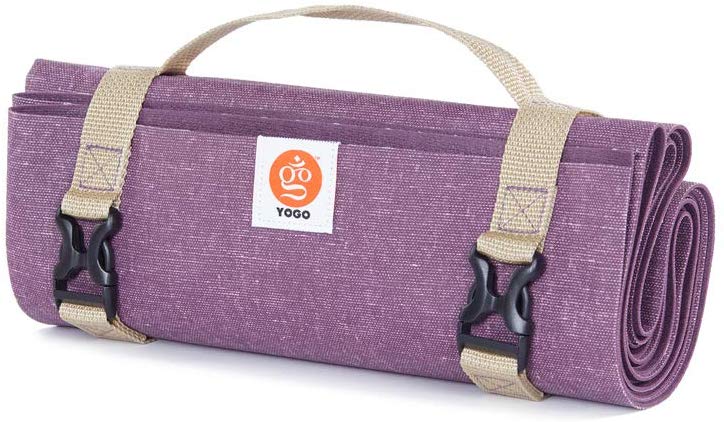 1. YOGO Ultralight Travel Yoga Mat
Highlights
Ultra-light, easy to clean & has good grip
skip to full review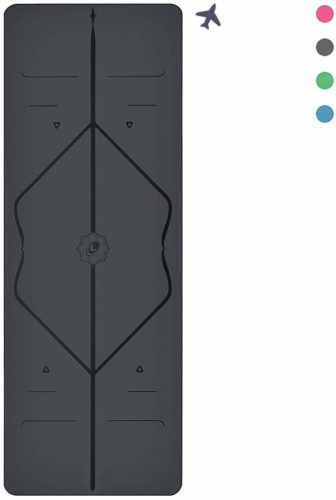 2. Liforme Travel Yoga Mat
Highlights
Excellent grip, cushioning, quality & its eco-friendly
skip to full review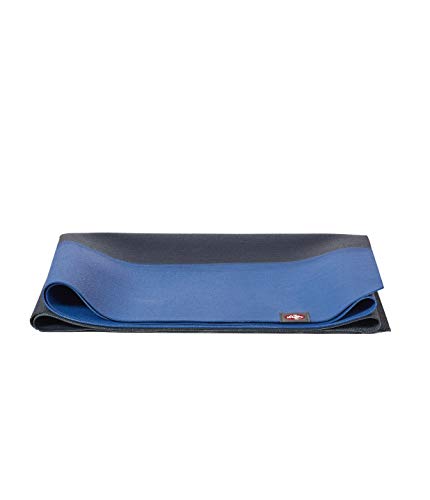 3. Manduka eKO Superlite Yoga Travel Mat
Highlights
Easy to clean, grippy, very light & eco-friendly
skip to full review
The 7 Best Travel Yoga Mats
You can confidently choose between these 7 lightweight, compact & foldable yoga mats. Many of these companies have tree-planting initiatives for every travel yoga mat you buy too!
How to Choose the Best Travel Yoga Mat?
Yoga is a spiritual journey, it creates a perfect harmony between the body, mind, and soul. This is why practicing yoga requires a stable, safe and serene environment. When you're constantly on the move, your chakras may feel disrupted, which is why having something to ground you down is of vital importance.
That being said, it's crucial to know how to properly choose a mat that will serve a safe haven during your travels. In light of this, we've compiled a short guide that'll help you choose the best travel yoga mat for your specific needs.

Size & Weight
First and foremost, you'll want to choose a mat that's easy to handle and carry with you. Most traditional yoga mats are quite bulky and unsuited for traveling yogis. In terms of weight, the lighter the mat, the better. Most travel mats are designed to weigh only a couple of pounds, so they won't overwhelm you while you're progressing from one point to another.
You'll also want to ensure that your mat can be folded, rolled and packed easily. If it comes with a carrying strap or a handy carry bag, you've hit a jackpot! Nevertheless, even if you don' have any helpful tools, make sure that your yoga mat can be conveniently packed inside your tote or backpack. Portability is key in this sense and you'll want to have something that won't put too much strain on your shoulders and back.
Texture
Depending on the type of yoga you practice, you'll want to choose a mat that provides good traction and a nice grip. If you're hung on more intense practices, you'll be sweating and dripping by the time you roll out that mat. If that is the case, then it's crucial to find a super sticky mat that won't slip and slide beneath your hands and feet.
Tree rubber is a great option, as it's naturally very sticky and offers a lot of traction. It's also a good idea to search for mats that have moisture-absorbing qualities, so your mat doesn't turn into a sweat pool.
However, if you find a great mat that's a bit on the smoother side, then you may want to consider using a yoga towel on top of it for more support and stability.
Durability
If you're constantly on the road, you probably know that you need to invest in durable equipment and apparel to ensure their longevity and lifespan. Yoga mats are no different. Think about where you're traveling..are you going to do some beach yoga? Perhaps you'll be doing some woodland yoga or going from one yoga retreat to another?
A mat made from durable, strong and robust materials can last you a lifetime, especially if you're prone to changing your surroundings every so often. PVC materials are much more resistant in this sense, however, they're not eco-friendly. Search for mats that are made from heavy-duty and long-lasting fabrics that aren't prone to wear and tear. Jute, cotton and tree rubber offers a good balance between sustainability and durability and could serve you for the years to come.
Maintenance
Finally, you'll want to pick a mat that's easy to clean and maintain. After all, you'll be spending all that time on the go and you don't want to end up with a sweaty, wet yoga mat on your hands. Look for mats that don't require heavy maintenance and special care.
The best way to go about this is to choose a travel yoga mat that can be cleaned with some water and soap. Try to keep a few clean cloths handy so you can always wipe the mat after use. Also, choose a mat that's thin enough that can be airdried, so you don't have to haul a hefty ad soggy piece of fabric with you.

FAQ's
Q: Can You Carry a Yoga Mat on a Plane?
A: Absolutely! Most yoga mats, travel mats especially meet the airline requirements. If your yoga mat comes with a carrying strap or bag, you can simply attach it to your backpack or small carry-on luggage for better portability.
The best thing about travel yoga mats is that they're extremely lightweight and usually fold quite easily, so you can probably pack it inside your luggage and it won't add any unnecessary weight to your bag.
Q: How do You Clean a Travel Yoga Mat?
A: Although some are machine-washable, most yogis avoid doing this as some cycles may disturb ad damage the texture and surface of the mat. However, if the instructions call for machine-washing, make sure to run the machine with cold water on a gentle cycle.
However, if you're traveling with limited supplies, then a simple damp washcloth and some gentle soap should do the trick. Be sure to wipe the mat afterward with a dry cloth or leave it to air dry.
For more information, it's best to carefully read the cleaning instructions that come with the mat, as some of them may require special care.
Q: Are all the options on the list Eco-Friendly?
A: Not all yoga mats are created equal and they're often made using various different materials and fabrics that ensure better durability, stickiness, and texture.
Of course, many companies that specialize in yoga equipment and apparel have embraced sustainable and eco-friendly practices during their manufacturing process. We know that sustainability is an important aspect of yoga and travel, which is why we've tried to include a variety of different travel mats made from environmentally-friendly and recycled materials.
Most of the mats on our list are made from natural tree rubber that is completely natural and safe for both people and the environment. We've also made sure that none of the mats contain artificial materials or toxic compounds that may damage your health and wellbeing.
Q: What is the Difference Between a Yoga Mat and a Yoga Towel?
A: The most important thing to know about yoga towels is that they're in no way a proper substitute for a yoga mat. Yoga towels are generally used on top of yoga mats to prevent slipping and sliding during intense practices.
The main difference between the two is that yoga towels don't offer cushioning and traction, as well as mats, do. They're also less firm, so it's not advised to use them on their own. The great thing about yoga towels is that they can easily be rolled up and stored inside your yoga bag for easier transport. The towels are also machine-washable, so there's no need to worry about high-maintenance or specific care instructions.
A yoga towel is not a necessary part of yoga practice, but it does offer certain advantages in terms of stability, balance, grip and even better hygiene.
Sources:
https://kids.frontiersin.org/article/10.3389/frym.2019.00100
https://www.gaiam.com/blogs/discover/how-to-choose-the-right-yoga-mat
https://www.verywellfit.com/yoga-mat-owners-manual-3566980