10 Best Travel Electronics Organizers for Cords & Cables [2020]
Do you sometimes feel like a cord salesman while traveling? We sure do.
Bags and pockets overflowing with endless cables, cords, smartphones, and various electronic devices and gadgets…you could easily make a living selling these at airports. Like it or not, the digital era is upon us and the way we travel has changed significantly. Nowadays, it's difficult to imagine going from point A to point B without at least a handful of these nifty devices.
However, traveling this way doesn't need to be bothersome! You don't have to worry about rummaging through your luggage and untangling wires and cords before reaching your destination. The solution lies in these handy little travel electronic organizers that help you keep your devices and cables neat and tidy.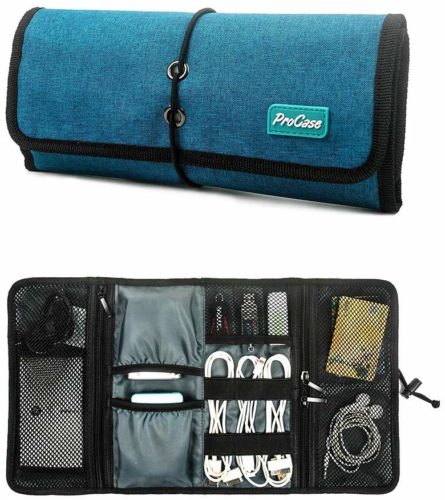 1. ProCase Travel Gear Electronics Organizer
skip to full review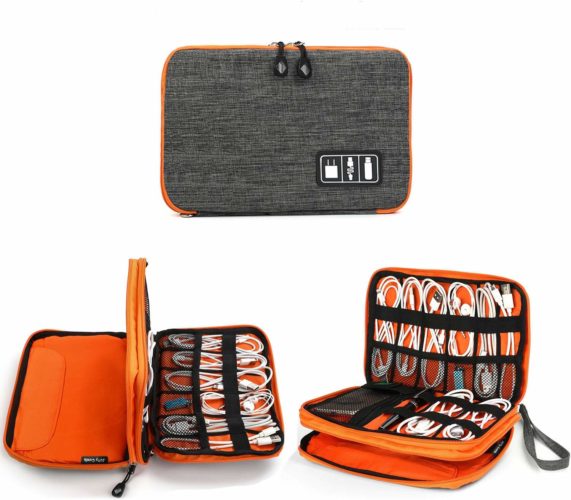 2. Jelly Comb Electronic Accessories Cable Organizer
skip to full review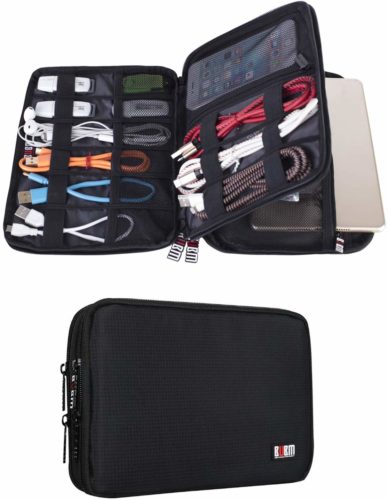 3. BUBM Double Layer Electronic Accessories Organizer
skip to full review
10 Best Travel Cord Organizers
These tech pouches are extremely convenient, as they allow you to keep all your electronics in one place – mess and tangle-free! We've done some research and came up with a list of the 10 best travel electronic organizers that'll help you keep all your things in order and at the tip of your fingertips. Some of these fit right in amongst your packing cubes & travel toiletry bags, if you happen to use them too!
How to Choose the Best Electronics Organizer for your Cords & Cables?
Think of your electronic organizer as a tiny suitcase for your devices. You want it to be aesthetically pleasing and practical, but you also need it to have handy features that'll help you get by on your travels. The best travel cord organizer isn't a one-size-fits-all type of thing – it depends on your personal needs and requirements. A person traveling with a few chargers and a kindle will not have the same requirements as someone who carries their whole electronic department with them.
That being said, we've taken it upon ourselves to help you choose the best travel electronic organizer by considering aspects such as size, weight, durability, as well as overall space and compartment number.
Organization & Space
First and foremost, you want your organizer to be…well..organized. That's the whole point of it, right? There's no use in investing in a pouch with one spacious compartment just to have all your devices toppling on top of each other.
Most cable organizers are well-equipped with multiple pockets, pouches, and holders to keep your devices and cords in place. It's up to you to choose an organizer that'll provide you with sufficient space to pack all your electronics systematically. Make sure to determine how many devices you're traveling with before purchasing an organizer, as you might find out that you have more or fewer items that you hoped for.
Durability & Material
The material of the organizer determines its overall durability and longevity. Sure, you can easily pack your electronics in a plastic bag if you want, but that won't really help you save space or trouble while packing. Electronic travel organizers can be made from a variety of fabrics including canvas, plastic, nylon or leather for that matter.
Nylon and plastic are generally more durable than plain canvas, but they're also not the most environmentally friendly materials. The great thing about synthetic materials is that they're often water-resistant, something that's crucial to keep all your electronic devices safe and sound. However, canvas fabrics are more pliable and less bulky, which can be quite handy if you're looking to save on space.
Leather is a great option in this case, as it's extremely durable and completely natural. It's also quite resistant and eco-friendly, although you might have some ethical issues regarding this choice of material.
Size & Weight
When it comes to travel organizers – size really does matter. You want your organizer to be convenient and handy, so it's best to opt for something relatively lightweight and compact. Of course, this also depends on the number of things you're carrying with you. If you have a lot of devices, you'll want to choose a bigger organizer or perhaps two small ones. The best organizer is the one that'll allow you to pack everything neatly without leaving too much-unused space in the process.
Also, keep in mind the overall weight of the pouch. The devices you carry can easily pile up on weight, so if your organizer is quite hefty, you're running a risk of going over the allowed airline weight limit. Even if you're not traveling by plane, there's nothing convenient about lugging a heavy bag full of electronics upon your shoulders.
FAQ's
Q: How do You Pack Electronics for Air Travel?
A: While there are no official rules on how to pack electronics in your bag or luggage, there are a few tips that can help you keep everything in order. For instance, you'll want to pack your larger devices last – think camera, tablet or computer. This will allow you to easily access your gadgets without having to rummage through a sea of cables, adapters, etc. Also, it's a good idea to keep all your electronics in one case. This will not only prevent you from displacing a certain device, but it'll also save you a tremendous amount of time when going through security.
Make sure to check the airline's regulations for electronic devices and batteries. You don't want to find yourself in a situation where the airline needs to confiscate your gadgets because you didn't comply with the rules.
Q: Are Electronics Allowed in Carry-On Luggage?
A: Most electronic devices are allowed in carry-on luggage, as a matter of fact, some airlines have strict policies that don't allow certain items to be checked-in. Keeping your devices closeby is also a more conscious way of traveling, as you never know if your checked luggage will get tossed and turned during transport, potentially damaging your devices in the process. Also, in case your luggage gets lost, it's a good idea to have your laptop, tablet and other precious gadgets with you.
Q: What's the Policy About Traveling with Power Banks?
A: Most airlines have specific guidelines when it comes to traveling with power banks or portable chargers. The reason for this is that these devices use lithium-ion batteries that can become a safety issue due to possible chemical reactions related to air pressure and temperature changes during flying.
The first thing you need to know about power banks is that they need to be packed in your carry-on luggage. If you accidentally store them in your checked baggage, the TSA will need to confiscate your chargers. If this happens, you will be able to retrieve your devices, but it'll be a lengthy a bothersome process that'll involve a whole lot of paperwork and hassle.
Secondly, there's a size limit you need to be aware of. The size doesn't refer to the actual dimensions of the chargers, but to their batterie's capacity. The Federal Aviation Administration has a strict policy that permits only 100-watt hours (Wh) per battery. Anything higher than that is restricted, so be sure to check the information on your devices. If your charger exceeds this limit, you'll need to contact the airline directly and ask for special permission to bring it aboard.
Q: What Electronics Do You Take Out for TSA?
A: Although different rules are enforced on different airlines, if you're traveling through a place with TSA security, you'll need to comply with their electronic policies. These guidelines claim that only electronics larger than a cellphone needs to be taken out for inspection. This usually includes laptop computers, tablet devices, power banks, e-book readers, etc. Keep in mind that TSA agents maintain the right to ks you to remove any item that might be deemed suspicious.
However, if you're a part of the TSA PreCheck program you're excused from having to remove any electronic devices for screening. So, if you're in a rush or traveling with a whole lot of gadgets, you might want to consider signing up.
Q: How Many Electronics Can You Bring on a Plane?
A: The limit of electronic devices varies greatly from airline to airline, so it's important to check with the company you're traveling with to get the most accurate answer. However, most airlines have a limitation on 15 devices per person. This includes all electronic devices such as mobile phones, laptops, cameras, tablets, etc.
Sources:
https://www.faa.gov/about/initiatives/ped/
https://www.iata.org/en/programs/ops-infra/baggage/ped/
https://zendure.com/blogs/news/what-kinds-of-power-banks-are-allowed-on-a-flight
https://www.tripsavvy.com/airport-security-rules-3150302
https://www.consumerreports.org/electronics/problem-with-stowing-lithium-ion-batteries-on-planes/