10 Best Travel Steamers in 2020 Reviewed
If you travel for work, you know the struggle – by the time you unpack your suitcase, all of your formal wear is wrinkled and creased. So what can you do? Ironing your clothes would be great, but you're not always going to find a hotel room with an ironing board. You can't always pack a heavy iron with you, especially when you are flying. A portable steamer offers a good solution.
A lot of people don't realize there is a big difference between a home steamer and one you can take on the go. The best travel steamers are compact, easy to pack in a suitcase or backpack and still powerful enough to smooth out your work clothes in seconds.
If you are looking for a great travel steamer, look no further. We have put together a list of ten of the top travel steamers on the market – all of them are affordable, powerful and above all, portable.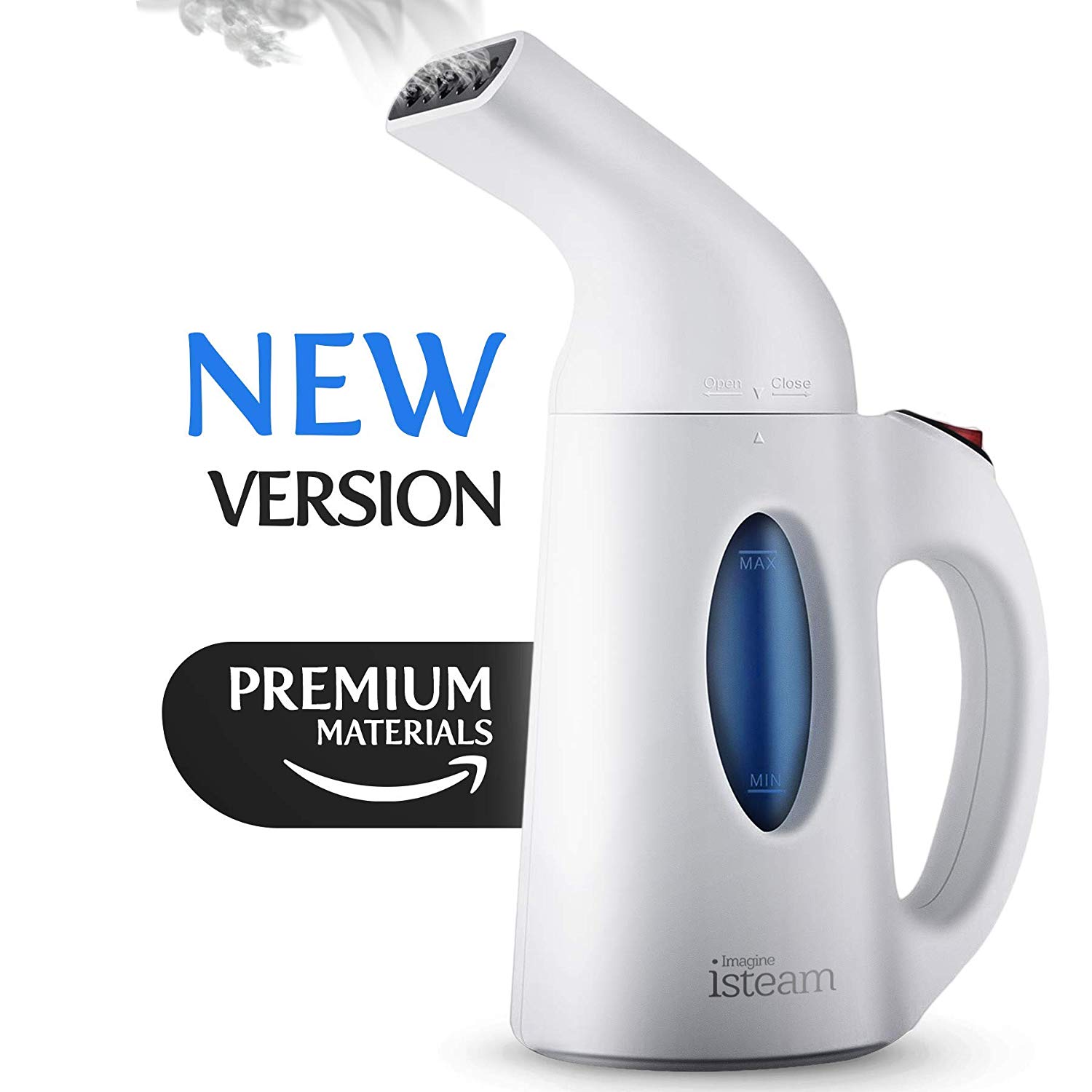 1. iSteam 2019 Handheld Steamer for Clothes
skip to full review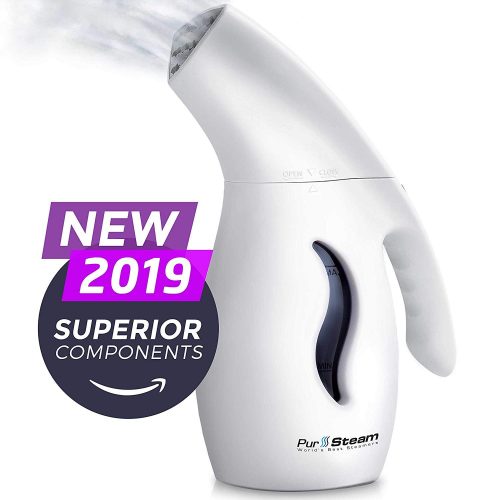 2. PurSteam Garment Steamer For Clothes
skip to full review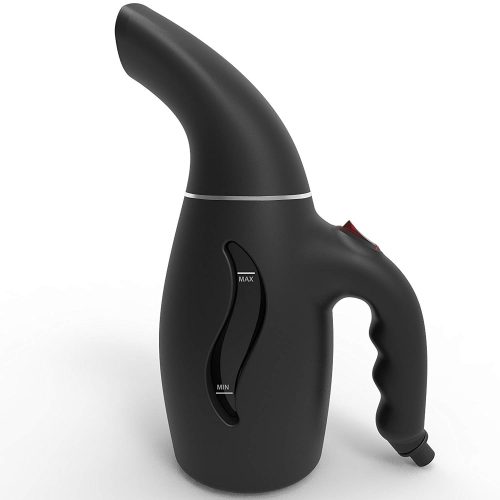 3. Lemontec Portable Travel Steamer
skip to full review
10 Best Travel Steamers in 2020
You can also cruise through our handy buying guide at the bottom of this post, to get an idea of what you need to look out for while you're shopping for your next travel steamer.
How to Choose the Best Travel Steamer
Now that you have had a chance to look through some of the best portable garment and fabric steamers of 2020, let's talk about what makes a great travel steamer.
Of course, not everyone has the same needs – we all travel differently, wear different materials and have different preferences when it comes to ironing and steaming. So not every travel steamer on our list will be perfect for you. There are a few important factors you will want to look out for, though, to make sure you choose the steamer that fits you best.
Here is everything you will need to consider before you purchase a travel steamer:
Portability
It is important to remember the difference between a standard clothes steamer and a travel steamer. When you are looking for a steamer you can take on the go, portability should be one of the first things you consider. The smaller, lighter and more compact your steamer is, the easier it will be to pack – but how will that affect its quality?
When it comes to steamers, bigger is not always better. There are a lot of tiny handheld steamers out there that still have plenty of power and can produce steam for 10 to 15 minutes before they need to be refilled. These little guys can be great when you are traveling light and want to be able to smooth out your clothes quickly. Just remember that a smaller nozzle size means more time spent on each garment.
Ease of Use
Alongside portability, you will want a steamer for traveling to be quick and easy to use. The fewer steps involved in steaming, the less time you will have to spend on it. Make sure your travel steamer has clear instructions, a quick heating time, and is easy to clean and refill.
A steamer with a filter that can purify the water is a huge help. Some home fabric steamers require fabric softeners or other chemical detergents to be mixed into the water so that you don't end up damaging fabrics with water spots or sediment. A steamer with a filter removes that extra step.
A fabric brush on your steamer also helps to make things easier. The bristles of the brush will help to open up the fabric, allowing the steam to fully permeate it, so that you don't have to go back over the same spot multiple times.

Not everyone can pack perfectly. Which makes steamers quite handy!
Water Spilling and Spitting
If you are looking through reviews of fabric steamers, both for travel and home, you will commonly see complaints that a steamer "spits out" hot water while it is being used.
This is a pretty common drawback of steamers. Because there is hot water boiling inside to create the steam, water can occasionally get caught in the nozzle and come jumping out onto clothes. It isn't too much of a problem unless it gets to the point there is more water coming out than steam, or if the water is spraying and landing on your skin.
The other problem with hot water is spilling. A lot of steamers are not fully sealed around the water tank, meaning that if they are tipped over they can spill or leak hot water. This can be dangerous if you are holding it in your hand at the time.
To combat both of those problems, look for a handheld steamer that is fully sealed and protected against spilling and spitting out water. A "360 degree design" or similar label tells you that the steamer can be held at different angles or tipped over without any water coming out.
Extra Attachments
Many travel steamers come with additional brushes or attachments for the nozzle head. Attachments like a lint brush or creaser can be great to add some versatility to your steamer, especially if it is a tool you use both at home and on the go. The only problem is that those attachments can sometimes add to the price of your steamer.
The most useful attachment you should look for is a fabric brush. This will allow you to effectively steam your clothes faster, and can be left on the steamer all the time while you are traveling. A lint brush can also be really helpful, but it is not necessary.
Adjustable heat settings or a softening attachment are helpful if you are steaming more delicate fabrics. Steam is generally safe on clothes, but it can be harmful when it is concentrated and very hot. For silk and other fine fabrics, you should try to use a lower temperature setting (if you can) or attach a softener for a more gentle steam concentration.
Energy Consumption
Even though they are small, remember that travel steamers do use energy. With a lot of larger, home steamers, the energy consumption might actually be so high that you can compare the cost to taking your clothes to a dry cleaner. Fortunately, with travel steamers you generally don't need to worry about that.
You should pay attention to the wattage of your steamer before you buy it. A higher wattage generally means that it will heat up the water faster, but it will be consuming more energy while you use it.
Steamers with a lower wattage consume less energy, but will take a little longer to heat up the water. The other consideration with a lower-wattage steamer is that there is more chance of overheating – with less energy, the device is working harder to keep pace and could end up damaged.
Budget-friendliness
As a final consideration, remember that your steamer does not necessarily have to be expensive to be effective. A lot of good travel steamers come at a fairly low price and work just as well as more expensive options.
If you are on a budget, a standard upright steamer with one or two attachments will probably your best bet. These are a little more traditional, and a bit larger, than more modernized handheld steamers, but they are super durable and always come at a fair price. Just remember that there may be some risk of spilling water – always keep your upright steamer vertical, and try not to overfill the water tank.
You also may want to consider a steamer with a warranty if you are looking for value. Get ahold of the producer before you purchase to find out their warranty details, so you know you are getting the best deal.

How to Use a Travel Garment Steamer
For more details, you should check out the instructions that come with your steamer when you buy it. But we can give you a quick overview of how these little devices work, just so you know what to expect.
The first thing you will want to do is fill your water tank and then secure the nozzle on the steamer. Make sure that it is fully secured before you plug it in – you will not want to tighten the nozzle once there is hot water inside.
Plug in your steamer and allow it to heat completely. Don't just rely on the heating time advertised – make sure you can see steam coming out of the nozzle before you begin to use it on fabrics. If there is no steam, or not enough steam, it will not be effective.
The best position to steam garments in is vertically. Even if your steamer can be held horizontally without spilling, it is best to hang your garment in an open area with nothing touching it. If you don't have a hanger available and your steamer can be used horizontally, that will do in a pinch – but it won't be as effective.
Press the nozzle of your steamer lightly onto the fabric and run it in a straight line, much like you would with an iron. If you have a fabric brush attachment, you may want to pull the garment taught with your other hand so that the bristles can fully permeate the fabric. This will allow the steam to really seep into the stitching, leaving it perfectly smooth and straight.
If you are steaming a more delicate fabric like velvet or silk, you should not press the nozzle directly to the material. You may also want to steam the garment inside-out, to avoid leaving creases or watermarks.
Once you are done steaming, allow the garment to cool off and fully dry before you put it on. It is important to always unplug your steamer after use, but don't empty the water tank right away – the water will still be very hot.
FAQs
What is the difference between a normal steamer and a travel steamer?
Whether or not your steamer can be considered a "travel" steamer depends mainly on the size. A travel steamer should be light enough to hold in one hand while you are using it, and compact enough to fit into a suitcase or backpack.
Travel steamers, because of their size, will generally hold less water and emit steam for less time than a larger home steamer. They also use less energy and tend to heat up the water very quickly.
Is a travel garment steamer safe to use?
Like any household product that uses heat and electricity, a steamer is safe as long as you use it correctly. Remember that there is boiling water inside your steamer, so it is not something you should take lightly or use without care.
Never put your hand directly in front of the steamer. If you see steam coming out, it is hot enough – you will never need to test the temperature by hand. If you are using an upright or vertical steamer, make sure you set it down on a flat, stable surface and be careful not to tip it over.
You should not use your steamer with small children around, especially if there is any risk of tipping it over.
How do you clean a them?
To get the most out of your steamer, you will want to take good care of it. One of the best ways to do that is by running distilled water through it every once in a while, just like you might with a coffee pot or a kettle.
The easiest distilling method is to use vinegar. A little white distilled vinegar mixed in with the water in your steamer will break down any hard water sediments left behind and help to sanitize the water tank. Just fill your tank with the vinegar mixture, turn on the steamer and allow it to steam all the way through the tank.
Doing this once or twice a month will keep your steamer running for years.
Can steaming my clothes replace ironing?
Depending on what kind of fabric you are working with, a steamer is capable of working just as well as an iron. However, we don't recommend ditching the iron for a steamer – especially not a tiny travel steamer.
For bigger items, like coats and pants, you will probably still get the best effect out of ironing. You cannot create pleats on pants with a steamer in the same way you can with an iron.
For more delicate fabrics, though, a steamer is a little friendlier and comes with less risk of damaging the garment. A steamer also comes in a lot handier for traveling – no one likes to pack their iron in their suitcase, and hotels will not always have one available.
In short, you should probably own both a steamer and an iron – but if you really hate ironing (we get it) using a handheld steamer will do the trick in a pinch.
Other Sources:
https://homeguides.sfgate.com/clothes-steamer-vs-iron-92319.html
https://electronics.howstuffworks.com/gadgets/home/clothes-steamer2.htm
https://www.goodhousekeeping.com/appliances/handheld-steamer-reviews/g1988/best-garment-steamers/