Best portable chargers for travelers reviewed
Looking for the best portable charger in 2019? Read the pros & cons and our picks for the best power bank including the factors to consider when you buy.
Portable chargers are great to have especially for travelers. It's quite common to find yourself in scenarios where you have a phone, tablet or a laptop with a plug that's different from the one you need in the country you just reached. Whilst travel adapters for chargers can help, they tend to be a pain to lug around, especially if you don't travel internationally a lot.
Another common one for backpackers is that they can be inconvenienced by their phone using up a lot of battery whilst searching for signal in the backcountry. Portable chargers or power banks as they are commonly known can really help in these scenarios & much more. Hence, its a good idea to include them in your list of hiking gear. After deciding on buying a charger the next thing for you to do is to pick out the best portable charger. That's where we come in.
Tip: Always drain your external battery completely before recharging, as this will help extend the efficiency & life of your device.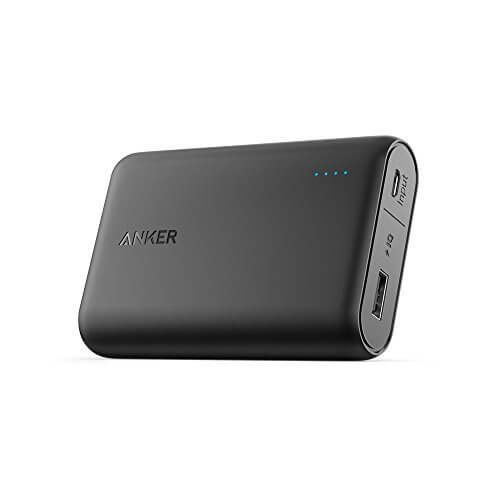 1. Anker PowerCore 10000
skip to full review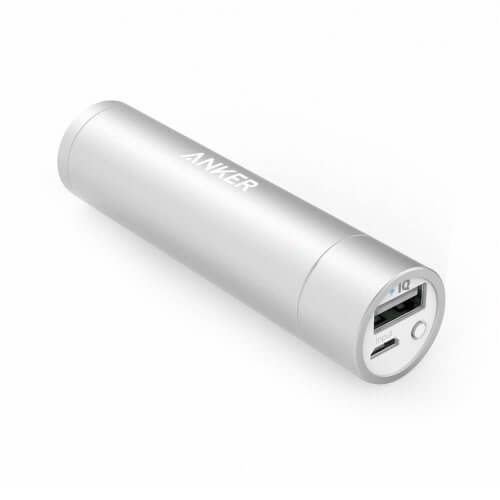 2. Anker PowerCore+ mini, 3350mAh Lipstick-Sized Portable Charger
skip to full review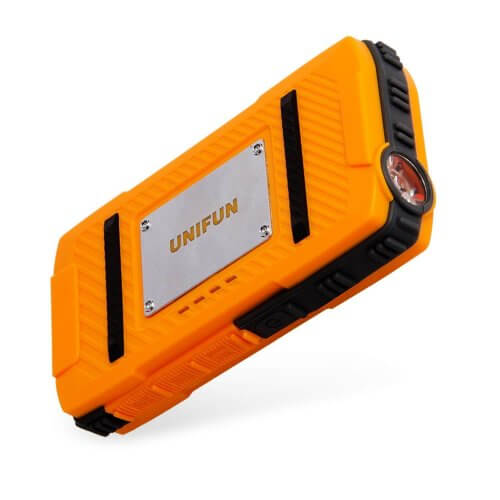 3. Unifun 10400mAh Waterproof External Battery Power Bank Charger
skip to full review
Sort for:
Our top 10 portable chargers including solar options
We have gathered a list of the top power banks in the market for you to choose from with a few eco-friendly solutions mentioned as well.
Factors to consider when buying the best portable charger – Buying Guide
One can have many questions with regards to power banks & many of the factors at times can be very subjective but nonetheless, have to be considered. Many of these factors are highly dependent upon how the power bank itself works so let's touch on that 1st.

How does a power bank work?
The ideal scenario is to go for something that is light but has a large capacity also. Determining the capacity can be tricky business. This is purely related to how power banks work. The external casing will typically display a wattage rating as well as the more commonly thrown around mAh rating.
For instance, if you decided that you need an external battery for your tablet & phone you might want to go for a battery with a higher mAH. So how high must you go? Well, a common method we find people doing is to divide the mAh rating on the power bank by the mAh on your phone or tablet. This, however, can be inaccurate. If your phone has a 3300mAh battery and if you own a 10000mAh power bank then it might indicate that you can charge your phone fully 3 times. This, in reality, is not the case.
Thanks to energy losses during operation a battery can sometimes function with only 85% efficiency. A standard USB works at 5V, portable chargers & phones batteries are at an average of 3.6 to 3.7V so the voltage has to be converted twice and there can be losses depending upon the quality of the USB cable too. The operating range of a phone's voltage can go from 4.3V (full energy) to 3V (drained), hence the 3.7 average. First, the voltage from the power bank is stepped up to the standard voltage on the USB cable then it's again reduced to 4.3 or lower to match the voltage on the phone battery. The circuitry for these changes is complex and how well it is made can very well determine who much loss there is. Hence, for the aforementioned example you might be able to charge your phone 2.7 or 2.9 times instead of 3, depending upon how well built the device is.
Now that you somewhat have an understanding of the working of the portable chargers we can look at the factors you need to consider when you buy.

Capacity & Weight: These two quality requirements can be very subjective based on the requirements of the person. Ideally look for a lightweight option with a high capacity. The following can be good choices for the scenarios mentioned.
If you have just 1 device to charge from time to time – 3000 to 5000mAh
If you have just 1 device & are heading into the backcountry for many days – 5 to 10000mAh
If you are a group heading out for camping – 25000mAh+
If you are travelling with multiple devices – 10000 to 15000mAh
The weight is an important factor in determining the portability as well. Always check whether airlines allow batteries above a certain capacity if you do decide to opt for the 25000+ range. Almost all countries are okay but there are a few exceptions as we are dealing with a lot of charge.
Speed: Portable phone chargers with an output of 2.4A instead of 1A are always quicker. Even though the advertised amps (A) are 2.4 & 1A the actual Amps are always slightly lower and the charging speed is device dependent. Sometimes it can be better to have an external battery with just 1 output of 2.4A instead of two ports with 1A output as the single port can charge your device much quicker.

Quality: When power is involved so is a lot of heat, hence a good portable charger needs to be a safe one as well. During our explanation of how the power bank works, we explained some of the voltage changes & other things, all these cause the device to heat. Other issues that can arise are related to the charging voltages & power variance especially when connected to an unreliable power source. Often time's travelers can face unreliable power sources in many developing countries. Look for chargers that have over voltage protection, short circuit protection, overcharge & discharge protection. Heat also needs to be insulated well by the charger. A good charger does not overheat when used over an extended period of time.
Other features: Pass through charging is one that is sought after. This is useful in a scenario where both your phone & charger run out of power at the same time. One can charge the external battery from a wall socket and the phone from the external battery. This is, however, unavailable in most devices.
Flashlights are a good option for those who like to trek in the backcountry a lot. Devices that are well padded like the Unifun are great options in the same scenario as well. It's important to remember aesthetics are not everything as most high functioning ones that get the job done look fairly ordinary. Things like hooks for attachment to backpacks & charge level indicators are nice features to look for as well.
Sources:
http://www.instructables.com/id/PowerBanks-How-It-Works/
http://www.wikihow.com/Charge-a-Power-Bank
http://www.phonearena.com/news/Heres-why-power-banks-arent-as-big-as-they-seem-to-be_id67153