9 Best Beach Umbrellas in 2019 Reviewed
Last year was a pretty exciting one for me.
It was the year I got married and also the year I learned that my husband is actually just a child I was never ready for.
It was also the year my husband found out just how painful sunburns can get.
Yes, our honeymoon in Cambodia took a nasty turn once my spouse realized that he, in fact, is not sun-resistant. Who would've guessed?
After spending the holiday being married to Two-Face, we decided that this year we're going to be ready.
So now, instead of sprinting to the beach only in his shorts and shades, my Batman villain spends his summers under the pleasant shade of our new beach umbrella.
That's why I've taken it upon myself to be your guide today and introduce you to the magnificent world of beach umbrellas and their magical properties. So, before you allow your laziness/indifference to ruin your holiday, check out this list of the best beach umbrellas on the market right now.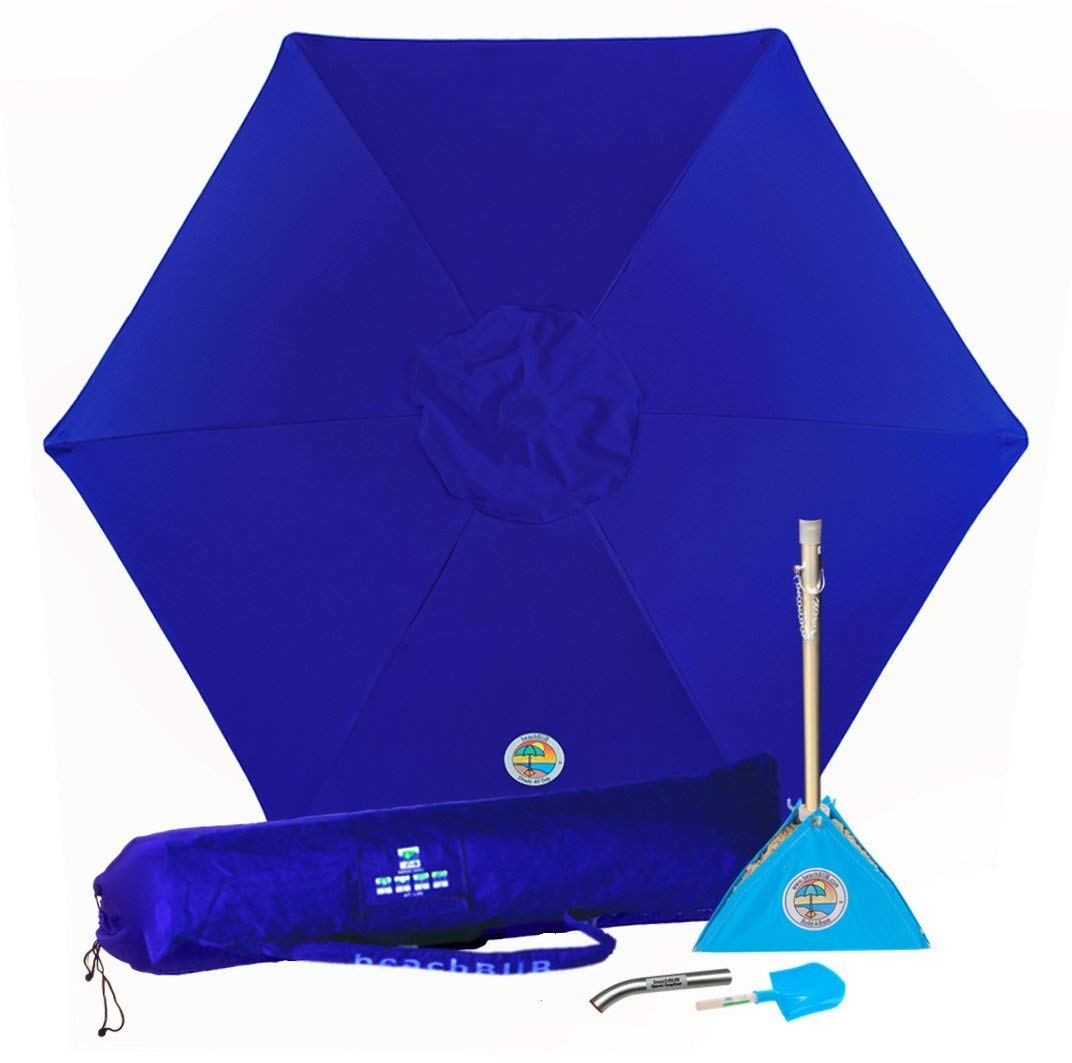 1. BEACHBUB All-in-One Beach Umbrella System
skip to full review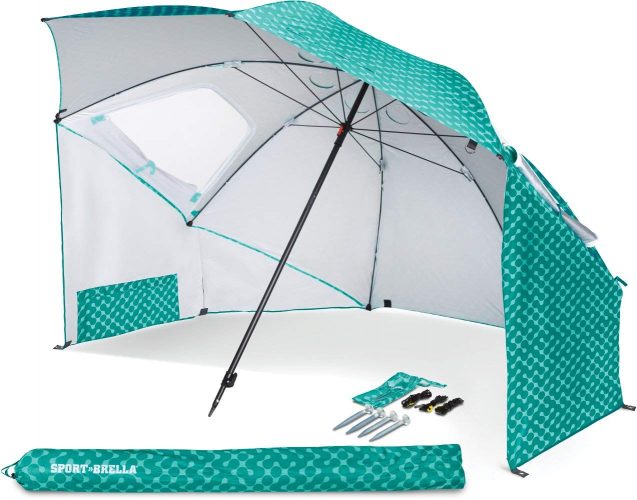 2. Sport-Brella Sun & Rain Canopy Beach Umbrella
skip to full review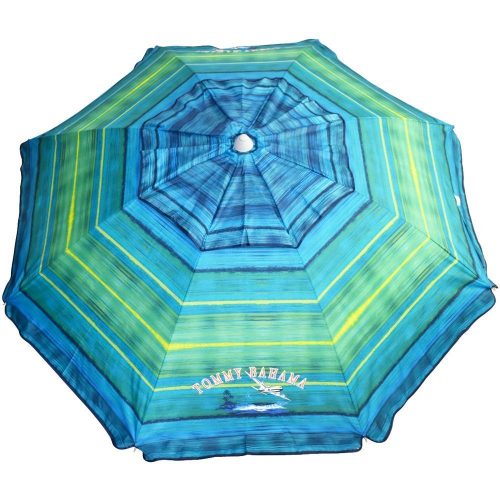 3. Tommy Bahama Beach Umbrella
skip to full review
9 Best Beach Umbrellas in 2019
How to Choose the Best Beach Umbrella?
Although you might be tempted to simply buy the cutest umbrella or the most affordable one, there's more to it than just design and price. Let's see what are some of the factors you should look out for when choosing the best beach umbrella.
Material
First things first: what's your beach umbrella made of? This is definitely one of the most important factors when choosing your umbrella, as you want to make sure that it'll serve its purpose…more than just once.
Beach umbrella manufacturers use a variety of different materials and parts to build their products and it's up to you to choose an umbrella that meets your criteria.
For instance, if you're looking for something lightweight and portable, you might be enticed to purchase an umbrella made entirely out of plastic, which in hindsight might not be the best possible solution. While it certainly would alleviate the transportation factor, it would lack in other areas such as durability, strength, wind resistance and overall quality.
Most of the beach umbrellas listed above have aluminum or steel poles and fiberglass ribs, which helps keep them sturdy and in one place, but it does add a couple of extra pounds to the whole product.

You'll also want to consider the fabric of the canvas as well, seeing as that's where most of the action takes place. Polyester, acrylic and marine-grade canvases are all good choices, but it's a good idea to check whether the canopies are treated with a silver coating, as this can reduce the amount of heat beneath your beach umbrella.
Conclusively, it all comes down to your needs and preferences. If you're looking for something to carry around all the time like a travel umbrella, then settle for something made of lighter materials. On the other hand, if you want your beach umbrella to last for a longer period of time, then it might be smart to add a few pounds to your baggage.
You should also keep in mind where you're going to use your umbrella. If the areas where you're vacationing are known for strong winds and inclement weather, then you'll want to invest in something that'll be able to withstand these weather conditions.
Usability
Another crucial factor to consider when choosing the perfect beach umbrella for yourself is its usability or, in other words, how convenient and practical it is.
You might have noticed that many umbrellas we mentioned have certain mechanisms that alleviate the process of setting it up and down. You'll want to choose something that's compact and can easily be packed up, so you don't waste half an hour folding it in and out.
There are other, additional features, that you should think about as well. Certain beach umbrellas are designed with tilt mechanisms and adjustable poles that allow you to fine-tune the umbrella to your needs. You should also look for umbrellas that have integrated sand anchors with twist-in mechanisms, which will help you set up your beach umbrella in just a few seconds.
Size
Does size really matter? Well, in this case, it does.
Think about who this umbrella is for. Are you buying it just for yourself or for a bigger group of people? When you answer this question, it'll be easy to make the right choice.
Beach umbrella sizes may vary quite a bit and depending on how much shade and protection you need, you can choose larger or smaller umbrellas.
Now, there are two size factors to consider when choosing the dimensions of your beach umbrella: the overall height and the diameter of the umbrella canvas. As mentioned earlier, some umbrellas have adjustable height poles so you can keep it as low or as high as you need to. When it comes to the canvas though, beach umbrellas are usually divided into two categories.
The first category is 6-7-foot umbrellas that are designed to fit 1-2 people.
The second category is 7-13-foot umbrellas that can accommodate 4-5 people at a time.
So, once you figure out how many people are going to use the beach umbrella, you can use the metrics above to help you decide on a perfect fit for you.
UV Protection
The whole purpose of a beach umbrella is to protect you from the sun and UV rays. That being said, you'll want to choose a product that offers ultimate UPF protection.
All the beach umbrellas in this guide have a 50+ UPF which is the highest rate of protection. This basically means that the fabrics used in these umbrellas are able to block 98-99% of UV rays, keeping your skin protected and secure.
Price
When all is said and done, it comes down to the price. Of course, there's no universal price for beach umbrellas and the ranges can go from as low as $10 up to $500 a piece.
Obviously, the cheapest umbrellas are going to be made from the poorest quality materials, which means that you'll probably end up buying umbrella after umbrella until you realize that it would have been more profitable to actually invest your money into something of the higher quality.
Now, if you're looking for something affordable, you certainly won't be looking at luxury beach umbrellas in the highest price range.
Depending on your budget and preferences, spending anywhere between $30 – $150 on a beach umbrella seems pretty reasonable.
It's worth mentioning that just because a product is on the pricier side, it doesn't necessarily mean that it's of better quality. Make sure to do your research before making a purchase and find the best quality-price ratio for you.

Design
Last, but certainly, not least is the overall design of the beach umbrella.
Have you ever left your spot on the beach to grab a few ice-creams only to return and find out that you're stuck in a matrix glitch unable to find your umbrella among the sea of colorful parasols?
Or does that only happen to me?
Anyway, in order to avoid these kinds of confusions, try and pick something striking and distinguishable, that'll help you find your way in the crowd.
Aside from nice designs and distinct patterns, you should also think about the overall structure of the umbrella.
While some may prefer the good old, traditional beach umbrellas, others might be more satisfied with canopy-styled umbrellas or even smaller, clip-on products.
It all comes down to how and where you plan on using the umbrella.
FAQ's
Q: Will these umbrellas protect me from UV rays?
A: The majority of beach umbrellas are designed to protect you from sun rays and UV rays. The UPF (Ultraviolet Protection Factor) is the standard for measuring the protective properties of your umbrella.
The UPF rating system recognizes 3 categories of protection:
Good UV Protection (UPF Range 15-24)
Very Good UV Protection (UPF Range 25-39 )
Excellent UV Protection (UPF Range 40-50+)
All of these umbrellas have the highest category of protection, with a UPF range of 50+. What this means is that these beach umbrellas are designed to block 97.5 – 98.0% of UV rays, allowing you to enjoy your vacation carefree.
Q: Are these umbrellas easy to set up?
A: Yes. The umbrellas are constructed in a way to make it easy for anyone to handle without much hassle. Most of the parts are removable so the process of assembling and reassembling the umbrella can be done in just a few simple steps.
You don't need any tools or additional materials in order to set up your umbrella and most of them are equipped with simple-to-use button mechanisms helping you put it up in a matter of minutes.
Q: Can one person carry a beach umbrella on its own?
A: Definitely yes. Beach umbrellas are specifically made from a combination of durable yet lightweight materials so they are portable and easy to handle.
All of these umbrellas weigh less than 10lbs and are equipped with special carrying bags with shoulder straps, making it easy for one person to carry on its own.
Q: Are these umbrellas designed specifically for the beach?
A: Sometimes.
Although they're called beach umbrellas, their purpose extends to more than just the beach. A majority of beach umbrellas are designed in a way so they can be used in a variety of different outdoor settings such as sports events, picnics or backyard parties.
The poles are usually designed so they can fit any surface, be it sand, ground or even a patio table.
It's always best to check with the retailer first before making an official purchase, so you'd be sure that the umbrella you chose is designed to fit different scenarios.
Q: How to choose the best beach umbrella color?
A: While there are no rules that dictate which color is the best when it comes to choosing a beach umbrella, there are some studies that claim that certain colors are more effective in offering protection than others.
Some scientists believe that colors like red and blue have better UV absorption than other colors, making them a better fit for your beach umbrella.
Other than that, it's a known fact that darker colors absorb sun rays way more effectively than lighter colors, which is why many people tend to favorize black umbrellas or those of darker shades.
Sources:
https://www.sungrubbies.com/blogs/news-articles/90201091-spf-vs-upf-what-is-the-difference
https://www.sciencedaily.com/releases/2009/10/091014130708.htm