Best Checked Luggage for Travelers in 2020 reviewed
We've all been there… it's a couple of days before a vacation or an important business trip. You're really looking forward to unwinding and for everything to go smoothly.
Fast forward to the day you start traveling, and your luggage seems to have other ideas. Some suitcases shed zippers, some a wheel, and others fail to adequately protect what's inside.
You're feeling irritated during an otherwise great trip. (If you haven't had that happen, lucky you!)
Preventing such scenarios is the main reason you need a checked bag you can trust. Carry-on luggage generally doesn't get the job done if you are thinking of traveling for more than a week, which is why it's great to have a specific check-in suitcase.
Many of y'all have different needs based on travel frequency, how you use your suitcase, price, etc. There are many considerations that go into buying a suitcase that lasts, be it for international or domestic travel. We've taken all of this into account and chosen the ten best checked suitcases on the market today.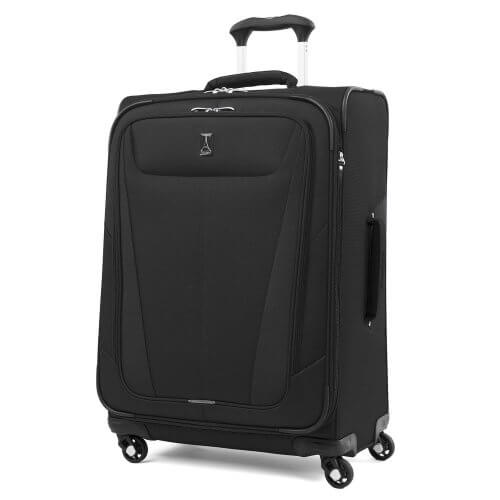 1. Travelpro - Maxlite 5, 25"
Highlights
The perfect combination of super lightweight & durability. Rolls well on different surfaces too
skip to full review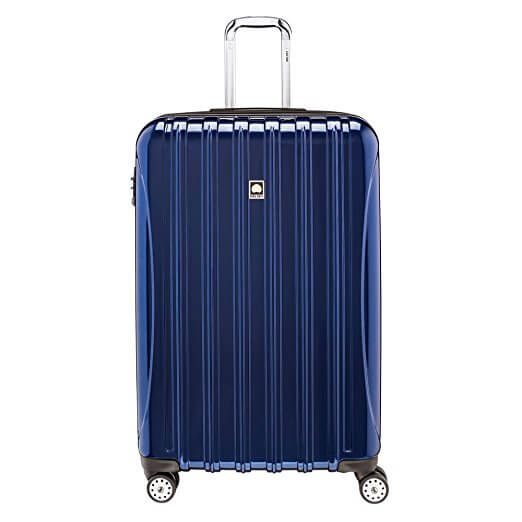 2. Delsey Luggage - Helium Aero 29"
Highlights
Stylish yet durable hardside which is also expandable. Offers a lot of packing space
skip to full review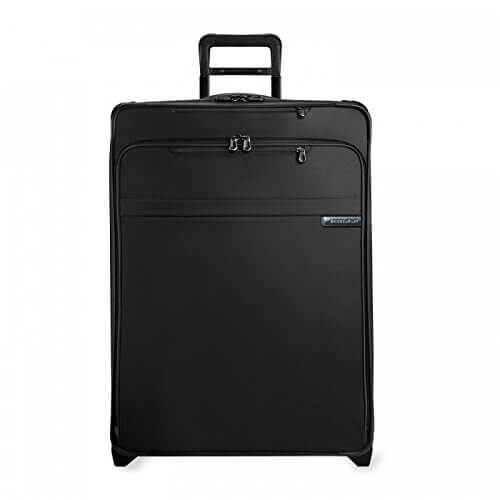 3. Briggs & Riley - Baseline Upright 28"
Highlights
As durable/ sturdy as it gets. Comes with a Lifetime Warranty. Great for business travelers also
skip to full review
Sort for:
Our 10 Best Checked Luggage picks
Most of the suitcases on the list are available in larger or smaller variants in addition to the ones we've researched, tested and picked. Some of them have matching carry-ons that complete the set, too.
Factors & features to consider when buying checked luggage
Picking a suitable suitcase isn't easy, especially when dealing with checked baggage. Each traveler has different packing needs. When we picked our list, we used a number of criteria to formulate a very accurate review. We also combed through thousands of reviews by buyers to ensure you get the crème de la crème.

Hardside / Softside Luggage Compared
Hardside
Softside
Variants
ABS, Polycarbonate
Polyester/Nylon Variants (Ballistic, Ripstop)
Aesthetics
Brighter & darker color options but can scratch easily
Mainly darker colors with better abrasion resistance
Overall Durability
Very good (Model Dependent)
Very good (Model Dependent)
Weight
Very Light
Light (feature & brand dependent)
Flexibility
Inflexible
Highly Flexible
Protection
Excellent (Ideal for fragile items)
Good
Organizational Features
Very limited
A wide variety
Price
Cheaper
Varies based on features
Note: When talking about durability we considered the handles, zippers etc., not just the material alone. While the polycarbonate on its own is quite durable, many softside models have sturdier wheels, handles etc. (overall package)

Aluminum luggage such as the Rimowa models are not so common but are the best in terms of durability.

Tegris by Tumi is a polypropylene thermoplastic composite that has excellent impact resistance but is extremely expensive. Tegris is also 100% recyclable and is certainly one to watch in the future.

Check out a more detailed comparison here.
Size & Weight: The size to weight ratio is something we considered very closely among the luggage brands we picked out. A 25-inch suitcase weighing 13 pounds is not ideal. Typically, 25- or 26-inch suitcase will serve you well on shorter trips that last 1-2 weeks.

What suitcase do you recommend if how I use my bag really varies? As in, if I were to need my luggage to accompany me on a road trip to the Outback or the Alps in addition to city travel…
In this case, opt for a rolling duffel bag. Those are often times water-resistant and can handle outdoor gear much better than regular suitcases. They are also very easy to maneuver, so if your trips happen to consist of rides in planes, trains, and automobiles, a rolling duffel will do well in any of these settings. Brands like Timberland or Osprey are pretty good to explore.
If you are looking for a suitcase ideally suited for international travel, opt for a 28- or 29-inch bag. This is a safe bet since it allows you to pack a lot and pass the airline size requirements of almost any airline. If you are thinking of studying abroad or are planning to travel for a long time, then a 29″-32″ case (which is the extra-large checked luggage size) would be a good option. It's important to note that it's very easy to go overweight when you pick this size—-depending on what you pack, of course.
If you are looking for something super light, we would recommend you opt for IT luggage. A good way for you to keep the weight in check is to buy a luggage weighing scale.
What is the international size limit on checked baggage?
62 inches linear is usually the maximum allowed bag size.
What is the weight limit for checked luggage on international flights?
Typically, airlines allow 50 pounds without you having to pay an extra fee.

Zippers: The zippers are probably the most important aspect of any travel suitcase. A lot can go wrong when the zipper fails. This is an area which we looked at very closely, since it can leave you feeling embarrassed and even helpless at the airport. Look for chain zippers that are made of metal; these are highly durable and can handle the stress much better. YKK is a fairly popular brand that is known for its quality.
What suitcase do you recommend for business travelers?
If you travel a lot on business, features like a suiter can be pretty important. Your luggage might also get thrown onto baggage claim belts every couple weeks, or even days, and will pick up some mileage that way. Having a lifetime warranty that covers airline damage would make your travels so much smoother. With that in mind, we would say opting for the Travelpro Magna 2, the Briggs & Riley Baseline, or even the BRX Explore (if you travel abroad a lot) is the way to go.
Handles: Luggage with the handle retract inside has less packing room, but is substantially more durable than options that have the handle outside. We looked for handles that were sturdy and able to retract smoothly. Handle height is also something taller folks should consider, especially if you have a 25-incher. Most handles are telescopic and many that we have chosen can lock in at different heights.
Warranty: If you travel frequently, we highly recommend you get a suitcase with a lifetime warranty. Brands like Briggs & Riley, TravelPro (on higher end models), and others offer a lifetime warranty. This covers most damage caused by airlines and is very handy to have on an item that is prone to rough use. There are many others that offer limited warranties; it is important that you check what exactly those warranties cover before you buy. The upside with limited warranty suitcases is that they are cheaper, but the downside is that they can be a lot more expensive to fix.

Wheels: Wheels are another essential item that can cause a lot of distress when not built well. We looked for models that have big enough wheels relative to the size of the overall case. They also need to be fastened well to the base of the luggage and not just be connected by one screw. They need to roll and turn 360 degrees for your comfort and be able to handle the rough terrain found on most pavements around the world. There are many models that use a standard type which you can find replacements for in shops or online stores, in case they do happen to break.
Why should I opt for a spinner or 4 wheeled luggage?
Four-wheeled luggage won't tip over, for starters. These options are quite stable and follow you effortlessly on smooth surfaces. They can be navigated sideways easily and rotate 360 degrees, which will help you navigate narrow spaces. Additionally, they don't put a lot of strain on your joints when you lug it around, even when packed completely. This makes them a lucrative option for people across all age groups.
So what am I giving up?
You sacrifice a very small amount of packing space. Also, not all two-wheeled options tip over, so some of them have a big upside.
TSA locks: Most hard-sided options come with these locks, and they can make life very simple at the airport. When agents need to inspect your baggage, they can simply unlock it using a universal key rather than ripping tags and smaller pad locks open.

Smart Features & Compartments:
We prefer suitcases that have multiple internal compartments. This way, you can separate your items and even make do without packing cubes. Some luggage models have waterproof sections too, which we regard very highly.
Nowadays, there are many suitcases entering the market that come with built-in USB charging, smart locks which can be operated from your phone, etc. While these are great to have, the features we listed above are always more important as they represent the core functionality of your suitcase. For instance, if you have a typical portable charger, you can use it anywhere, not just when you are by your luggage.
We also didn't give prime importance to aesthetics since this varies based on the material you choose. Visibility can be an important factor for some, but luggage tags are always an option to help you identify your bag quickly without standing around for very long.
Why are there so few smart luggage options on the top lists?
Durability. Durability. Traditional options still have the edge in terms of usage life, and when you throw the price of a smart luggage into the mix, their appeal diminishes.
Additionally, airline rules are still changing to accommodate or rule out certain types of smart luggage. Just a few months earlier (than the time of writing), US airlines decided to ban smart luggage that doesn't have removable batteries.
Sources:
New airline rules are leaving smart luggage makers in a tough spot, Techcrunch
How to choose the best luggage for travel abroad, Travel Fashion Girl
Best Luggage Brands for Carry-On and Checked (Survey), Consumer Reports
Luggage buying guide, Consumer Reports