10 Best Travel Toiletry Bags for Men & Women in 2020
Recall, that friends episode with Ross "Major Shampoo Explosion!!!" The feeling of finding your belongings covered in shampoo or nail polish is truly the worst. Wouldnt you say? I am sure no one would like to take a gamble with their documents, clothing or books in their suitcase.
Besides, whether you're heading out on a short or long trip it's always neat to have a cool toiletry bag for your cosmetics, shaving equipment & the likes.
We've rounded up some of the top toiletry bags for women & men which can be used on short or long trips. Staying organized can save you a surprising about of space too. Check out some of the great toiletry kits you can arm yourself with below: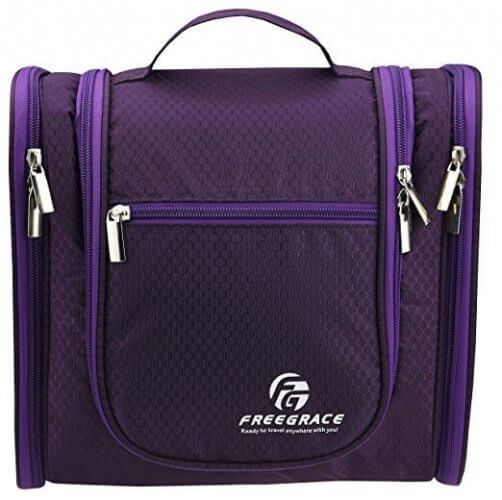 1. Premium Toiletry Bag By Freegrace
skip to full review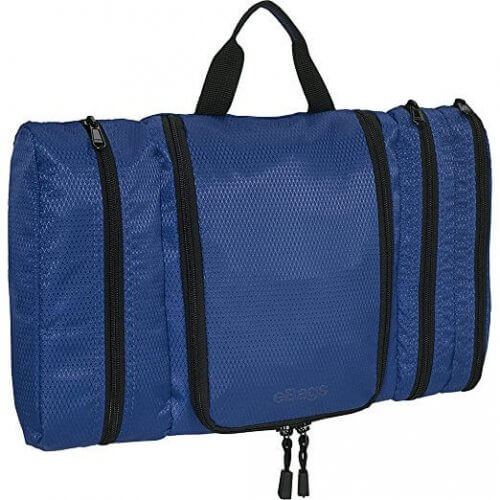 2. eBags Pack-it-Flat Toiletry Kit
skip to full review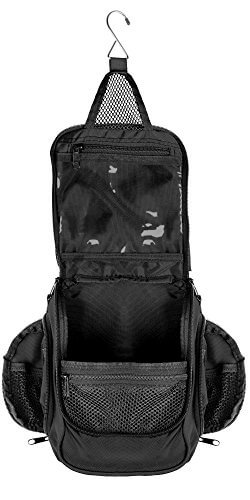 3. NeatPack Hanging Toiletry bag
skip to full review
Sort for:
10 Best Toiletry Bags in 2020
Whether you are looking for a hanging toiletry bag or a simple pouch type of toiletry bag for holding your liquids, our list has got it all. Check em out:
How to choose the best travel toiletry bag
If you fancy braving it on your own, we've got some great tips on what to look out for when it comes to buying a toiletry bag. We used these tips while compiling our top ten toiletry bags! Whilst your bag doesn't need to tick every single box, here are a few key features we'd suggest looking out for…

Compartmentalize Your Life
Never underestimate the power of an organized bag! Picture the scene – you've just arrived at your hostel after 18 hours on a coach and all you want in the world is to brush your teeth and take off your makeup. Toiletry bags with compartments make everyday tasks so much easier. Gone are the days of rummaging through a bag of razors, earbuds and leaky hand sanitizer in search of your humble earplugs! If you're wondering why you'd own earplugs, it's definitely time to buy some…
Is All as it Seams?
There's nothing worse than breaking a zip when you're packing in a rush or having a random hole appear in the seams of your toiletry bag. The stylish, dainty bags might be pretty to look at, but double check that the seams are actually sturdy. Look for something that has been well-stitched – back-stitching is normally a pretty good sign. This is can be tricky to identify, but you should be able to see consistent, thick stitching around any joining of fabric.

Slippery When Wet
Do yourself a favor and go for something waterproof. It doesn't need to be Titanic-survivable, but choose something that won't be ruined if it gets splashed during your shower. Chances are, you won't have a private bathroom for a lot of your journey. Find a fabric that can hold its own in a public bathroom – nobody likes a soggy bottom. Oilcloth is a great material to keep an eye out for, and has a slightly waxy/ glossy texture and look to it. PVC is a good option, too.
Get Hooked
Speaking of public bathrooms, go for a toiletry bag with hooks attached to it. These will really come in handy when you need somewhere to put your bag while you shower/ brush your teeth/ literally do anything in a hostel. Ideally, the hooks will be made from something like stainless steel so that they don't rust. The idea is that you can unzip your bag and leave it hanging down from the back of the door while you shower.
Vanity Case
This is totally optional, of course, but toiletry bags with little mirrors can be super handy. Some cases come with mirrors built into the fabric, while others have removable mirrors. These are pretty useful as you can easily do your makeup without having to take up space in a public bathroom. If you like your privacy while getting ready, opt for one of the best toiletry bags for women and turn it into a makeup station!
Keep it Light
However long your trip is, you won't want to be weighed down by your toiletry bag. Look for one which is made from lightweight material – PVC and polyester are pretty good choices. Some bags have fixed, flat bases, which makes them quite easy to pack into a bag. This feature will keep your bag upright and tends to make the bag sturdy and a little bit bulky. These are great for long trips where your toiletry bag will be buried in a large backpack! There are also hanging organizers, which fold down and can be easily squeezed down the side of your backpack. If you're only going away for a few days, we'd suggest getting something small with only two or three compartments so that it can easily fit in your carry-on.
FAQ's
Q: Do Toiletry Bags Need to Be Clear?
A: Depends on whether you're traveling by plane or not. If you're going through airport security, the regulations state that all liquid substances must be packed in one clear, plastic, resealable bag. However, if you're carrying other non-liquid cosmetics such as powders and lipsticks, you can pack them away in a toiletry bag of your choice without worrying about color or transparency.
Q: How Do You Clean a Toiletry Bag?
A: It really depends on the material of the toiletry bag. If the bag is made of plastic or nylon, simply submerging it in a basin filled with water and soap will do the trick. However, if your toiletry bag is made from textile or a specific kind of fabric you can always try an antibacterial spray or even wet wipes to clean it out. Ultimately, read the product description and find out whether there are instructions for cleaning; some toiletry bags might even be machine-washable!
Q: Is a Dopp Kit the Same as a Toiletry Bag?
A: Yes. A Dopp Kit or a Dopp Bag is another term for a toiletry bag, mostly used in the US. More often than not, a Dopp Kit refers to a type of men's toiletry bag, as they were first introduced during World War I for military purposes.
Q: What Should I Put in a Toiletry Bag?
A: A toiletry bag is designed to carry all your toiletry essentials – hence the name. This includes shampoo, conditioner and shower gel, toothpaste, shaving cream, lotion etc. Depending on the amount of space available, you can also use a toiletry bag to carry wet wipes, makeup brushes, hairbrush, deodorant and other body hygiene supplies you might need during your trip.
Q: What Materials are Toiletry Bags Made of?
A: Toiletry bags can be made from a variety of different materials. Some bags are made from plastic and nylon and are lightweight and easy to clean, while others, more durable alternatives can be made from polyester, Oilcloth or different kinds of textiles. All of the above-mentioned materials have their advantages and disadvantages that can make or break your trip, so choose carefully.
Q: What's the Difference Between a Toiletry Bag and a Makeup Bag?
A: While there's no essential difference between the two, makeup bags or cosmetic bags as they're commonly called might have additional special compartments to hold makeup tools, brushes, and other beauty valuables. Some toiletry bags do have space for makeup but they're generally designed to carry other hygienic supplies.
Q: Is There a Size Limit for Toiletry Bags?
A: If you're traveling by plane, the limit is 1 quart-sized bag per passenger. Otherwise, if going on a road trip or a backpacking adventure and aren't planning on flying anytime soon, go crazy with the size of your toiletry bag!
Q: Are All Toiletry Bags Leak-Proof?
A: Unfortunately no. Some toiletry bags are already made from waterproof materials like nylon or plastic, while others are additionally treated with water-resistant finishes to make them waterproof. However, there are toiletry bags made from special textiles that are not waterproof and should be handled with more care when in the vicinity of water or liquid substances.
Q: How Many Toiletry Bags Can I Carry Through Airport Security?
A: The general rule is 1 quart-sized bag per passenger, so if you have any additional toiletries that you need to carry, we suggest storing them in your checked baggage or dividing the cosmetics between friends or family, if traveling in a group.