10 Best Beach Tents in 2020 reviewed & compared
Sun, sea, sand, and the fourth S; sunburn.
Many may think that a day on the beach isn't complete without a two set of bikinis burn lines. Then there's the joy of sweat mixed with sunscreen and unique taste of sand in your sandwiches.
Personally, I prefer to pack a compact beach tent or a beach umbrella and cool things down a bit.
A little shade above my head and a place to shield my bag, not to mention protection from harmful UV rays.
It all helps to relax into a good book on the beach.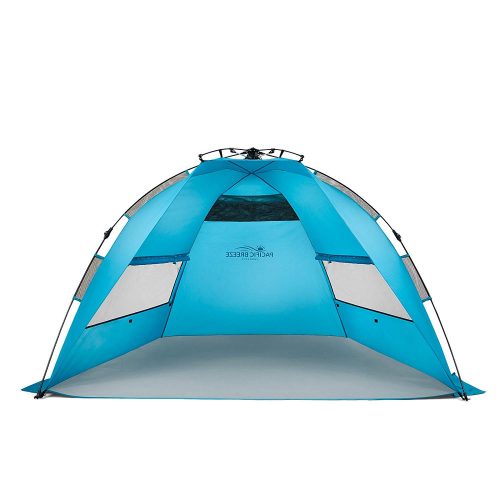 1. Pacific Breeze Easy Setup Beach Tent
skip to full review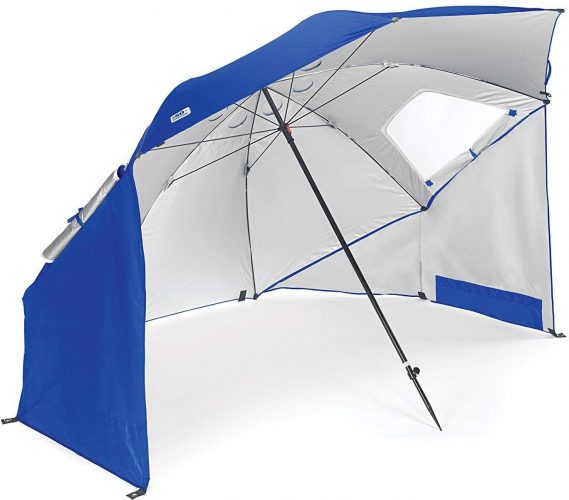 2. Sport-Brella All-Weather Beach Canopy Umbrella
skip to full review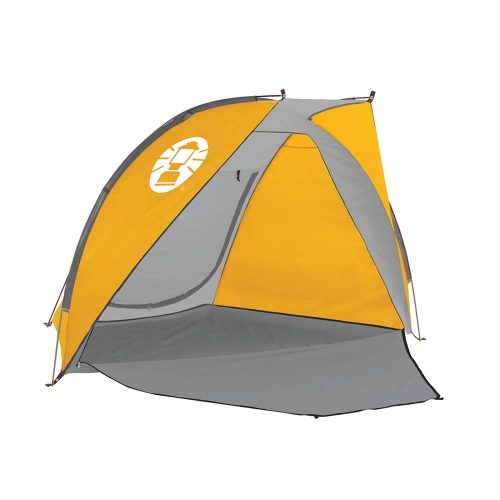 3. Coleman Beach Shade
skip to full review
10 Best Beach Tents in 2020
It's true that beach tents come is quite an array of styles and sizes, so you might be wondering which product is the most suitable for your travels. Well, don't break a sweat because we've got it covered. Take a look at our selection and our handy tips for choosing the right one for you.
How to Choose the Best Beach Tent
Beach tents come in a variety of shapes and sizes, they can be pitched in different ways, and provide varying levels of sun protection. We, therefore, encourage you to look at the specific features that each product offers and take a moment to decide which is best for you.
When selecting the tents to include in this list we considered multiple factors including the:
Type of tent
Size
Material
UV protection
Price
To make things clear, we've also considered the usability of the products and any additional features.
Who is the Tent For?
Before you go any further, make sure you know why you are buying a beach tent. Are you looking for a little head shade while you settle into a book, or for full body protection from the sun? Do you simply need a safer way of storing your bags and food while you go for a swim, or do you want to shelter your kids from the sun?
Design & Type of Tent
By design, we are partially referring to the color and print of the material itself. I like a beach tent which stands out, making it easy to spot from the sea. If you plan to use your tent for beachside camping too then you might prefer a subtler color.
The actual shape of the pitched tent is the other key aspect of design. The two most common types of beach tents are Cabana beach tents and Canopy beach tents. Each has a different set of qualities.
Cabana Beach Tents – these are hybrids between a fully enclosed tent and a canopy. Cabana's are usually closed to the floor on three sides and completely open at the front. They may have side windows or a zippered front panel.
Canopy Beach Tents – large and spacious, these are ideal for groups with plenty of room for beach coolers. They are usually open on all four sides while the fabric forms a roof. They typically have a simple design which is easy to assemble.
There are also three popular styles of tent frame:
Pop Up – designed for the lazy beachgoer, these tents are engineered with sturdy but very flexible poles which literally pop into shape when removed from the bag.
Removable Poles – often stronger than pop-up tents, pole tents take a little more time to put up. You'll have to assemble the frame yourself.
Built-in Frame – a compromise between the two. The built-in frame is quick to assemble and very strong. They are often bulkier when packed.

Usability
One of the most important factors is how easy it is to pitch and pack the tent. If you need to rely on a willing volunteer each time you pitch the tent, it certainly limits its usefulness. The construction and pack time is important too. Ideally, you should have your beach tent pitched before your ice cream melts.
Pop up tents and tents with built-in frames are defiantly the quickest and easiest for a solo beachgoer to put up.
Size
Check out the height of the tent as well as the area of the footprint. Larger tents will provide enough space to sit inside with a couple of deck chairs (Think 80+"). The more compact version is better suited for sitting or lying on the ground. Beach tents with very low head height can be perfect hideaways for kids and babies.
Check the packed size too. If you plan to pack your tent on a beach vacation, then make sure that it doesn't dominate your hand or hold luggage.
Material
There are three main criteria that we expect from beach tent materials and those are:
Durability
Breathability
Sun protection.
Most of the items on our list are made from polyester which ticks all three boxes. Heavy-duty fabric will weigh a little more but it also tends to last longer.
Similarly, the frame should be made from a tough metal such as aluminum or steel rather than flimsy plastic. Aluminum is usually the more popular of the two materials. It's lightweight, doesn't rust, and can withstand average winds. Steel may be preferable for tougher weather conditions.
Don't forget about the UPF (Ultraviolet Protection Factor) either. The best beach tents will an SPF rating of 50+.

Additional Features
Many beach tents come with built-in groundsheets. This has a huge advantage for keeping out sand. If you're purchasing for kids, or for sleeping, you'll want to make sure that your tent has a groundsheet. Otherwise, you need to pack additional beach towels which can be a hassle (especially if you forget them).
Likewise, waterproof or water-resistant fabric is useful if you plan to spend the night in your beach tent. Guide ropes, pegs, and sandbags are also handy for securing your tent when the wind picks up.
FAQ's
Q: Are these tents safe for kids? & what is the best beach tent for babies?
A: Beach tents are an excellent way to protect your kids from harmful UV rays. Most kids hate to put on sunscreen but love to make a den inside a tent!
It is important, however, that you purchase the right tent. The best beach tents for children will have a high UPF rating and good ventilation. Otherwise, the child will be at risk of overheating as well as burning. You also need to make sure that your baby beach tent can be anchored well, to prevent it from collapsing or being blown away.
The first 9 out of our 10 picks have a UPF 50+ rating which is why we haven't yet included a beach tent specifically for kids. Also, the larger options can fit infants along with adults.
Q: How can I care for my beach tent?
A: Tents are designed to be durable but there are a few things you can do to help extend a tents life.
Be careful and take your time to pitch and collapse the tent. Avoid snapping poles together or folding them with force as this can cause splintering.
With removable poles, try to thread them through gently as pushing or pulling can tear the fabric.
Open doors/windows to allow any bad odors to escape before storing the tent.
If the tent has been exposed to muddy paws and/or sticky fingers, you can clean it with a wet sponge and mild soap. Wet wipes would also work fine.
Ideally, the tent should be free from debris, including sand, and completely dry when it is packed.
If you do have to pack up the tent while wet, then it's better to leave it out of the bag. Take it out to dry as soon as possible. If the material remains damp, then mold is likely to form.
Q: Aside from aesthetics does the color of the tent matter?
A: Although it is not 100% proven, scientific studies indicate that dark colors are more successful in blocking UV rays than light colors. Therefore, a dark blue or red tent may protect your skin better than a bright yellow tent.
Q: What exactly does UPF mean and what level of protection do I actually need?
A: You've probably heard of UPF before but may still be unsure what exactly the numbers mean or which rating you should choose. Essentially the UPF rating indicates the ability of the material to block UV rays an prevent your skin from sizzling in the sun.
The number is calculated by measuring the percentage of UV rays that can pass through the material. A fabric with UPF 50+ rating is the best for the beach because it will block more UV rays. For people who want to catch a tan or those who are not so sensitive to the sun, a lower UPF rating may be acceptable.
The following figures should give you a clear idea:
UPF 5 – 14. Moderate protection (80%-93.2%) – comparable to the shade provided by a tree.
UPF 15 – 24. Good protection (93.3% – 95.9%) – suitable for short stays in the sun.
UPF 25 – 39. Very good protection (96% – 97.4%) – suitable for long stays in the sun.
UPF 40+. Outstanding protection (97.5% or above) – excellent for children and babies or adults with sensitive skin.
Sources:
http://www.beachtentland.com/upf-for-beach-tents/
https://www.skincancer.org/prevention/sun-protection/clothing/get-in-on-the-trend