Best digital luggage scales & analog options in 2020
I am quite sure that no one would like to rock up to the check-in counter and find their luggage a kilo or two overweight.
You might have seen people frantically rearranging their items adjacent to the counter just to avoid any extra fees.
If you add, being marginally late due to traffic to this scenario, then you have a mini-crisis brewing.
Fortunately, luggage scales are here to help. Picking the right one, however, can be a bit complicated.
Irrespective of whether one is into the habit of packing light or to the brim, it is much better to know exactly how much your luggage weighs.
Wouldn't you agree?
Airlines can be quite strict with respect to weight limits and excess baggage fees are getting steeper by the year.
Carry-ons are no different and can come under scrutiny too. Accuracy & ease of use is pretty much everything.
That's why our list consists of the best you can buy in the market today.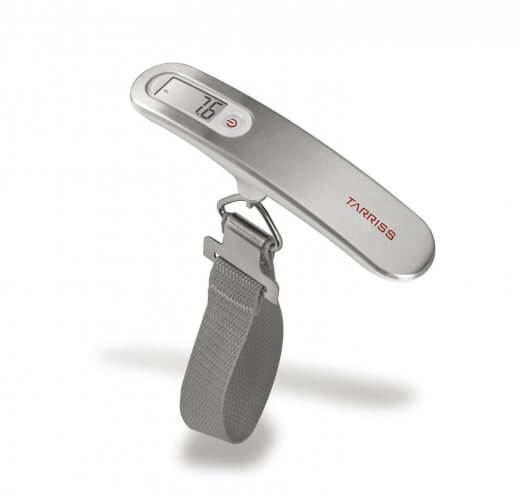 1. Jetsetter by Tarris
Highlights
Sleek. Accurate. Excellent customer service.
skip to full review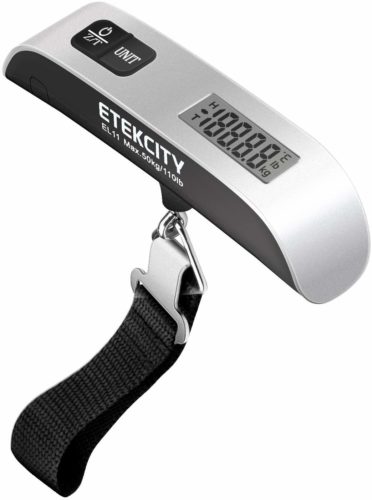 2. Etekcity Digital Hanging Luggage Scale
Highlights
Accurate. Great Price. Built-in Tape Measure.
skip to full review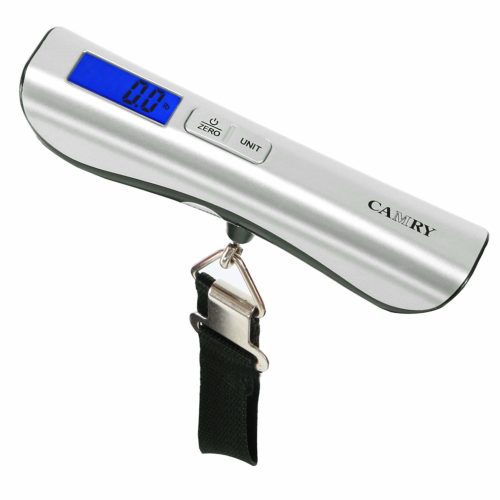 3. Camry - EL62
Highlights
Sturdy feel. Accurate with easy to read display.
skip to full review
10 Best Digital Luggage Scales
We've picked out and reviewed what we think are the 10 perfect travel luggage scales in 2020. Some have numerous other features that increase their usefulness.
Best Mechanical Luggage Scale

Strengths & Weaknesses:
Weight lock feature is handy
No battery needed
Not as accurate as some of its digital counterparts
Weight accuracy is +/- 3 lbs which can be a lot depending on the user
Our first and only non-digital option in the list is the Samsonite manual luggage scale. Samsonite is an established luggage brand with other terrific travel gear as well and this one is no different. The mechanical options need no batteries which is always an added advantage. You can simply buy and forget about it too. At first glance, the device seems a bit wider than first thought. The hook design is great despite having a slightly flimsy appearance. The Samsonite's downsides lie in the core functionality. The scale is accurate but not on par with the digital weighing scales. Overall, this is definitely a great option for those who don't want to go digital and desire something that is very durable and compact.
How to properly use luggage scales
Make sure you do not strain your back when you lift. Avoid using one hand alone to carry heavy weights. Make sure you use both hands unless the scale itself restricts you. Ensure that you lift the weight vertically by pushing down with your feet and keeping your back straight. A good weighing scale in addition to being accurate will also facilitate this. Lifting heavy weights in angles and in an incorrect fashion can result in back injuries.
Luggage Scales Comparison
| Product | Image | Weight | Battery Type | Capacity | Additional Functions |
| --- | --- | --- | --- | --- | --- |
| 1. Tarriss Jetsetter | | 4oz | Lithium Cell | 50 Kgs/ 110 lbs | Overload, Auto Off, Hold, Low Battery Indicator |
| 2. Etekcity | | 2oz | 3V Lithium Cell | 50 Kgs/110 lbs | Overload, Tare, Auto-Off |
| 3. Camry - EL62 | | 4oz | 3V Lithium Cell | 50 Kgs/110 lbs | Hold, Overload,Tare |
| 4. Letsfit | | 3oz | 3V Lithium Cell | 50 Kgs/110 lbs | Tare, Hold, Overweight |
| 5. EatSmart - Precision Voyager | | 7.2oz | Lithium Cell | 50 Kgs/ 110 lbs | Auto Off, Hold |
| 6. Etekcity Fish/ Luggage | | 6.2oz | 3V Lithium Cell | 50 Kgs/ 110 lbs | Tare, Auto-off, Tape Measure, Hold, Overload |
| 7. Camry - EL10 | | 6.3oz | 3V Lithium Cell | 50 Kgs/ 110 lbs | Tare, Hold. Temp Sensor |
| 8. LEOKOR | | 4.8oz | 2 AAA | 50 Kgs/ 110 lbs | Hold, Tape Measure, Auto Shut off, Overload, Low Battery Indicator |
| 9. Balanzza | | 2lbs | 3 AAA | 44 Kgs/ 100 lbs | Hold, |
| 10. Air Weigh LS-300 | | 6.4oz | Lithium Cell | 34 Kgs/ 75 lbs | Auto Shut off |
| 11. Samsonite Mechanical Luggage Scale | | 3.5oz | N/A | 36.2 Kgs/ 80 lbs | Weight Lock |
Important Considerations
Mechanical vs digital luggage scale
A glance through our list would help you zero in on a more accurate option. Even though the mechanical options have come a long way from the good old spring scales back in the day, they are currently going out of style and use as the more accurate digital options are superseding them. The digital scales have numerous features that make them an attractive and spot-on choice. One of those advantages is the hold function in the digital scales which makes it unnecessary for one to peer uncomfortably around to see how much something weighs.

How accurate are they really? Compared to the scales the airlines use?
This is a bit of a dicey one because you need to factor in the slight errors that can arise both in your scale and on the scale used by the airlines. We are dealing with very fine margins of course. Most of the good ones we listed above are accurate to 0.1lbs in actual terms. The airline scales are usually super accurate but in our experience, an overall variance of 0.2lbs is quite common.
Capacity
This is very much related to its core function of weighing luggage. Make sure the scale you buy has the ability to weigh at least 50 pounds as this is the standard for a lot of airlines. Whilst weighing scales are reasonably accurate try not to cut it too close with non-digital scales. Most luggage weighing scales we have selected weigh up to 110 pounds which should be more than enough for carry-on and check-in baggage.
Will the airlines accept the readings on your luggage scale?
No. Not really. If there is a discrepancy between the weight your scale shows, and what is seen on the counter, the best you can do is request them to weigh it again. Some may even be generous enough to try it on a different scale. Their weighing belt scales have the final say so make sure you test your luggage scale on other objects, if you can, as soon as it arrives.
Are airline scales themselves accurate?
You often hear stories of people arriving at an airport having weighed their luggage at home and being safely under the limit, only to get to the front of the check-in queue and be told they're going to have to pay for excess baggage. When you are running a bit late for your flight, arguing with an overworked employee at the check-in desk is nothing but stress that you really don't need.
If you're traveling on a budget, paying an excess baggage fee just isn't an option, and even if you've got money to spare I'm sure you'd rather spend it on cocktails on a tropical beach rather than on a fine for carrying a few pounds over the weight limit.
To answer the question about the accuracy of airlines scales …
Broadly speaking, and I know you might not want to hear this, yes (to an extent). All scales at airports in the US and most countries around the world have to be calibrated on a yearly basis. However, as was pointed out by someone who really knows their airlines, in an article in the Huffington Post, once a year is not a lot for a set of scales that are pressed into service hundreds of times a day, 365 days a year. It's inevitable that the reading may be slightly off, and that the bag that was 47lbs on your bathroom scales might weigh 52 lbs on the airport scales.
An easy solution would be to make sure you leave a buffer.
When packing, it's best to leave a buffer of at least 1-2lbs under the weight limit, in case either your scales or the scales at the airport aren't quite right. It's worth sacrificing that extra pair of jeans to avoid any unnecessary stress when you're jetting off on holiday.
Hold & Auto Off functions
While these might seem like add-ons to some people they are vitally important to digital luggage scales. Most scales on the market have the LCD on top of the handle. This makes it difficult for you to see the reading as and when you hold. So a scale that retains the reading for a few seconds after you have done the weighing is an excellent option. These oftentimes cost a couple of bucks more but are definitely worth it. Auto-off similarly is an important function that helps you preserve battery life, especially if the scale gets turned on by accident when tightly packed.
Battery Type
The majority of scales in the market make use of Lithium batteries. These are quite effective but might take a tad longer to replace especially if you are traveling through a less developed part of the planet. The AAA option could be the best bet if you are a frequent traveler. Low battery indications are quite handy as well.
Is luggage with a built-in luggage scale better?
A: Yes & No. Self-weighing suitcases do offer you the advantage of weighing as you go. You will be able to see exactly how much a suitcase weighs after each item is added. No luggage scale in the market currently can offer that in real-time. However, the inbuilt scales or even overweight indicators on some suitcases are known to be not consistently accurate and can even break down easily… Portable scales, on the other hand, have greater accuracy. They also give you the advantage of weighing things like your carry-on, backpack & so much more.
Additional Features
You will often find backlighting common in most LCDs. While these are useful, the trade-off is usually battery life. Other features like power banks, thermometers and flashlights can make the device useful throughout the trip. Otherwise, the scale has to sit idle in your luggage till the next use. The tare function is another such function that helps you weigh accurately in many different situations.
We haven't given too much weight to the additional features like temperature sensors, flashlights & the likes, in our review process.
Are features like flashlights etc all that useful?
In our experience, no, they aren't too useful. While they really add to the stat sheet of the product, we found our smartphones to be quite adequate in providing light. Other features like temperature sensing have very limited applications.
The Tare function, however, is rather valuable. This basically allows you to weigh individual items. You can weigh your bag initially and following that you can simply weigh items as you add along from the weight of the bag upwards. This is such a cool feature to have since you can weigh individual items and then decide if you'd like any item in your carry-on or your check-in luggage based on its weight and the space it occupies.
And finally…
Irrespective of which options you do decide to go with they will have their pros and cons. The best approach to avoid overweight baggage fees is to give yourself a buffer of a pound or two. Additionally, always aim to pack light. This way you will have plenty of room for souvenirs should you decide to bring some back for the people who matter to you.