11 Best Samsonite Luggage in 2020 reviewed & compared
Samsonite is one of if not the most famous luggage brands out there. For over a century this well-known brand has been a permanent fixture in luggage stores across the globe. They've become a favorite among seasoned travelers due to their practical designs, sturdy build, and overall stylish appearance, not to mention their friendly, mid-range price tag.
Samsonite's range of checked and carry-on luggage has continued to grow since the company was founded in Denver way back in 1910. With new models coming out every year, it can be hard to know exactly which suitcase offers a good combination of traits. Hence, we've selected some of what we think will serve you best from Samsonite's luggage collection.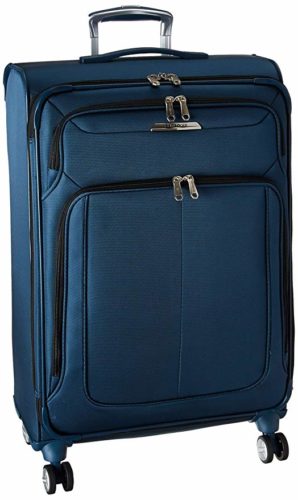 1. Solyte DLX - 25"
skip to full review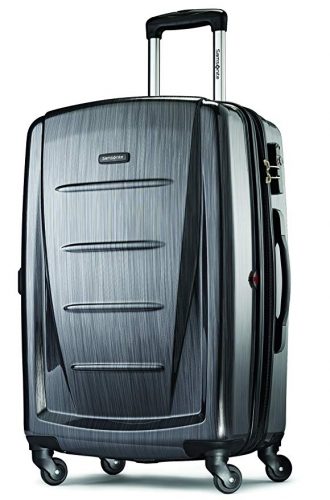 2. Winfield 2 - 28"
skip to full review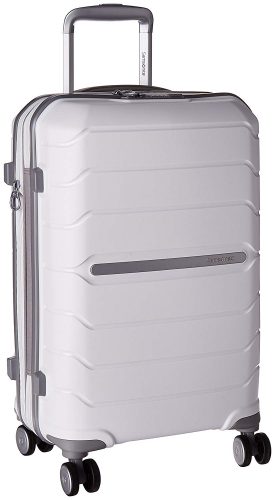 3. Freeform - 21"
skip to full review
Sort for:
11 Best Samsonite Luggage Items in 2020
To help you decide which are the best models for you we've taken a look at their top products and selected a mixture of 18" to 28" luggage, wheeled duffels and briefcases, to suit a variety of travelers.
How to Choose the Best Samsonite Luggage
Picking the right brand, let alone the right suitcase can be an overwhelming task. Samsonite is certainly one of the major players in the luggage industry and most definitely one that offers good reliability and value for money. To help you decide which case is right for you, we've looked into some of the following criteria: practicality and durability, size and weight, the quality of the materials and overall value for money.
Practical Design
For us, the most important aspect of a good case is its practicality. A stylish design may be very nice but aesthetics alone are not enough to put a case on our top 11 list of Samsonite suitcases. Instead, we look for suitcases with two-way zippers, book-style openings (barring the Centric which opens in the middle), and roomy main compartments. These are generally easier to pack than models that feature a narrow opening or several small compartments.
We also like cases that have external handles on all sides of the case for easier lifting. At the very least, we expect a sturdy top handle as one of the main features. Luggage equipped with four spinning wheels is also a preferred option as they're more comfortable to maneuver.
The most practical suitcases will offer internal zippered pockets and mesh dividers for organizing the contents of your luggage. Likewise, the best soft-sided options should have at least one external zippered quick-access pocket for keys, wallets, mobile phones, etc. In particular, we look for luggage with A4 sized external pockets, suitable for storing a laptop, tablet, or travel documents so that the user has quick access to these useful items.

Quality & Durability (Material, Zippers, Handles, Wheels, etc.)
Durability is equally important because once you've chosen a practical case, you'll want to know that it will survive more than a single trip. For this reason, we're fans of Samsonite's hard-sided cases (This varies based on the brand for us) which tends to be made from a very sturdy polycarbonate or polypropylene (plastic) material which is resistant to abrasions and dents as well as water.
We looked for Samsonite's soft-sided cases which are made from higher density nylon. We preferred these over regular polyester ones since nylon is light and has better wear-resistance. Internal steel wires which help the case hold its shape and a water-resistant coating, as featured in the Silhouette XV suitcase, are both hallmarks of good quality and durable suitcases. Additionally, we expect to be able to lift a filled suitcase without breaking it and wheel it for decent distances without the wheels sticking or tipping. Therefore, we look for cases with reinforced handles, wide dual system wheels, or V-shaped wheelhouses.
The case's zippers should operate smoothly, without catching or jamming and be able to cope with slight overpacking (Admittedly some do a better job of this than the others), so we look for cases like the Winfield 2 Fashion which feature oversized zippers on the main compartment.
Size & Weight
These suitcases must conform to standard airline luggage regulations. After all, there's no point in purchasing a carry-on case which is only accepted inside the shuttle by a few obscure airlines. We've therefore checked that the body of the Samsonite carry-on luggage on our list is not larger than 22" (the standard size for storing in overhead lockers) and that the checked cases do not exceed 32", except for the Tote-a-Ton duffel which airlines should find acceptable.
Important note: Many airlines' carry-on regulations do state that the external dimensions (including the wheels & handles) should not exceed 22". (not just the body) However, in reality, most of the carry-ons made for the domestic market in the US do exceed this limit and are still allowed aboard. If you do not want to take this risk then it's better to opt for a Samsonite carry-on that is marked 18", 20" or 21" at the maximum, especially if you are keen on traveling internationally as well.
Similarly, we prefer to include options that are lightweight so that your packing isn't limited by a heavy case. In most cases, non-wheeled luggage should weigh up to 4 lbs, while wheeled carry-ons can weigh up to 8 lbs. Larger Samsonite cases will usually weigh around 10-12 lbs.
Some cases on our list are slightly heavier due to features that aid their durability, something that's worth considering before making a purchase. If you like to pack a lot of items then make sure you have a luggage scale to measure the overall weight of your case.
Style
The style is certainly not our most important criteria, however, it's worth considering as you'll hopefully be using your case for several years. Suitcases are more than just practical travel buddies so we like cases that are available in multiple colors, with modern designs and aesthetics that complement the purpose of the case.
Designs like those seen on the Centric or Freeform really stand out and sometimes even eliminate the need for a luggage tag. For example, the Underseater Spinner is designed for business use so we like that it looks smart and sophisticated enough for commuters on their way to a formal meeting. In contrast, the Andante Wheeled Duffel boasts a sporty aesthetic, which makes it perfect for casual weekend trips.
Value for Money
The best suitcase doesn't necessarily have to be the one with the highest price tag nor the fanciest features, however, there is something to be said for investing in a well-established brand rather than playing lucky dip with a case from the dollar store. The difference in price generally reflects the durability of the cases, the quality of materials, additional features like TSA locks and water-resistant fabrics, or a limited time manufacturer's warranty.

Locks
We preferred checked cases, which can keep your personal items safe whilst traveling. When selecting the best Samsonite suitcases, we chose to include models that have a side-mounted TSA locking system.
FAQ's
Is it possible to buy Samsonite luggage sets and are they good value?
Most of the Samsonite cases on our list, including the Winfield 2 and the Omni PC, are available in a range of sizes. If you're a frequent traveler and like to alternate between smaller and larger luggage, or travel with both, then purchasing a set is a good idea. A luggage set tends to include three to four cases: duffel or backpack, carry-on case, and checked case. Purchasing a complete luggage set is sometimes cheaper than buying each case individually. (This is an assumption sometimes people make but might not hold true in every case. It's best to check directly with the manufacturer before purchasing.)
How do Samsonite's hard–side & soft-side range compare?
Both soft-sided and hard-sided cases come in a range of sizes and prices. Often, they both offer additional features like lockable compartments and expansion systems so the main difference is usually the durability and the overall weight. In most instances, hard-sided Samsonites are more durable than soft-sided ones. They're more resistant to abrasion, less likely to get squashed in transit, and much easier to clean, however, they also tend to be a bit heavier than soft-sided cases and not as flexible.
For a detailed list of hard-side/soft-side considerations, you can check out this article.
Can I reset the lock code on a Samsonite suitcase?
Samsonite's built-in combination locks are pre-set to 0-0-0. To change the code, turn the dials to this number, push the button towards the dials and hold it while you enter the new code. Then, release the button and the new code will be set. You can change the code at any time using the same method and entering the last code the lock was set up with.
Note: This method worked smoothly at the time of writing. It's always best to double-check what method applies to your model.