10 Best TSA Approved Luggage Locks in 2020
Whether you're a frequent flyer, an avid backpacker, or a cruise enthusiast, luggage can become a hassle. With all the jostling and rolling around your belongings regularly go through, you've probably decided it's time to make sure your stuff is really secure. Cue the luggage lock.
Which type of luggage lock you're in the market for might depend on whether you pass through TSA (Transportation Security Administration) frequently, as in airports. There are certain requirements they've set for which suitcase locks can pass through security. This is because they have to be able to access bags when passengers are boarded a lot of the time. We'll go over some of those options in detail here.
Some locks are meant to have extra security benefits, while others are traditional, simple and effective. Small or large, complex or simplistic, here are ten luggage lock options sure to keep your belongings safe.
1. Forge TSA Approved Resettable Cable Luggage Locks
skip to full review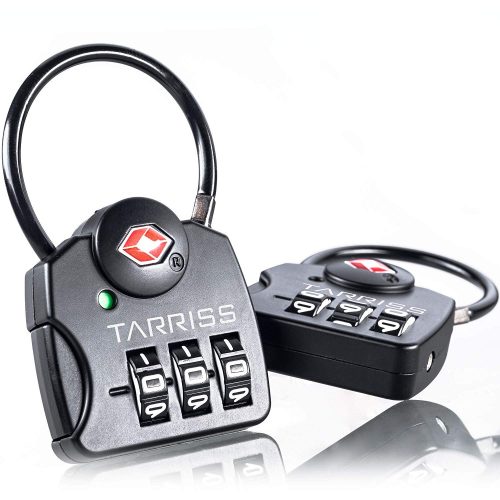 2. Tarriss TSA Lock with SearchAlert Light
skip to full review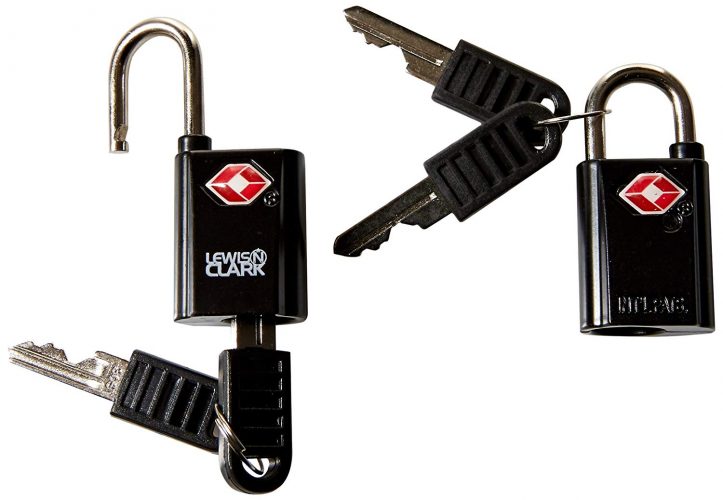 3. Lewis N. Clark Travel Sentry TSA-Approved Lock
skip to full review
Locks featured in this list primarily come in 3 types:
Combination Cable Locks
Cable locks differ from regular locks because the loop at the top is made of a flexible steel cable, rather than a solid steel or bronze metal. These generally only come in 3-digit combination code options, but the convenience of threading the flexible wire as you please is a huge selling point.
Search Alert Locks
For those who prefer knowing whether or not security had to rummage through their bags, there are some locks offering features which will let you know. These options are steadily growing in popularity.
Luggage Padlocks
Padlocks are the classic way of securing luggage and anything else that needs secure. With the solid metal at the top securing whatever you need together, you can be sure that wire clippers aren't getting through these bad boys. They are old-style and easy to use.
10 Best Luggage Locks in 2020
How to Choose the Best Luggage Lock
The kind of luggage lock you're after will depend on three things: the carry-on bags and suitcases you're planning on using, where you're going with them, and also what kind of lock you prefer on a personal level. There are no wrong luggage lock options.
For example, if you're trying to travel light and have quick access to your purse in a foreign country, but you want to keep your stuff secure, you might not want a heavier padlock or a long cable winding around your bag. That practically shouts that you have goods to protect. Below are some general rules to follow when searching for the right luggage lock for you.
Bags and Suitcases
Decide if using a smaller padlock to lock zippers together is effective, or if a flexible cable will be needed to fully secure your larger duffel bag or suitcase.
If you're traveling light, with maybe a backpack carry-on and a purse, a recommendable choice would be the Lewis N. Clark TSA Approved luggage lock. These are lightweight, easy to use, allow TSA to get inside should that be necessary, and they are barely noticeable. Of course, these require keys, so perhaps the Anvil Cable Locks are a safer bet.
If you have bulkier suitcases and you prefer your luggage secured altogether, you might try Option #3, the Lumintrail TSA Approved luggage lock. This has the 4-foot extension cable that allows you to lock down whatever you need to for your travels.

Where You're Going
Take into account whether or not you'll be traveling through airport security. If you are, check and make sure the luggage lock you choose has the Travel Sentry Logo on it. This means it has a little keyhole which TSA personnel can use to double-check your luggage, instead of cutting the lock off.
If you want to know if TSA has unlocked your bag for any security reasons, try out the Tarrisx TSA lock. The SeachAlert feature will be red when you get your bag or suitcase back, letting you know they used their key to look in your belongings.
If you're planning on driving to a cruise port and heading out from there, and you want to keep your backpack or purse extra-secure while you're in Cozumel or the Bahamas visiting ports the cruise ship is stopping at, try Option #5, the 4-Digit Security Padlock by Desired Tools. This one is perfect, secure, and easy to use on trips that don't require airports or TSA.
Personal Preference
Determine if you're comfortable remembering a 3-digit or 4-digit code, and if you're not sure that's your forte (or if you'd prefer not to write it down or text it to yourself), opt for a padlock designed with a key. Just make sure there's an extra one and keep track of it.
Determine whether you have a preference between steel padlocks or cable locks. Some people much prefer the flexibility and non-metallic feel of the cable locks on backpacks, duffel bags, or purses and like the solid, metal-and-combination-lock stuff on their actual suitcases.
Take into account the reputability of the company, whether or not you think you may need a warranty or guarantee on a luggage lock (these are nice, but not always a selling point for everyone), and how functional the luggage lock design would be for you.
Choosing a luggage lock can be made easy if a trip is well-planned and you already have the bags or suitcases you'll be traveling with. However, if you don't have your bags yet, you might be wondering if you should simply go for one with the lock already embedded.
Why Inbuilt Suitcase Locks Aren't the Best
Locks which are integrated into the design of a suitcase are made to be opened much easier than separate luggage locks. Why is that? If companies made suitcases which were impossible to get into without the remembered code or set of keys, they would have a lot of angry customers who accidentally locked themselves out of their luggage. Many brands like Samsonite, Delsey all boast built-in suitcase locks.
Understandably, incorporating bypasses and more mild locks into suitcases is the more viable option, for the suitcase manufacturers and buyers alike. If your goal is to protect your luggage and deter the interest of anyone who might break into your stuff, buying a suitcase with a built-in security system is probably not in your best interest.
On the other hand, if you're simply trying to discourage any thievery around your bags, and you're convinced that most people trying to steal your belongings will be turned away by the appearance of a security system, a built-in lock for your luggage might be a nice, convenient feature.
There are TSA-approved suitcases which keep general snoopers away but still allow airport security to access belongings, should the need arise. The low-maintenance, convenient and sufficient locks on these suitcases might suit your needs just fine. If you're still eyeing the separate locks so you can use them for the gym or school, that's a great option too.

TSA Locks, Security, and Keys
Airport security can be a hassle and often takes up quite a bit of time. A big period of this process is the security point where TSA agents scan luggage, belongings, and passengers. Anything looking suspicious or giving their magic scanners a suspicious signal is liable to be searched, either forcibly or easily.
A stir about airport security has been made over the last few years because a picture of the TSA's master keys was found online, and people have found how to copy these keys. While this raises a lot of concern in some groups, others are less concerned. They understand that having at least some TSA-approved protection for their luggage (even when they have nothing valuable in there) helps give them peace of mind. It also allows the security process to move smoothly.
However, if you're worried about potential thieves armed with copies of the TSA's keys strolling throughout the airport looking for the next locked back and hoping they're not caught on the cameras or by the security personnel, it's a good idea to keep your valuables in your carry-on. As a rule, keeping valuables and identification on your person is a good way of monitoring your things while traveling.