9 Best Travel Money Belts in 2020
Whether you're seeing the sights in central Europe, South East Asia, South America, or your own city, travelers are always faced with the possibility of thieves and pickpockets. Worrying about losing your smartphone and wallet 24/7 can be a huge distraction and really take the joy out of travel. While keeping your valuables in a concealed money belt won't eliminate the issue 100%, it will certainly make you less of a target. Money belts are a good alternative to neck or travel wallets or purses.
Fortunately, the best money belts are slim-line and comfortable to wear. They no longer make you look like you've eaten a particularly large lunch, nor do they leave you with a sweat-stained passport. They're fairly inexpensive too.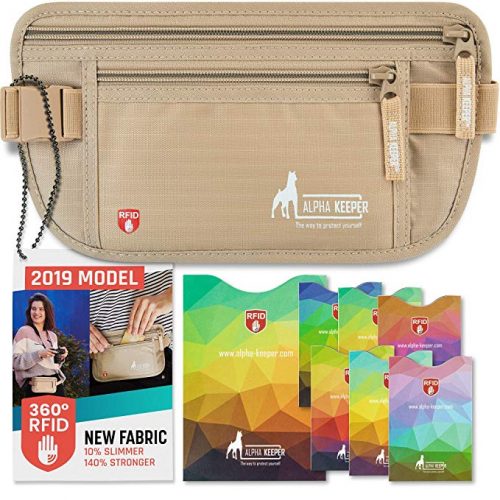 1. Alpha Keeper RFID Money Belt
skip to full review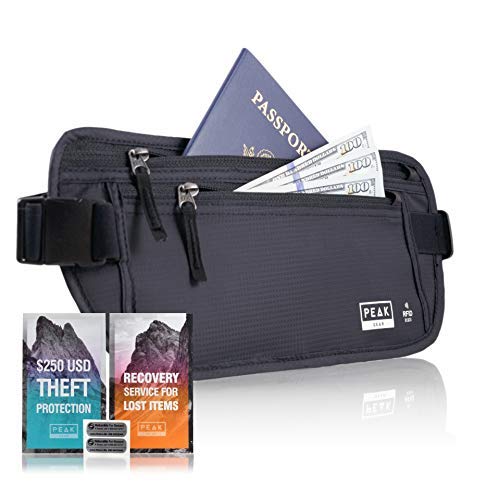 2. Peak Gear Travel Money Belt
skip to full review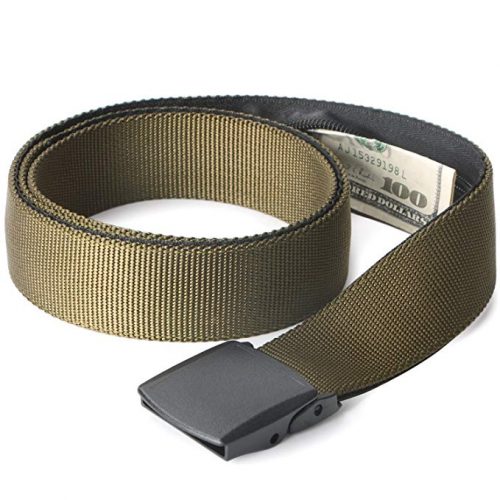 3. JASGOOD Travel Security Money Belt
skip to full review
9 Best Money Belts for Travelers in 2020
You can find everything from regular-looking belts with hidden pockets to money belts with hidden pouches and much more! We've listed travel money belts for women & for men.
How to Choose the Best Money Belt for Travel
Like with all things travel-related, choosing the best money belt for your specific trip can be the difference between a fantastic global experience and a day with the tourist police reporting a stolen wallet. To help you choose the most durable, comfortable, stylish, and, above all, functional money belt we've considered the following criteria.
Materials
The majority of money belts are made from washable ripstop nylon, or similar material, which is durable, lightweight, and water-resistant. For comfort, most are also backed with a breathable mesh panel which reduces chafing and sweating. Some, like the AquaRoo, are also coated with a Thermoplastic Polyurethane (TPU) layer. This is fully waterproof and therefore best for water sports and outdoor activities.
Alternatively, running band style money belts are usually made from moisture-wicking spandex which stretches to fit the body. These are generally not as durable or water-resistant as ripstop nylon but can be more comfortable to wear.
Features
For security, we look for money belts made with layers of RFID blocking fabric, hidden pockets, and zippered compartments. We also like products with internal pockets, credit card, and ID slots, and key clips for keeping things organized.
Some of the items on our list also come with removable RFID blocking sleeves. This is an excellent feature for travelers who like to switch between bags as your cards will be protected at all times. Additional features, such as earphone holes, are also worth looking out for.
Size
All money belts should be small enough to be concealed under clothes without needing to wear the bulky woolen jumper that Grandma gave you. They do, however, still need to the wide enough to hold your items without busting the seams. The most discreet money belts will, therefore, be between 0.1 and 1 inch thick when empty.
Fit
You may only end up wearing your money belt for an hour or so on public transport, but you'll more likely be wearing it for a longer period, so a comfortable fit is essential. A spandex running belt should eliminate the issue of chafing, however, one size certainly doesn't fit all. We therefore like products which come in a range of sizes or with fully adjustable and elasticated straps.
Intended Use
Before purchasing a money belt for your travels you'll need to think about how you intend to use it. For outdoors lovers, a fully waterproof money belt like the AquaRoo or a running belt like the Stashbanz would be more practical than a traditional style money belt. If you travel with a lot of credit cards and cash then a money belt with three-layer RFID blocking protection is essential while the JASGOOD belt with a hidden zipper would be more practical for someone traveling with just cash.

FAQ's
Q. What's the Difference Between a Money Belt and a Fanny Pack?
A. Essentially quite similar, as both are worn around one's waist and designed to hold various belongings, the main difference between the two is the size. While money belts are designed to hold only the essential documents such as money, credit cards, and passports, fanny packs can be used to carry more items and can even be equipped with extra pockets for water bottles, sunglasses, mobile phones, and similar gadgets.
Q. What's the deal with RFID blocking fabric & do I need it?
A. Radio Frequency Identification (RFID) refers to the chips inside certain credit and debit cards (as well as some ID cards and passports) which allow you to make a contactless payment. While this is very convenient for you, it's also a loophole of sorts for electronic pickpockets who can scan a card through regular fabrics. This can occur very rarely in crowded places (i.e. tourist attractions or public transport).
The best way to protect from electronic theft (or skimming) is to disable contactless payments on your cards or to make sure they're protected with RFID blocking technology. RFID blocking fabric usually contains metal, such as aluminum, which prevents the electromagnetic waves from passing.
Q. How do You Wear a Money Belt?
A. Money belts, as the name suggests, are primarily designed to be worn around the waist like a typical belt. Depending on the design itself, the pouch can also feature additional straps so it can be attached to the pants, worn around one's neck or even strapped around the calf. Some money belts, such as the Shacke Hidden Travel Belt are designed to be worn on the inside of the pants, for maximum security.
Q. Can You Wear a Money Belt Through Security?
A. Certain money belts are advertised as TSA-friendly, meaning they're made with non-metal zippers and non-metal buckles which don't trigger the alarms. However, there's no guarantee that you won't be searched. Depending on the airport and airline in question, you might be required to remove the money pouch and show its contents to the guards.
Q. Are Money Belts Just for Travelling?
A. Although money belts are very popular among travelers for obvious reasons, their use extends to more than just traveling. Money belts are a convenient piece of gear for people who frequently indulge in sports or exercise or those who work in establishments where they're forced to handle cash fairly often. They're also a good option for people who don't like to carry lots of things around while shopping or doing errands.