10 Best Beach Chairs You Can Buy In 2020
A few years ago I spent a month backpacking through Europe. While camping along the majestic Croatian coast, I met this couple from Germany.
They were equipped to the teeth – tents, backpacks, cooking equipment, portable radios and, yes, you've guessed it – beach chairs.
I remember thinking how silly it was dragging all that gear around, especially when traveling long distances.
Fast forwarding a couple of hours later to the evening hours and I'm sitting on my beach towel, freezing, and my teeth are grinding after eating a sandwich spiced with sand grains.
I look over and I notice the couple sitting comfortably in their beach chairs and sipping cold drinks from their coolers.
Didn't seem so silly at that point.
Nowadays, there are a plethora of beach chairs on the market suited for your every need, you can even learn from my mistakes!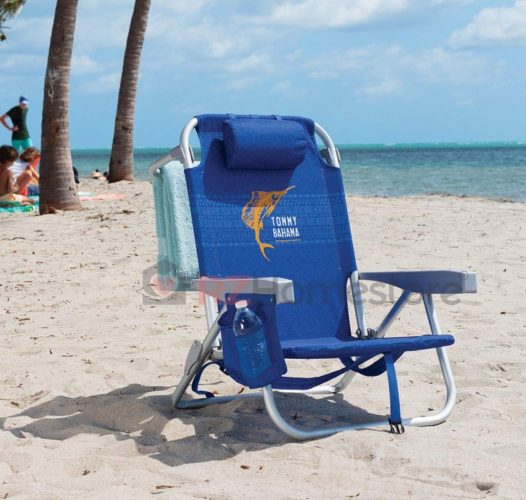 1. Tommy Bahama Backpack Cooler Chair
skip to full review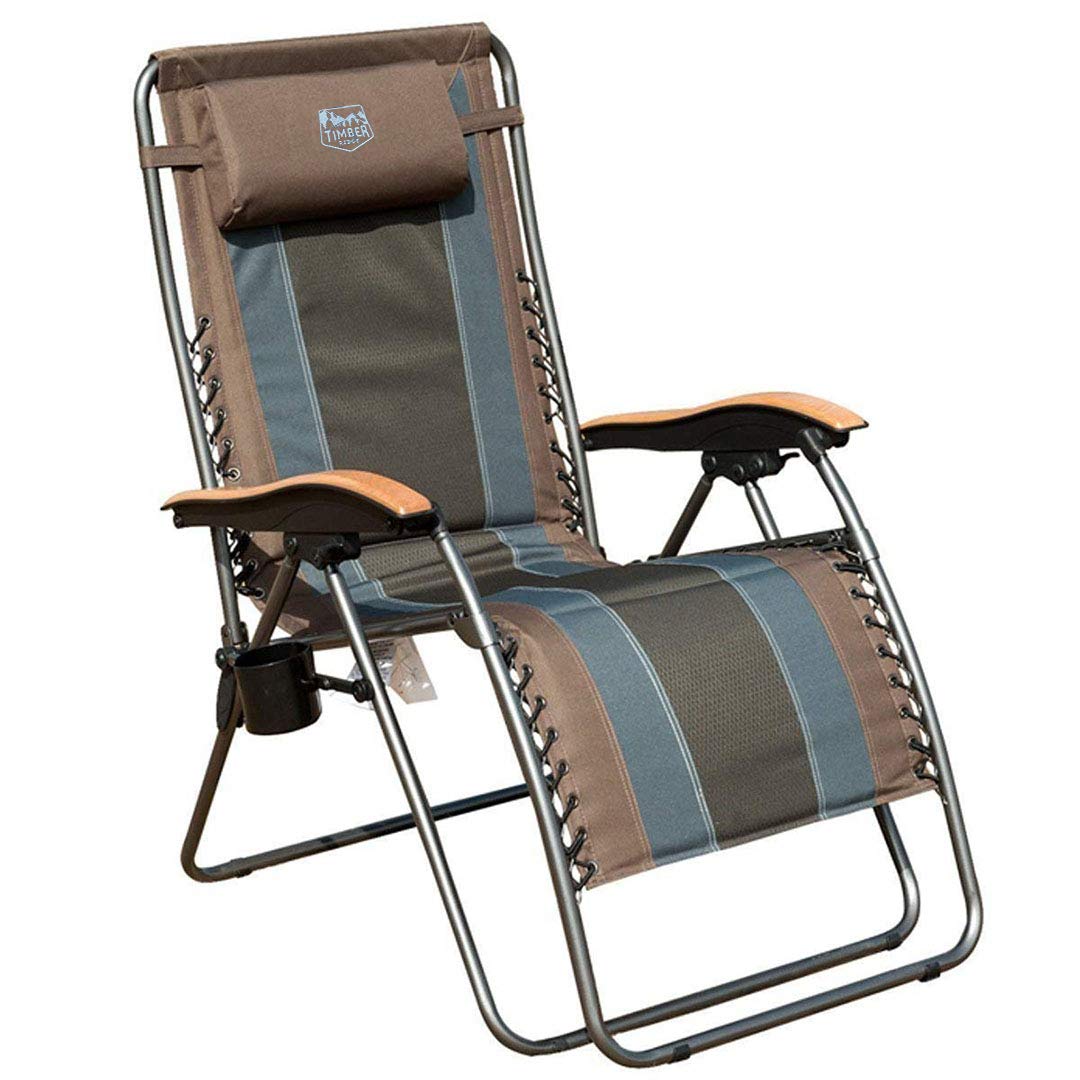 2. Timber Ridge Zero Gravity Outdoor Lounger Chair
skip to full review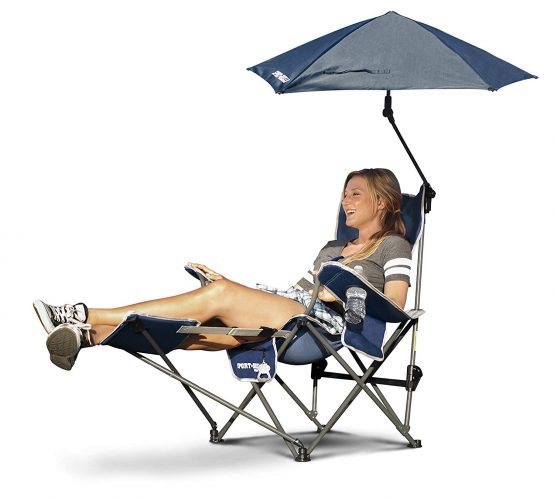 3. Sport-Brella 3-Position Recliner Chair
skip to full review
10 Best Beach Chairs in 2020
Regardless of whether you're planning a beach getaway, a camping trip or an adventurous expedition, let this buying guide help you make the perfect choice for your next vacation.
How to Choose the Best Beach Chair?

When choosing a beach chair, you might be tempted to simply select a chair with the coolest design or a product that matches your beach umbrella and the rest of your beach gear.
And while these things are, without a doubt, something you should consider, there are other factors to keep in mind in order to make sure you're getting the best possible deal.
Depending on your personal preferences, you just might want to consider things like the material of the chair, the overall size, but also the style and design of the chair.
Ultimately, you'll want to choose a chair that's practical and easy to handle but is also equipped with various handy features that will make your day at the beach feel like smooth sailing.
So, read up and find out how to choose the best beach chair in the long run.
Type of Chair
One of the first things you'll want to consider when choosing a beach chair is the type of chair itself.
Your first thought might be something along these lines:
 "A type of chair you say? Why I just need somewhere to sit and rest my back!"
 But as we delve a bit deeper into this topic, you'll realize that chairs, beach chairs especially, can vary quite a bit in style and type.
Do you prefer to lay flat or upright? Would you feel more comfortable sitting lower to the ground or you require something a bit higher?
These are just some of the questions you need to ask yourself before deciding on the perfect match for yourself.
While there are plenty of beach chair types out there, some of the most common ones are:
Folding Chairs
Backpack Chairs
Canopy Chairs
Lounge Chairs
Padded Chairs
Low Profile (Sand Chairs)
The best way to know for certain what type of chair you should choose it to think about where and how you're going to use it.
Folding chairs are pretty convenient as they're compact, portable and easy to store. Similar to this, a backpack chair is a type of chair that can be folded and carried on your back, as the name suggests. These chairs are perfect for travelers or those who simply don't like carrying things in their hands.
Some chairs come with a built-in umbrella and these kinds of chairs are called canopy chairs. You might have noticed that we have included one of these in our list! These are quite convenient if you're looking for some extra shade.
Some of the chairs in our buying guide can be considered lounge chairs; these chairs usually provide more legroom, as well as additional support to your neck and back.
Padded chairs are regular beach chairs with extra cushioning. These chairs are supposed to provide extra comfort and support.
As the name suggests, low profile chairs are those that sit very close to the ground. If you prefer a more grounded experience, our list features more than a couple of these chairs.
Once you figure out just what kind of support and style you need, you can start considering the next step – material.


Material
Material is always one of the determining factors when it comes to making any kind of purchase. You want to make sure that your beach chair is made of the highest quality materials, but you also want to stay within your budget.
There are two factors to consider when referring to the chair's material: the frame and the fabric.
When it comes to choosing the best quality frame, you have the option to choose between wood, aluminum, steel and plastic.
Obviously, all four option have their pros and cons and it's up to you to determine which one suits your needs best.
Wood is a classic choice for beach chairs, but if you do decide to choose this option make sure to select a high-quality wood like teak, oak or ash wood. It's also important that the wood is treated with a protective coating so your chair will withstand the test of time.
Aluminum is probably the most common frame material and for a good reason too. It's durable, sturdy and rust resistant. Some of the chairs in our list are made of top-grade aluminum.
Steel is another popular choice for beach chairs, as it's stronger and more durable than aluminum. On the other hand, steel tends to rust if not treated with a protective coating, so it's important to regularly maintain your steel-frame chairs.
Many chairs nowadays are made of recycled plastic. Although plastic isn't as durable as the abovementioned materials it offers plenty of other perks. For one, it's water and rust resistant and doesn't require a lot of maintenance.
When it comes to choosing the right canvas fabric, the best option is to choose a material that's durable, breathable and comfortable. Most of the chairs in this guide are made from reinforced polyester which provides all the previously mentioned benefits.
Choosing the right material can be tricky, but it's not impossible. Consider the conditions in which you're going to use the chair and make an informed decision,
Think about things like portability, convenience and storage.
If you're looking for something you can easily carry, then lightweight beach chairs made from light materials might be the most suitable choice. Of course, if you want something that's going to last for a longer period of time, then you might want to settle for some heavy duty chairs and sacrifice the portability factor.
There's no right or wrong when it comes to choosing a material for your beach chair, there's only picking what works best for you.
Size
Beach chair dimensions can vary quite a bit and you need to ask yourself these three questions:
How high/low do I want to sit?
How deep I want the seat to be?
How wide do I need this chair to be?
Regular beach chairs can be found in three different heights:
Tall Beach Chairs (13 inches and up)
Standard Beach Chairs (8 – 12 inches)
Low Beach Chairs (8 inches and under)
The depth of the seat depends on the canvas itself, so if you want a deeper chair, then it's good to opt for a more elastic material. When it comes to the width of the chair, most chairs measure around 20 – 25 inches from one armrest to another, so if you're looking for something wider, you just might want to choose an oversized beach chair instead.
Additional Features
While some people like to keep things simple, others enjoy a more diverse approach when it comes to their beach chairs.
Plenty of beach chairs nowadays come with a set of handy additional features that can make your life at the beach hassle-free.
When choosing the best chair for yourself, you might want to consider things like coolers to keep your drinks cold and fresh, cup holders to save your drinks from spilling or waterproof compartments to keep your valuables safe.
Some chairs also come equipped with removable headrests and cushions, while others might offer additional lumbar support for your neck and back.

Plenty of the chairs on our list come with a complimentary carry bag for easier transport or even shoulder straps so you can carry them on your back.
Aside from that, you should also consider other features such as adjustability. Depending on your needs, you might want to choose a chair that can recline to a lay-flat position or fold for easy storage.
Certain chairs, like the Sport-Brella 3-Position Recliner Chair featured in this guide, come equipped with a detachable umbrella! This is a great way to provide more coverage and shade during those long summer days, without having to bother to carry any accompanying beach gear like huge beach umbrellas or canopy beach tents.
There's a broad range of extra practical features that can make your beach experience effortless and undemanding. Consult with our listicle to find out what kind of additional features are available in the chairs we mentioned.
Patterns and Color
The last thing you want to consider when choosing a beach chair is its overall design and color.
While this is by no means a determinant of quality, it definitely helps with the whole buying process.
Fortunately, there's more than enough color and style options when it comes to beach chairs and it's up to you to choose the one most suitable to your taste.
Most people like to opt for fun, vivid summer designs, while others prefer to keep things more simple.
If you're planning on using your chair in other settings such as camping or hiking trips, then perhaps it's better to choose a darker shade or some simple pattern such as camo.
FAQ'S
Q: What is the standard weight capacity of beach chairs?
A: The weight capacity varies from chair to chair, which is why it's extra important to read the product description of the prefered chair before making an official purchase.
All the beach chairs in our list have a range of 200 – 350 lbs, which is considered the standard in this category.
Of course, there are other beach chairs on the market that are designed to withstand heavier loads, up to 500 lbs.
These types of chairs are called oversized chairs or heavy duty chairs and are usually made from sturdier and more durable materials than standard beach chairs.
Q: What material is the best choice for beach chairs?
There's no one size fits all when it comes to choosing the best beach chair material.
The most common materials used to build beach chairs are a combination of aluminum and polyester.
However, beach chairs can be made from a wide variety of materials such as wood, steel and recycled plastic.
Some people prefer wooden chairs as they provide good support, while others favor plastic due to its low maintenance, as well as the fact that plastic is waterproof and rust-proof.
Many buyers like to rely on steel frames as they're more durable and sturdy and, if maintained properly, can last for years to come.
Q: Are beach chairs portable?
A: Most beach chairs are designed in a way to be compact and practical to use, meaning they are portable, foldable and easy to store.
Some chairs are made so they can be folded and carried in a carry bag, while others like backpack chairs have shoulder straps attached to them, so people can carry them on their backs.
The portability factor depends on a few different things, but mostly it's based on the material of the chair.
For example, chairs made from reinforced steel are more difficult to carry than chairs made from plastic. One of the best examples is the King Camp Low Sling Folding Chair which is made from a heavy duty steel frame making it extra strong and durable, without sacrificing the portability of the product!
These chairs are designed in a way to withstand massive loads while still weighing no more than a few pounds, making them easy to carry, store and assemble.
Q: Are beach chairs comfortable?
A: The comfort factor of a beach chair depends on the material used to build the chair, its adjustability, as well as the presence of any additional features.
Many beach chairs are made of breathable and comfortable fabrics which add to the comfort levels. Some of them have the ability to adjust the seat, back and headrest according to one's preference, while others offer additional features like extra cushions, footrest etc.
There are also specialized ergonomically designed beach chairs that offer additional lumbar support, whose sole goal is to provide more comfort to those with back issues while relieving tension and strains in the neck, back, spine and hips.
Q: Are beach chairs easy to assemble?
A: Beach chairs are usually designed so they can be assembled and reassembled in a matter of seconds.
These types of chairs generally have a simple mechanism allowing you to open them up and fold them back to their original state without much trouble.
For example, The Classic Beach Chair from RIO BEACH has a safe-adjust mechanism, allowing you to put it together and dismantle it in a few simple steps without risking your fingers getting caught in the mechanism.
Q: How much do beach chairs cost?
A: The price range of beach chairs can vary quite a bit, depending on the quality of the chair, as well as any additional features it may have.
The prices can range from as little as $20 all the way up to $3000 per chair.
While the price is never a definite determinant of quality, it's always a smart idea to try and get your money's worth when choosing a product.
The best way to do this is to do extensive research on the product you're interested in purchasing, read the product description and finally resort to the review section to find out what other buyers are saying about the quality-price-ratio.
Q: Do all beach chairs have an insulated drink holder?
A: Insulated drink holders fall into the additional features category, meaning that not all beach chairs are equipped with them.
Some chairs though, such as the Tommy Bahama Backpack Cooler Chair, The Backpack Chair from Rio Gear and a few others from our list come with attached coolers.
It's always a good idea to check what kind of additional features are included in the product you're buying so you can make the best decision.
To wrap it up
Purchasing a beach chair, just like any product, can be tricky – especially if you come unprepared. That being said, before making your purchase, it's crucial to thoroughly inform yourself about all the features of the chairs, so you'll be able to make an informed decision.
Remember to consider factors like the type of chair, material, size and comfort, as well as additional accessories and price range. These are all things that can make or break a deal, so choose carefully.
All of the chairs we mentioned in this listicle have both their strong points and weak points and it's up to you to weigh the options and find the most suitable choice for yourself.
Hopefully, this our picks will be a good starting point for your next purchase.
Enjoy your summer!
Sources:
https://www.seasidewisdom.com/blog/types-of-beach-chairs
https://www.hayneedle.com/tips-and-ideas/beach-chair-buying-guide/