15 Best Travel Pillows in 2020 for Neck Support, Kids & more
Are you aspiring to be one of those that can fall asleep pretty much anywhere? &
More importantly, not wake up with a terrible, back or neck ache?
Frequent flyer or not I think we'd all agree that…
Spending a day or two to shake off the pain or falling over & onto the person next to you or drooling over your shoulder or worse someone else's can ruin any trip.
Besides whether you can fall asleep or not, you can stay very comfortable with the travel pillows we've picked out for you.
We've split the list into the best options for your neck, kids & inflatables.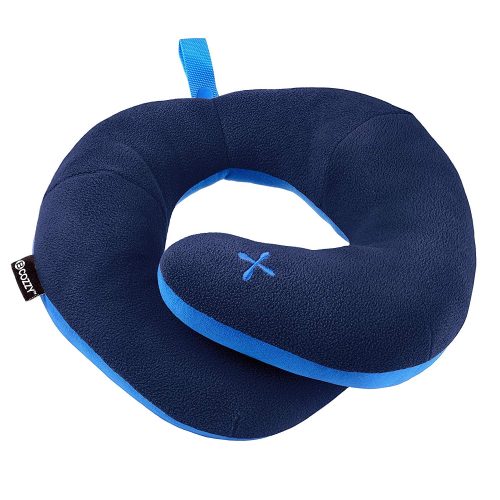 1. BCOZZY Chin Supporting Neck Pillow
Highlights
Excellent head, chin & neck support. Lightweight & easy to carry. Kids version is also great
skip to full review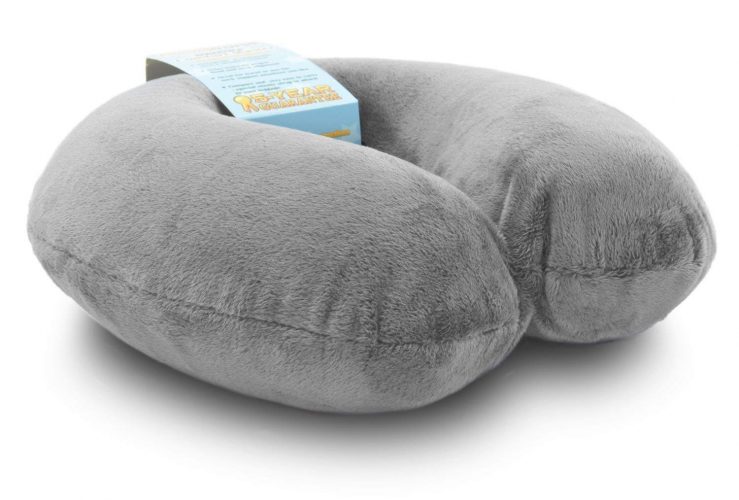 2. Crafty World Travel Pillow
Highlights
Super soft, comfortable. Provides relief for neck pain & comes with a manufacturer guarantee
skip to full review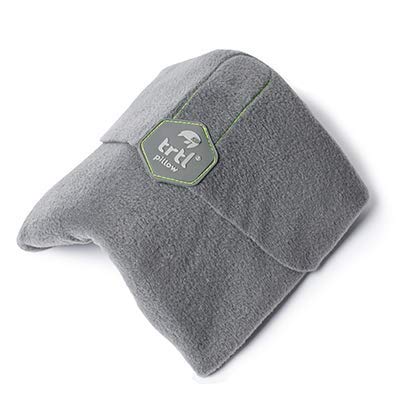 3. Trtl Pillow
Highlights
Very low profile/ easy to transport. Innovative & effective design. Machine washable
skip to full review
Sort for:
8 Best Neck Pillows
Why spend your holiday complaining about soreness and lack of sleep when you can rest comfortably with one of these amazing travel neck pillows? 
How to Choose the Best Travel Pillow
A travel pillow is often an overlooked accessory, its actually quite a handy piece of travel gear irrespective of whether you are on a plane, bus or in your own car. Whilst the level of firmness or even how soft a pillow is can be subjective there are many other traits that are pretty black & white in terms of what you need to look for in the best ones.
Type of Pillow
Before we go into more intricate details, it's best to first consider all the different types of pillows you may choose from.
As you may have noticed, there's a hefty variety of travel pillows out there, but generally, all these pillows fall into one of these three categories:
Inflatable Travel Pillows
Microbead Travel Pillows
Memory Foam Travel Pillows
As with most products, all three categories of pillows have their pros and cons and it's up to you to weigh your options and make a decision based on your needs.
The first category, inflatable pillows are a great choice if you're tight on space and are looking for the most portable, lightweight, space-efficient option. When deflated, most of these pillows weigh no more than a pair of socks and can be stored just about anywhere. Another great thing about inflatables is that they're pretty easy to handle and can be set up in a matter of seconds. They're also quite adjustable, meaning you can adapt the height and thickness of the pillow to your own preference.
On the other hand, inflatable travel pillows might not be as firm as other types of pillows. Also, you're always running a risk of puncturing the pillow, rendering it useless. Another thing to keep in mind is the air valves, which can get damaged, resulting in loss of air and deflation of the pillow.
When talking about microbead travel pillows, we're referring to U-shaped pillows filled with tiny polystyrene beads. These types of pillows are usually quite comfortable and lightweight, but the beads do not offer plenty of support. They're a great option if you're looking for something soft to lay your head on, but they're definitely not the most practical of choices when it comes to travel pillows.
Lastly, memory foam travel pillows are currently one of the most popular choices on the market. A foam pillow is usually designed to perfectly mold itself to your neck, allowing for maximum effectiveness. The memory foam filling does tend to be on the pricier side, so it might not be the best option for budget travelers.
Aside from these three main categories, you might stumble upon pillows that make use of a combination of materials. For example, the Huzi is a polyester & bamboo hybrid.

Support
One of the most important aspects of choosing a good travel pillow is the support it offers. The shape of the travel pillow plays a huge role in determining its quality. Other, interesting options like the Twist, might even offer additional assistance for your back or legs, making sure that your back is always in a proper position.
This is important for a number of reasons and not just for comfort's sake. Maintaining good posture while traveling is crucial for your back and spine health, as well as for reducing pain and discomfort during long periods of being sedentary. Ergonomically designed pillows are rapidly increasing in popularity, seeing how they promote good posture, extreme comfort, and better sleep conditions.
Material
The next thing you need to think about is the material. The material you choose will directly influence the comfort as characteristics like breathability, heat retention (or lack of) come into play.
Certain synthetic materials are not only unpleasant to touch, but they can also trap heat, causing sweating in the process. Unless you want to sleep in a puddle of your own sweat, it might be better to avoid pillows made from cheap synthetics.
If possible it's always best to choose pillows made from organic, natural fabrics such as cotton or cotton blends. Plenty of budget travel pillows are made from a combination of polyester and cotton fibers. These pillows are usually very comfortable but don't do much in the support department.
As mentioned before, memory foam pillows are quite firm, while microbead filled pillows are on the softer and squishier side.
Memory foam pillows do require some special care when it comes to cleaning and should never be washed using a washing machine. They should also not be fully submerged in water. The great thing about the pillows in our guide is that the majority of them come with removable, washable covers which can be cleaned and dried easily.
If a more eco-friendly option is what you seek then the Huzi is a good option as it is made from breathable bamboo/ polyester hybrid fabric. It is hypoallergenic and antimicrobial. Non-toxic, hypoallergenic pillows are especially a good choice for young children. One such product is the Dreamtown Kids pillow made from organic, locally grown cotton.
Durability
This is a key factor for most buyers to consider and more often than not it refers to how the pillow survives a machine wash if indeed the pillow allows for one. The pillows we have chosen don't start coming apart and the fabric does not roughen up after a wash. Pillows like the Trtl tend to feel even softer and this is a trait that is much desired. Another common issue is that the pillow case can let go at the seams which can be a pain.
The inflation mechanism is something that's key in determining how long your pillow lasts. We highly valued options that were self-inflatable & ones where you can adjust the level of firmness. Its quite common to read complaints about a pillow losing air over the course of an hour, for example. The ability of the pillow to retain air was very important to us. Read as many reviews as you can carefully to ensure that your back or neck pillow is not plagued by this issue.
Size
While some pillows follow the one-size-fits-all rule, others such as BCOZZY offer three different sizes of pillows, including a small size for kids. If the pillow being used is a size too big or small you might have the feeling like your head is bobbing around or is being strangled.
In order to avoid these kinds of problems, try to find a brand that offers different sizes or check the description to find out what's the diameter of the desired pillow. Size is important for other reasons too. Portability and saving space being among them. Our guide mainly consists of ones that fit most folks & is easy to pack.
If space is at a premium, you'll want to choose compact and lightweight pillows that can easily fit in your luggage. Inflatable pillows make a good choice here, while micro bead filled ones tend to be on the bulkier side. Certain pillows, like the Trekology on our list, can be compressed to the size of a soda can, making it a super convenient space-saving solution.

See some of the weirdest travel pillows in action:
Additional Features
Last, but certainly not least, there's a variety of additional features to look out for when it comes to travel pillows.
These add-ons can vary from pillow to pillow, so it's important to know exactly what you're looking for. Some pillows, such as the Cabeau offer a built-in pouch for your mobile phone. Others, like the Travelmate, have removable inserts so you can adjust the height and thickness according to your preference. Some will even come as part of a package with sleep masks, ear plugs & the likes. A packaged option tends to be more economical too.
FAQs
Q: Are Travel Pillows Expensive?
A: The overall features, quality of the materials used and general type of the pillow can greatly affect the price. Prices range from $10 for the simplest ones, up to $200 for more advanced options. Generally, most fall between the $10 and $50 price points. (Even the new versions)
Price doesn't always dictate quality, so the most expensive ones are not necessarily the best. It's always best to compare the prices of similar products, in order to make an informed decision and make sure you're getting your money's worth.
Q: Can Travel Pillows Help with Neck and Back Pain?
A: The well-made ones can certainly alleviate pain and discomfort caused by sitting for a prolonged period of time, but they're not long-term solutions. While travel pillows are great tools to manage the pain, they're not suitable replacements for exercise and medication.
On the flip side if the pillow doesn't fit you properly or if it happens to lose its structural integrity while you are sleeping then it can be the cause of pain rather than stopping it.

Q: Can you use a travel pillow indoors? Or is it meant only for travel/ outdoor use?
A: Although the name suggests it and they are primarily designed for travel purposes, all of these pillows can be used in other environments as well. Most of our picks above can be quite useful when driving, sitting at the office or simply spending time at home.
Sources: https://www.spine-health.com/wellness/sleep/different-types-pillows