6 Best Briggs & Riley Luggage in 2020 reviewed & compared
Searching for the best Briggs & Riley luggage in 2020? Check out our in-depth reviews, read our pros & cons, factors to consider and pick the perfect Briggs & Riley carry-on, underseater or checked option for you.
20 years ago, buying a new suitcase was pretty straightforward because if it had a decent zip, a handle and a couple of brass buckles, you'd be fairly satisfied.
It's 2020 now, luggage has come a long way and picking the right case for your travels can feel like a heck of a task.
Fortunately, when it comes to modern luggage solutions New York-based Company, Briggs and Riley, have been at the sharp end of the game since 1993.
If you're eager to opt for a Briggs and Riley suitcase or would like to switch brands but don't know which to choose, then keep reading.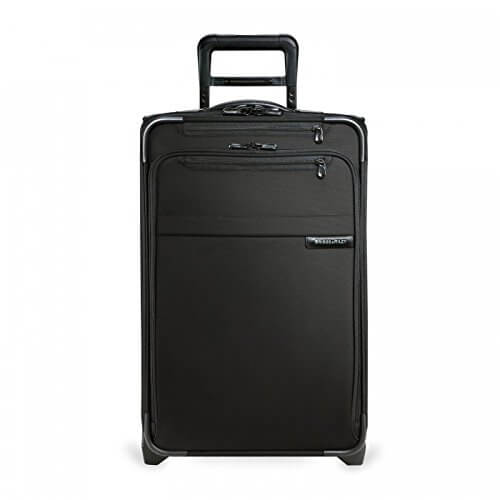 1. Baseline 22"
skip to full review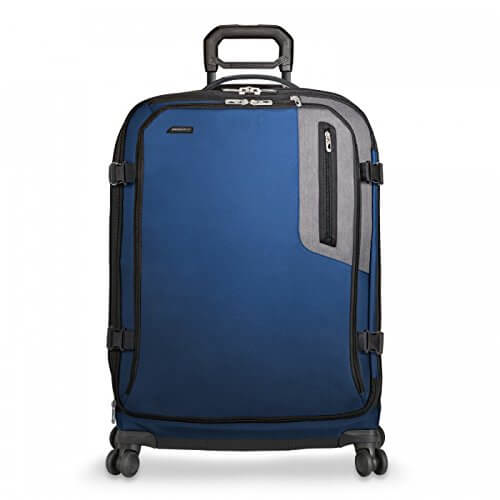 2. Brx Explore 29"
skip to full review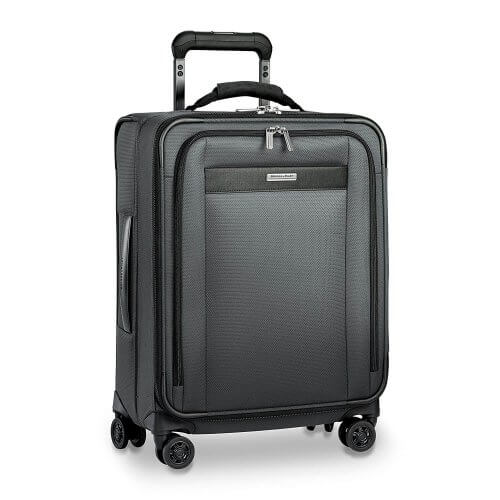 3. Transcend VX Wide 21"
skip to full review
Sort for:
6 Best Briggs & Riley Luggage in 2020
Criteria We Used to Evaluate
Picking the right piece of luggage may feel a bit like a lucky dip, but if you're ready to pay premium prices for a suitcase then it goes without saying that you should receive a premium product. Granted suitcases that have many organizational elements, and aesthetic appeal are great but what we were looking for is practicality to go hand in hand with that. These 6 picks we feel satisfied that among the other criteria listed below…
Life Time Warranty:
A problem with many luggage brands is that often it costs more to repair a product than it does to replace it, hence why we often opt for a cheap case assuming that we will have to replace an expensive one at some point anyway. This is where Briggs and Riley differ from many offerings by brands like Delsey, Samsonite, American Tourister etc etc. All their cases come with a lifetime warranty which covers more than just personal damage. Their warranty also covers airline damage. This is a major positive for us and even gets one over other luxury brands like TUMI something for you to seriously consider.
Q: Does the lifetime warranty include wear and tear caused by frequent use?
A: The lifetime warranty does not cover cosmetic wear (e.g. stains or odors) so if your shampoo burst open while you're on the road, you'll have to clean up the mess yourself. It does, however, cover general wear and tear, which means that if you use the case so frequently that a wheel falls off, they'll pop it back together free of charge.
Practical Design
Instead of just being a fashion statement, we expect cases in this price range to be functional, durable and meet the demands of real travelers and real situations. As a minimum, cases need to have a few inside pockets and dividers for toiletry storage and organized packing, a convenient outer pocket for your passport, and lockable zips for safeguarding your luggage while traveling. The cases on our list include all of the above, and some, such as the Baseline's and Transcend are also fitted with garment carriers. Briggs and Riley keep their designs simple and provide exactly what you need without unnecessary frills attached.
Quality Materials (Zippers, Handles, Wheels, etc.)
Softshell cases are made typically made from ballistic nylon or a two-tone nylon blend which is resistant to dirt, moisture, scratches, and wear. The cases also need to be flexible for easy packing but at the same time hold their shape so you won't be greeted by a squashed suitcase at the other end of a 12-hour flight. That's not all.
Premium cases tend to make use of military-grade zippers and aircraft-grade aluminum handles which are strong and built to last. Suitcases with these features tend to be on the heavier side but Briggs and Riley counter that issue by making their frames from lightweight hybrid fiberglass. The durability of wheels, handles & especially zippers was of prime importance to us. Even though the warranty is top notch, it can be painstaking to fix a broken zipper on the go.
Q: Can I repair the suitcase myself?
A: If your suitcase needs a minimal repair then Briggs and Riley will send repair kits to customers within the US so you can fix the bag yourself. They cover the ground postage and only charge a basic handling fee.
Size Range
If you're travelling with a budget airline like Spirit or Easyjet then luggage dimensions are very important if you want to avoid the extra cost of checking your luggage at the airport, so, for ease of transport, this is one of the reasons we haven't opted for too many widebody variants of the Baselines series especially. That includes carry on size restrictions for all main International, European and US airlines. Ideally, we also look for companies who produce their cases in a range of sizes which can be purchased as a set as it saves travelers from needing to shop about.
Other Features & Factors
Luggage Compression System
Something unique to Briggs and Riley is their clever expansion and compression system. While some of their models still feature an expanding zipper, the newest models are fitted with CX or VX compression-expansion systems. These are quick to expand while the case is open to give extra packing space and compress with just a little pressure when the case is closed. It's certainly a lot easier than recruiting a volunteer to sit on top of your suitcase while you tug the zipper shut.
Extra Spacious
A key feature of Briggs and Riley cases is the pull-out handle and frame which is mounted externally instead of internally like the majority of suitcases. This may seem like a minor detail but it's one that makes a lot of difference in terms of space. It also means that the bed of the case is flat so you can pack your clothes without too many creases because nobody wants to start their vacation by ironing their clothes.
There's no wasted space either. On some models, such as the Transcend and Baseline, Briggs and Riley have added an extra pocket between the bars of the frame for storing small bits and pieces so that you can get to them quickly.
Retractable ID Tag
If airlines lost a dollar for every tag that was ruthlessly torn from its case during transit we'd probably see a few companies going out of business. For this reason, Briggs and Riley cases feature retractable ID tags and they've even considered your privacy. Instead of flaunting your name and address behind clear plastic, the luggage tag hides inside a discrete plastic case which keeps your personal details safe from nosy spectators.
Are Briggs and Riley Worth the Money?
When you purchase a Briggs and Riley suitcase you're not splashing out a lot of cash for a fancy designer name, you're actually investing in a suitcase which will last for life. People who swear by Briggs and Riley do so because their cases are top quality and their lifetime warranty is the real deal. Admittedly if you don't travel often enough to take advantage of the warranty then a mid-range or budget luggage brand may be a better option. For frequent or long-term travelers, we think that a Briggs and Riley suitcase is defiantly worth its price tag.