Best Packing Cubes in 2020 Reviewed & Compared
Face it!
Packing cubes sound like a complete and utter travel gimmick. They feature heavily on articles about packing tips and we've all had our fair share of doubts initially.
Nonetheless, I will be the first one to admit that they are incredibly useful and handy.
And in all honesty, once you start using them you will be hooked for life.
The best packing cubes simply help minimize effort and maximize efficiency, creating an organized suitcase that keeps clothes wrinkle-free and consolidated.
Just cause the set of luggage you own isn't weather resistant does not mean you need to throw it away, just use these cubes instead!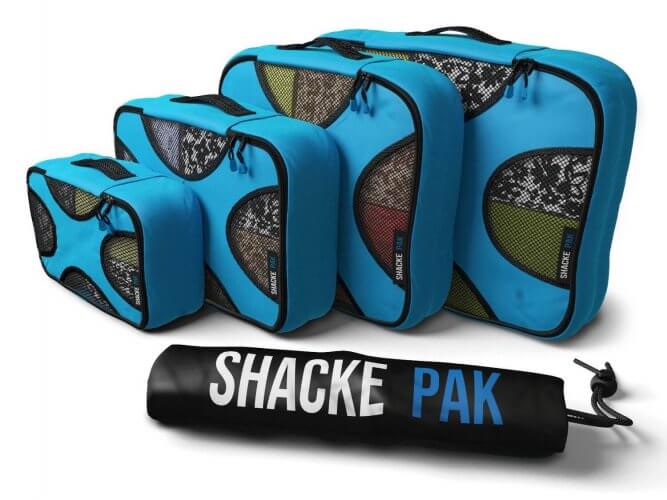 1. Shacke Pak - Packing Cubes 4 set
skip to full review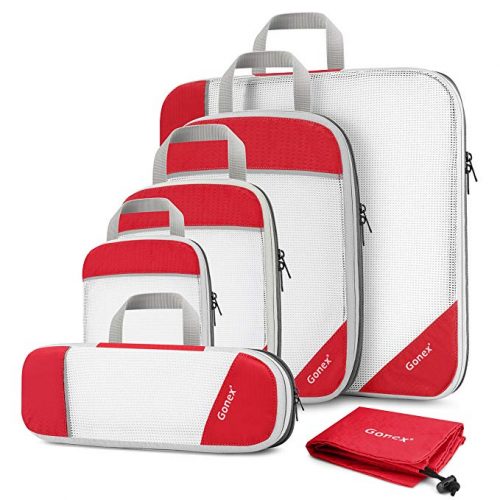 2. Gonex Compression Packing Cubes
skip to full review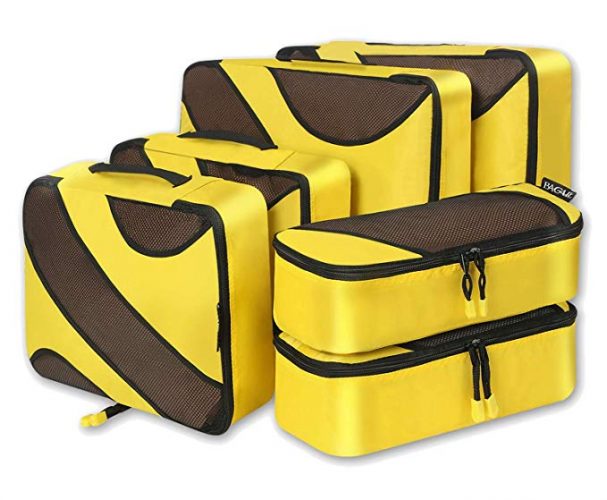 3. BAGAIL - 6 Set Packing Cubes
skip to full review
Sort for:
10 Best Travel Packing Cubes
We've spent hours researching, testing & picked what we think are the top travel packing cubes. This list also tries to cater to users with a variety of needs including one for those who want something waterproof.
Are packing cubes really worth it?
Well, from our perspective the answer is a resounding yes. Packing cubes are particularly useful in situations where you need to get to an item quickly without disrupting everything else or you just want to stay organized & like to compartmentalize your things.
I am pretty sure we've all been in a rush at some point and we end up churning our belongings in the search for a single item. Packing cubes offer a good solution in these cases & its applications extend to when you want to head out on a day trip or go backpacking. You can use the cubes to organize your electronics or clothes in your backpack too.
There are usually many techniques & tips that people follow when it comes to packing. Whilst it's true that you can find marginally more space for smaller things without packing cubes & save a few ounces, the positives still overshadow the cons in our eyes.
Packing Cube Comparison
Product
Image
Size
Signature Attributes
Colors Options
1. Shacke Pak
S - 11" x 6.75" x 4"
M - 13.75" x 9.75" x 4"
L - 13.75" x 12.75" x 4"
XL - 17.5" x 12.75" x 4"
Build Quality
9
2. Gonex
Slim - 13" x 3.9" x 3.54"
XS - 7.9" x 5.9" x 3.54"
S - 9.8" x 7.5" x 3.54"
M - 11.8" x 9.1" x 3.54"
L - 15.4" x 15" x 3.54"
Extra Compression & Mesh lid
8
3. Bagail
Slim - 13.7" x 5" x 4"
M - 13.75" x 9.75" x 4"
L - 17.5" x 13.7" x 4"
XL - 17.5" x 12.75" x 4"
Price / Quality balance
16
4. Eagle Creek
Compressed
S - 10" x 7" x 1"
L - 14" x 10" x 1"
Expanded
S - 10" x 7" x 4"
L - 14" x 10" x 4"
Extra Compression
3
5. PRO Packing Cubes
2 Slim - 14" x 5" x 3"
3 M - 13.75" x 9.75" x 3"
L - 17.5" x 12.75" x 3.25"
Ultralightweight
11
6. AmazonBasics
Slim - 14" x 5" x 2.8"
S - 11" x 6.75" x 3"
M - 13.75" x 9.75" x 3"
L - 17.5" x 12.75" x 3.25"
Economical
6
7. eBags Ultralight
Slim - 13" x 6.5" x 3.5"
2 S - 6.5" x 6.5" x 3.5"
2 L - 13" x 13" x 3.5"
Ultralight & Super Tough
5
8. TravelWise
Approx
S - 11" x 7" x 3"
M - 13 x 10" x 3"
L - 17"x 12" x 3"
Economical
9
9. eBags
3 M - 13.75" x 9.75" x 3"
Durability
9
10. TRANVERS
S - 8.5" x 6.5" x 3"
M - 11"x 7.5" x 3"
L - 14" x 8"x 3"
Waterproof
1
How to choose the best packing cubes
The list we've come up with is the result of going through hundreds & thousands of user reviews & extensive research to make sure you get the best travel packing cubes out there. We've essentially listed the features & traits of the different buying options so that you can choose the right one for your needs. Be in family travel or even backpacking these point's & explanations can guide you in your decision-making process.
What fabric/ material is used to make packing cubes:
Typically, Nylon or Polyester but there are some made of PVC too. Rip-stop Nylon works the best in our eyes & lasts you the distance. The fabric also plays a bit role in the weight of the packing cube which is all important. These cubes have to encounter a decent amount of friction especially if you are frequently accessing your stuff. The fabric has to be light but sturdy enough so it doesn't cave in when packed completely. Landing and finding out all your well-ironed shirts are wrinkled is a no go.
Durability
Zippers coming off on a cube is probably not as bad as it is on a suitcase but it's still a problem. We looked for reports of zippers coming loose & the brand of zippers that are used on the bag to ensure you get something that functions well even when subject to some abuse. If a mesh design was adopted to provide visibility & deal with moisture & odor then the toughness of this section is important. We picked models that don't tend to fray or rip when placed against sharp items like nails, pens, clothes' zips etc.
Size & Weight
Normally, we are taking things out of our luggage to make things lighter but these cubes often act as an enabler so the better organized you are, the more you can squeeze into your luggage. Hence we looked at the weights & variety of different sizes on offer. 1 to 5 ounces is usually the weight range we regarded as acceptable for small to large cubes respectively. Size variance is usually important especially for family travel.
Ease of use
Things like whether the sets come with a laundry bag (A practical & reliable one at that), moisture removal & vision are pretty important to any user. If you can't remember which cube you placed your gloves or socks in then it could be an issue in some scenarios. Cubes that have a mesh or some PVC that gives you a sneak peak into what's in them without reducing the overall durability is a big positive for us. Color is another rather underestimated feature. If you have a set where the individual cubes are of different colors then its probably way easier to identify your items.

Waterproofing ability is an added bonus but designs that are simply resistant fair quite well & complete waterproofed designs are in our experience a bit of an overkill. Additionally, if your set has 1 cube specially tailored for toiletry items (waterproof not just resistant) then it's a bonus as you can take the toiletry bag off your shopping list. Also in cases where you want moisture & odor to escape the mesh design can come to your aid. Another feature we rated highly was handles. If a cube can function on its own them it was a positive as most people's travel needs vary between weekend trips, just carry-on adventures & long-term travel etc.
Price
The variance in terms of price between the different options in our buying guide isn't so much but it definitely is not a non-factor. Eagle creeks tend to be more on the pricier side to reflect their high-quality finish. What we went for was more of a nice balance between variety(number of cubes) & price. Which is why our main recommendations tend to factor in price as well as the other important features needed to be taken into account.
From the business traveler to the backpacker, packing cubes will help make the organization of your suitcase much easier. Once you learn how easy staying organized can be even the laziest of us will be hooked.
Comment below and let us know how your luggage adventures unfold and your personal experiences.
FAQ
Q: Do packing cubes help you save space?
A: Packing cubes are primarily organizers. You indirectly save space by organizing your clothing and the rest of the contents of your suitcase or backpack within the cube/s. Compression packing cubes like the Gonex or Eagle Creek compress your clothing after packing and enable you to save a significant amount of space for more items.
For those who are wondering if a compression packing cube or a regular organizer is better…
Q: Packing cubes or plastic bags?
A: I'll be the 1st one to admit that I still use plastic bags to organize some of my gear like shoes & flip flops but these are used within the cubes themselves. The major difference between the two is structure. Structured packing is usually much more efficient than simply tossing various items into a suitcase. You can very easily separate your shirts, pants, undergarments for instance and access them easily.
You can place them in plastic bags but a travel packing cube does a much better job of preventing wrinkles and damage to clothing. Compression packing cubes also enable you to pack more items by helping you gain space without having to crush the contents of the suitcase in an unorganized fashion.
Depending upon the items plastic bags do have their advantages. It is best to place things like food items, wet or damp clothing (unless you have a PVC packing cube set) in plastic bags. If your shoes happen to have some dirt then they can be tossed into a plastic bag and then placed in a cube as well. It's also better to place shampoo bottles and liquids in a plastic bag rather than a packing cube if you don't happen to have a Dopp kit.
Q: Are waterproof packing cubes better?
A: No. Waterproof packing cubes are typically made from PVC which lacks the rip-stop capability, tear resistance, good strength to weight ratio. Also, travel packing cubes can never fully be waterproof as long as they have zippers. Zippers make it extremely easy to open and close the cubes but can allow water through. PVC is more vulnerable to sharp objects too.
With Nylon packing cubes you lack a bit of side support structurally which makes it slightly annoying to pack things. Packing cubes that are clear, hold their shape really well but are much harder to store since most travel packing cubes collapse 100% when not in use. A solution could be to buy just a smaller toiletry kit and regular options. This way even if any of your cosmetic items leak, the liquid stays confined to the kit.
Q: Now that I've seen the different sizes. Which size packing cubes should I buy?
A: This really depends upon their intended usage. The combination used in the eBags Ultralight set is perfect if you are used to traveling with just your carry on. Usually, 2 x (13″ x 13″ x 3.5″) cubes along with 1 small-long cube and 2 small cubes will work for carry-ons. Opt for a set that has a good range of sizes like the Shacke Pak or the Gonex if you happen to have a variety of uses. Ideally, you would want to have at least one or two 13″ x 10″ x 3.5″ cubes to place your clothing.
Q: Can you machine wash packing cubes?
A: Some brands mention that you can machine wash them on a cold cycle but we strongly advise against it. Irrespective of whether you have a basic Nylon packing cube or a variant like Cordura it is better to not machine wash these cubes as they can be damaged very easily. If you do decide to proceed, ensure you use a cold cycle & not a hot cycle on your washing machine.
Q: How can I take care of my packing organizers?
A: Most of the time traveling & regular use hardly cause any damage to these cubes, it's the cleaning process that does. Make sure you hand wash the cubes with cold water and not in a washing machine (even on a slow/ delicate cycle). When washing, avoid using fabric softeners as well.
When you dry the cubes after washing, make sure to dry it by hand using a towel or tissue and not using a dryer. Subjecting it to high heat will cause the threads to give way fairly quickly.
If the zippers happen to snag try to not fight it (especially if they are not self-repairing zippers) apply a lubricant like coconut oil and gently pull the cord.