10 Best Sleep Masks in 2019 Reviewed
Searching for the best sleep mask in 2019? Check out our pros & cons, factors to consider and choose the perfect eye mask for sleeping when traveling.
Not every flight or travel scenario involves adjustable LED lighting like the ones found on those ultra-long haul flights that make the news every now & then.
Even then, there are only so many variables you can control to ensure you get the rest you so badly crave.
Sleeping pills are one way to go but are certainly not the healthier option in the long run. Melatonin is a chemical your body needs to produce to help you fall asleep.
LED lighting for example, although great at conserving energy can be really bright. Sleeping masks are a great way to block light from your eyes and enable your body to produce melatonin.
When you are at home you can simply turn the light out but when you are on a plane or on a bus you don't really control the light switch. That's where sleep masks really come to the rescue.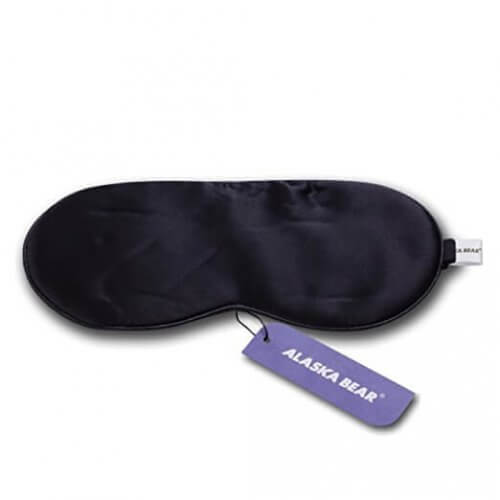 1. Alaska Bear Natural Silk Sleep Mask
skip to full review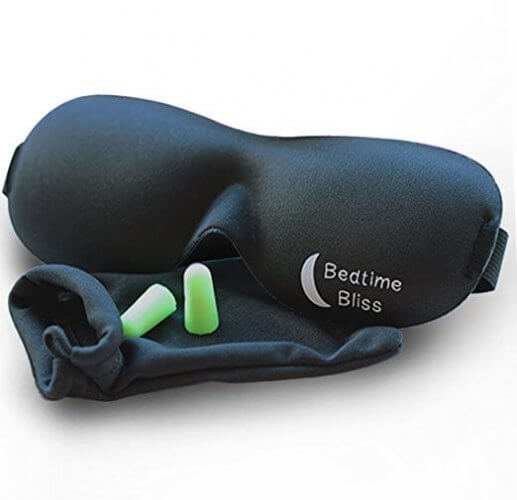 2. Bedtime Bliss Sleep Mask
skip to full review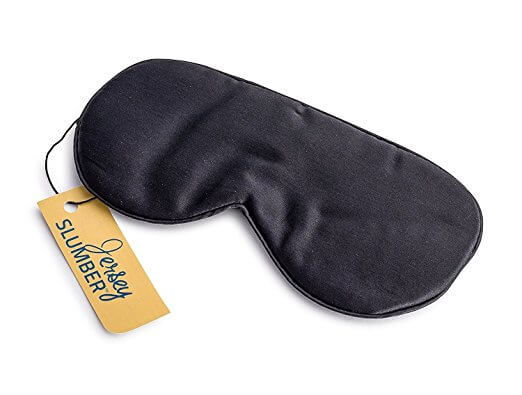 3. Jersey Slumber Silk Sleep Mask
skip to full review
10 Best Sleep Masks for your Eyes
Nowadays, eye masks do a lot more and can aid with relaxation, some designs muffle sound, some cool your eyes etc. We've combed through a whole bunch of designs and so you can easily find the right one for your needs.
How exactly do eye masks help me sleep better?
Having the perfect travel pillow or some earplugs can make a long flight or bumpy car ride more comfortable & can help you to some extent but not as much as sleep masks can. How exactly? Well, let's just touch upon the science involved with sleep.
The brain regulates the transition between wakefulness and sleep. Your brain also does the job of regulating the quantity and depth of your sleep. The Pineal gland in the middle of your brain naturally produces a hormone called melatonin. This usually occurs when the sun goes down and darkness sets in. As melatonin levels rise you feel sleepy or less alert. This hormone tends to stay elevated throughout the night till daylight or light is back in play.

In reality, many things like caffeine, bright light, screen time can hinder the production of this hormone as you are essentially mixed signals through your receptors. Which is why dimming the lights in your home at night or putting your phones away early can help you sleep easier. Sleep Masks essentially help you regulate your exposure to light or darkness. Sometimes even the screen next to you on an airplane can be enough to keep you awake all night. Masks that block the light 100% or even 99% of the time can supplement this process.
Factors to consider when buying sleep masks
Here are some of the factors that can play an important role in which mask you choose to buy. These can be quite subjective but we hope the criteria we've used to pick can also aid you in your decisions.
Usage Scenario
Before we jump into things like material, weight, durability etc. It's important you know where exactly you plan to use the mask. Is it during regular travel? At home every day perhaps? All these can shape which design you opt for. How you tend to sleep is another element that needs to be factored in. If you like sleeping on the side then pick ones like the Dream essentials Luxury mask that excels in those aspects. Also, are you using the masks just to block light or for something more like pain relief, keeping your eyes cool or relief from migraines, perhaps? Thicker options like Imak are ones to take a closer look at in this case.

Material used
The most commonly used materials are silk, satin, cotton & even gels & beads. Each has their own unique properties which they excel at. If your need is ultimate comfort than silk is usually the way to go. Some silk masks also have a Satin lining which helps it block 100% of the light instead of 99% which makes it a formidable option. Silk is pretty great especially if you have sensitive skin and are in need of something really soft. It's hard to wash these, however.
Cottom is very breathable which can make your experience that comfortable. And just like silk, its also very light so many masks that were featured on our list are made of either silk or cotton. We looked for things like Satin linings which enriches your experience by providing a soft alternative for a nose bridge. This is the region that can really get uncomfortable if you happen to lie face down or if the straps really tight.
Gels & beads were also an interesting option and one which we found to be highly positive. The beads do a great job of evening out pressure points and the gels give you temperature adjustment options. This sort of versatility is something we looked upon favorably and so can you.
Shape, Size & Weight
This factor can be extremely subjective. Hence, what we essentially looked for is the ability of a mask to cater to a wide range of face sizes & shapes. Pretty much all on our list are quite light, despite some designs being on the bulkier side. Aesthetics aren't something we gave too much importance to. Functionality was key.
Some designs wrap around your head completely whilst others feature contoured sections for your eyes. All these variations give you interesting alternatives to choose from. Flatter designs excel at being extremely comfortable and the snug fit can be uncomfortable if not well executed. Which is why you see many of these utilizing silk to give you that balance. These tend to do a great job of blocking out light as long as you sleep straight and not move around too much.
Another positive contoured designs have going for them is that they are excellent for side sleepers typically as the masks don't tend to move around a lot. This is an additional benefit to blinking and opening your eyes when the mask is on of course.

Makeup Preservation
Again, this depends on your usage scenario. If you are traveling long distance and don't mind if your eyeliner or makeup gets all messed up then you can pick your mask based on other criteria. Makeup protection is something we regarded very highly as this can be vital for business travelers and even those on shorter trips. Business meetings are events where you really need to look your best and you'll need a mask that aids you in achieving that. Having said that our top pick doesn't do the best job of preserving appearances but many others (particularly contoured designs) at the top do. Again this can be subjective to your preferences.
Durability 
Just like almost every product out there, we wouldn't want to be buying these often. Many designs feature adjustable straps which aid in making the experience comfortable and helps to make sure all the light is blocked out. Designs that features metal or plastic strap designs were preferred over the velcro options as the latter tends to come loose over time which affects overall durability. Yes, velcros are easy to use but if you are looking at a mask for everyday use then the adjustable straps will last you longer.
The durability of the eyecups is of paramount importance for us. We looked closely at the ability of the eye masks to keep its layers from wearing or coming apart during regular use. The durability is also influenced by the material surfaces used. Some materials can be washed whilst others can't so any moisture or dirt can have a negative impact on some designs like the Jersey Slumber.
Sources:
https://sleepfoundation.org/sleep-topics/melatonin-and-sleep
http://healthysleep.med.harvard.edu/healthy/science/how