10 Best Luggage Sets Reviewed & Compared
Ever been in a situation where you find that one of your suitcases is too big for your trip, but your other one is too small?
Our trips often vary significantly in length from one to the next. I think you'll agree that nobody wants to bring a bulky 29" suitcase for a 4 or 5-day trip, or a tiny 18" one, for that matter.
This is one of the many reasons why luggage sets are the way to go.
Additionally, if you are looking for something for the whole family, our list of luggage sets would be ideal.
Factors like size, nesting capability, durability, and more are important in picking the right set for you.
We've researched and tested various options on the market to figure out which luggage sets offer the most value and narrowed our list down to these 10.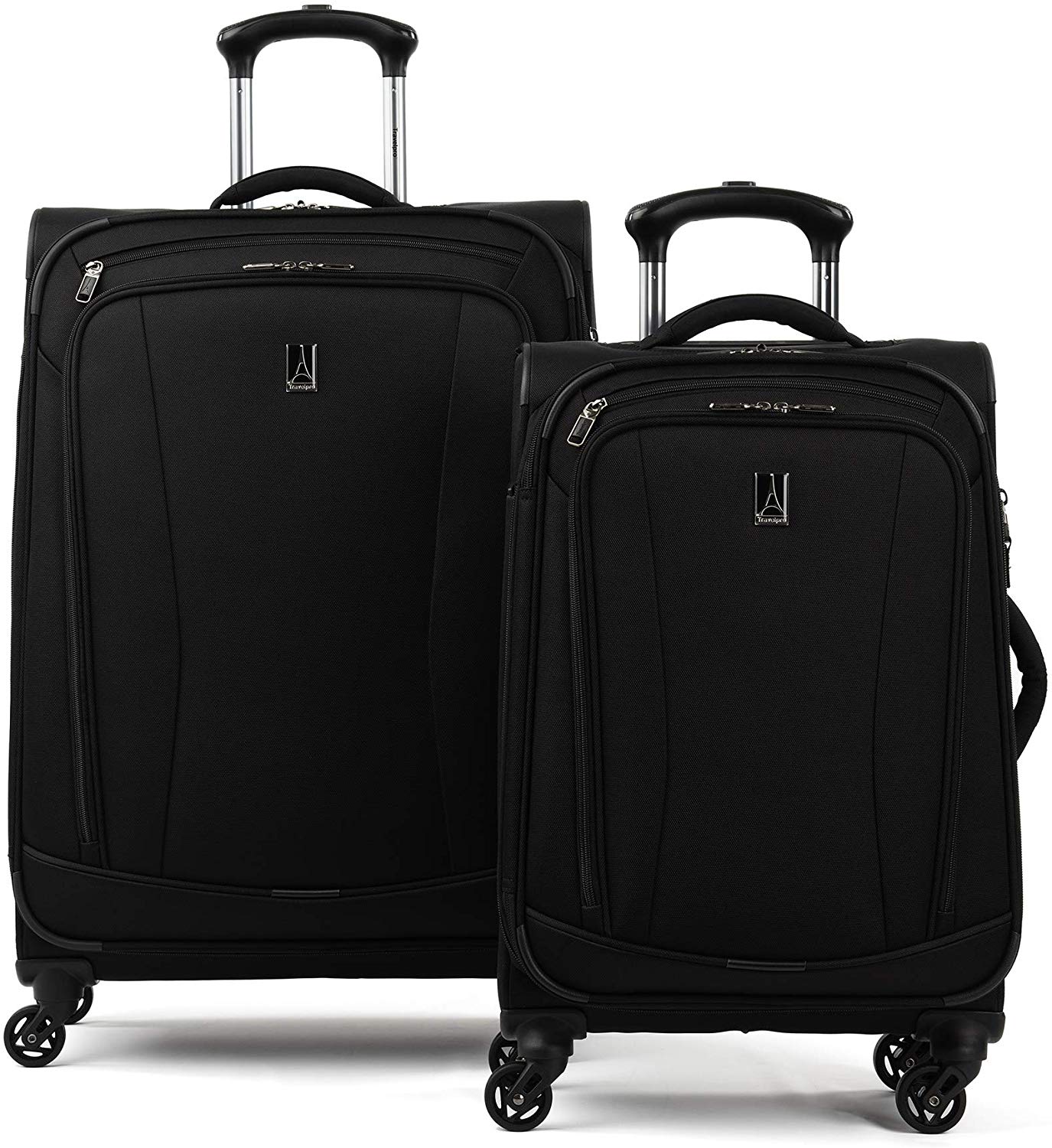 1. Travelpro TourGo 2 piece set
Highlights
Extremely light at an excellent price.
skip to full review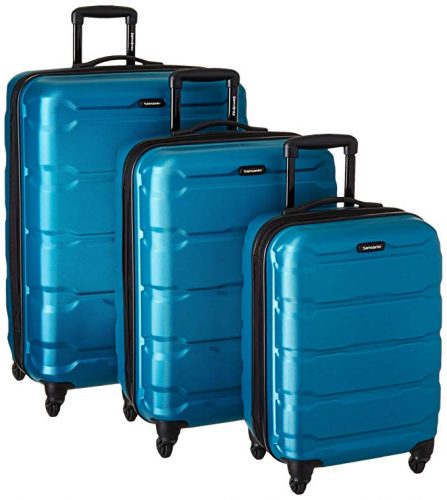 2. Samsonite - Omni PC 3 piece
Highlights
Well-made & as sturdy as they come
skip to full review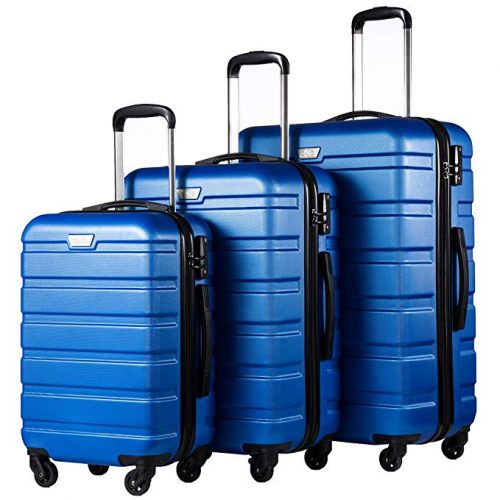 3. Coolife Luggage 3 piece Set
Highlights
Affordable & light. Coolife offers good customer service.
skip to full review
10 Best luggage sets for travelers in 2020
Some of these sets contain everything from large checked suitcases to small travel bags, and others are simple matching carry-on and suitcase pairs. The comparison table at the end of the list also shows the size and weight of each individual suitcase in the set.
Luggage Sets Compared
Product
Image
Size
Weight
1. Travelpro TourGo
21", 25"
6.5 lbs, 7.7 lbs
2. Samsonite Omni
19" x 14.5" x 9.75"
24" x 17.5" x 11.5"
28.5" x 20.5" x 13.5"
6.81 lbs, 8.34 lbs, 10.35 lbs
3. COOLIFE
20", 24", 28"
6.3 lbs, 7.9 lbs, 10 lbs
4. Samsonite 3-Piece Set
Overall Dimensions:

20" - 22.5" x 14.5" x 9.5"
24" - 27" x 17.25" 11.3"
28" - 30.5" x 20.5" x 13.25"
6.97 lbs, 8.9 lbs, 10.96 lbs
5. Travelpro Maxlite 5 Set
21", 25", 29"
5.4 lbs, 7.3 lbs, 8.5 bs
6. AmazonBasics 3 Piece
21", 25", 29"
6 lbs, 8 lbs, 10 lbs (Approx)
7.Merax
20", 24", 28"
6 lbs, 8 lbs, 10 lbs
8. Delsey
21", 25", 29"
8.4 lbs, 10.2, 12 lbs
9. Travelers Choice
15" x 11" x 6"
21" x 13" x 7.5"
1.8 lbs (tote), 8 lbs
10. American Tourister
21" x 24"
7.5 lbs, 9.3 lbs
Note: External Dimension measurements include wheels & handles.
Advantages of opting for luggage sets
Travel frequency and duration: If you are purchasing the set for yourself, make sure you actually have a need for all 2, 3, or 4 pieces. If it's for your whole family then it's a much easier decision. If you are unsure, choosing a carry-on/checked pairing would be an ideal solution. Some luggage sets even come with 5 to 8 pieces, including packing cubes, that offer you a chance to have an entirely coordinated packing setup.
What sizes are optimal in a luggage set?
This depends on where you intend to travel, whether you're traveling as a family or as an individual, etc. Generally, this combination of sizes is what we find works best;
Set of 2: 20,″ 28″
Set of 3: 20,″ 24,″ 28″ or 21,″ 25,″ 29″
Set of 4: An underseater, 20,″ 24,″ 28″
We have chosen the 20″ as the carry-on size with international use in mind. If you intend to use your set purely for domestic travel, then a 21″ carry-on would work best. Additionally, for international travel, you could opt for a 31/32″ instead of a 28 or 29″ suitcase. This will give you more flexibility and packing room to bring home some souvenirs.
Most brands list the size of the case, not the overall dimensions of the luggage; even though the 21″ is listed as such, its overall dimensions ware closer to 22.75 or 23", exceeding the 22″ carry-on size recommended by many international airlines.

Nesting Capability: Nesting capability was essential for us.
What do you mean by nested luggage set?
It's basically the ability to place one suitcase into another, like the famous Russian Matryoshka doll. Any suitcase that can't be nested becomes quite a pain to store, especially if you have the habit of traveling seasonally. This is an advantage of choosing sets since matching luggage tends to fit better. A good rule of thumb: if there is a gap of 4″ between each suitcase, they should nest quite comfortably within one another.
Price: This is another big advantage of purchasing a set. Many suitcases (not all) in the market are much cheaper when bought as a set compared to individual buys. This way, you can get the best of what's available, even from the big brands, at a lower price.
Hardside set or softside set?
Hardside
Softside
Variants
ABS, Polycarbonate
Polyester/Nylon Variants (Ballistic, Ripstop)
Aesthetics
Brighter & darker color options but can scratch easily
Mainly darker colors with better abrasion resistance
Overall Durability
Very good (Model Dependent)
Very good (Model Dependent)
Weight
Very Light
Light (feature & brand dependent)
Flexibility
Inflexible
Highly Flexible
Protection
Excellent (Ideal for fragile items)
Good
Organizational Features
Very limited
A wide variety
Price
Cheaper
Varies based on features
Note: When talking about durability we considered the handles, zippers etc., not just the material alone. While the polycarbonate on its own is quite durable, many softside models have sturdier wheels, handles etc. (overall package)

Aluminum luggage such as the Rimowa models are not so common but are the best in terms of durability.

Tegris by Tumi is a polypropylene thermoplastic composite that has excellent impact resistance but is extremely expensive. Tegris is also 100% recyclable and is certainly one to watch in the future.

Things you look for when buying any set of luggage:
Wheels – Spinners are much easier on the shoulder, and that's why they dominate our list. Having said that, rollerboards tend to be best at navigating rough surfaces. Double check to make sure the durability of the wheels is good when purchasing a set. Matching the construction style to your own needs really helps.
Color – Hardside luggage usually has more color options to choose from. A set of 4 black bags can be quite challenging to spot at the baggage carousel, even if you do have luggage tags on them. Some brands do offer a number of color options on soft-side luggage, but it's important to make sure that the luggage is stain-resistant.

Zippers and Handles – We looked to see if each piece in the set had handles on both the side and the top to make lifting it easy. We also highly valued zippers to cover handles and help aesthetics.
Weight – It's quite common to utilize both the carry-on and check-in suitcases. Ensure that each one in the set is light with respect to the class it's in. If you simply want the lightest, the IT or Travel Pro should do the trick. You can always get yourself a luggage scale for your travels too.
Packing Capacity and Organizational Features – The individual suitcases amongst the sets we picked have plenty of packing volume. They also function well when packed completely without tipping over. Most of the sets on our list are for travelers on a budget. Having said that, the presence of at least basic organizational features are important. Pockets for easy-access items and toiletries are also something you need to look for.
Warranty – In our research, we valued companies that offered extended warranties and facilitated easy access to spares. Many of the top brands offer at least a 5-year limited warranty.
Is the price of luggage sets always lower than when you buy them separately?
No, not always. In many cases, especially on the high-end models, the sets aren't discounted. There are exceptions, but from what we've seen, the ones we've listed above offer the most value. It is always wise to check the price of individual models and compare so you never miss out on limited-time deals, especially if you decide to go for higher-end models.