10 Best Travel Adapters & Converters for your international trip
You'll probably agree with me when I say that carrying a growing number of chargers and wires is a pain.
As annoying as it is to forget a charger, it's probably equally annoying when you need a different type of adapter for each new country.
To top it off, different countries have different voltages and socket types (usually ~120 ~230V).
Since we don't live in an ideal world, travel adapters are a necessity, and our list will help you choose from the cream of the crop.
A good travel adapter typically works in most, if not all, countries—but a great one enables quick charging, caters to multiple devices, protects those devices, and reduces the number of charging plugs you need to carry.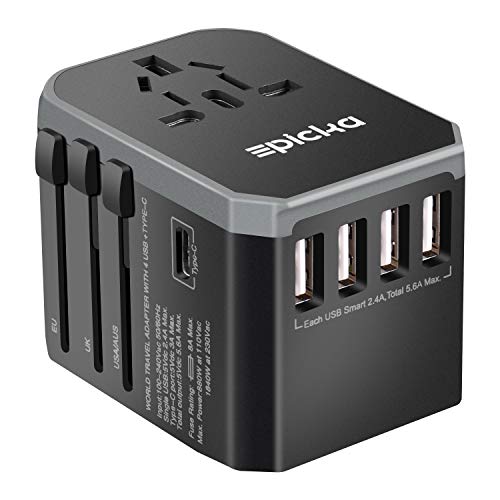 1. EPICKA All in 1 adapter/ USB Charger
skip to full review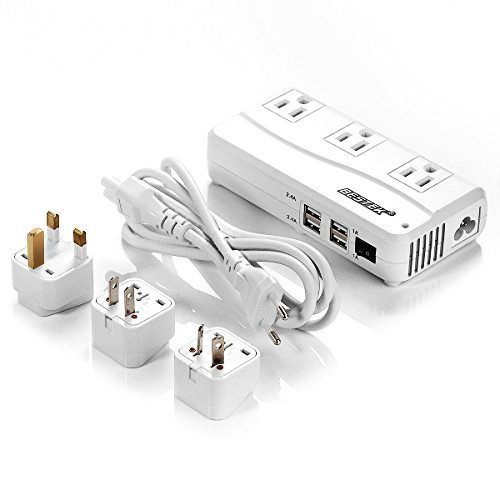 2. BESTEK Universal Travel Adapter/ Converter
skip to full review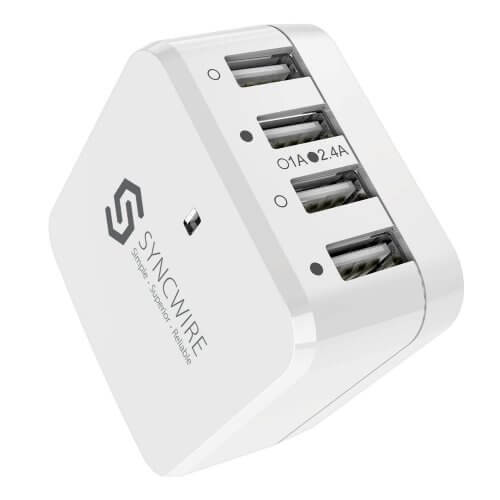 3. Syncwire USB Wall Charger with Adapters
skip to full review
Sort for:
10 Best Travel Adapters in 2020
To save you time, we've done the research, scoured the web, and come up with our list of the best travel power adapters. Please check the comparison table below the list to see which ones convert voltage.
Travel Adapters Compared
Name
Image
Charging Options

Plug Types
Voltage Conversion
1. EPICKA - All in 1
1 AC + 5 USB
A, B, C, E/ F, G, I, J, L
No
2. BESTEK Universal Travel Adapter
3 AC + 4 USB
B, G, I
Yes
3. Syncwire - USB Wall Charger Travel Plug
4 USB
B, G, E/F
N/A
4. Orei M8+ (Grounded)
1 AC + 1 USB
B, E/F, G, I, J, L
No
5. Ceptics Adapter Plug Set
1 AC
B, C, E/F, G, I
No
6. Poweradd Travel Power Adapter Kits
2 AC + 2 USB
A, B, G, E/F, G, I
No
7. ElecLead - 2000W Converter/Adapter
1 AC
A, B, C, E/F, G, H, I, J, K, L, N
Yes
8. Ceptics World Travel Adapter Kit
2 AC + 2 USB
A, B, C, E/F, G, I
No
9. THZY International Travel Adapter
3 AC + 4 USB
A, B, E/F, G, I, L
Yes
10. TESSAN European Adapter Plug
1 AC + 2 USB
C
No
Note: These adapters (Except the ElecLead) were primarily designed for electronic devices and smaller electrical devices. These should not be used for high wattage devices like flat iron, hair dryer etc.
How to choose the best travel adapter
There are quite a few considerations you need to take into account before you decide on which adapter best fits your needs. We've listed some of the questions that definitely need answering.
Will my travel adapter work in every country?
This is probably the most important factor when making your decision. Which adapter you choose depends on how frequently and where you intend to travel. The ones on our list cover 4-5 of the plug types out there, which should cater to most people's needs. Some plug types like the L or J aren't too common, so many universal adapters tend to skip them.
If you are searching for an adapter that minimizes all the wires and plugs you carry, then you also need to make sure the adapter has all the pins necessary to function, regardless of where you are going. We highly recommend you use a travel power adapter with at least three different pin types.

Is it compact?
This might appear like a non-issue in the beginning since one adapter might tick all the boxes for you, but the positioning of the outlets can make things uncomfortable. It's quite common that you find after checking into a hotel that the power outlet is tucked away under a bed or in a tight gap somewhere. Wall chargers would be hindered in this situation. If this scenario seems familiar to you, opt for an adapter that has a sleeker design or an extender like the Maxboost; that way you don't have to stretch or move the bed every time you need to connect or disconnect your charger.
Should I opt for an adapter with 2 or 3 prongs? Is the grounding element really important?
It's normal these days for wall sockets to have three slots, including one for grounding. Your laptop charger, for instance, often has three prongs, not just two. I am sure we've all been in a situation where we wondered if it's okay if the adapter outlet has just two prongs instead of one. The three slots in/two prongs out adapters are generally used for outlets in older homes that don't have proper grounding. This is not good practice, however. If your device malfunctions, the charge does need proper grounding to escape. Otherwise, it can pass through your body, which can prove to be painful or much worse.
Grounding is definitely important. Having an adapter with a metallic grounding pin, not a plastic one, is definitely better. Having a continuous metallic pathway is key. If the grounding prong is plastic or the wall box is plastic, then the current will have nowhere to escape. New buildings generally come with proper grounding, and the devices themselves are better insulated than in the past, but grounded adapters still add to your safety.
Charging Speed: There is always more to this than meets the eye because of how complex Lithium batteries are. Normally, the more amps, the quicker the charge, but smart devices also regulate the speed at which charging takes place. Opting for an adapter with a smart IC might be better than just choosing a 2.1A over a 1A option. The chip inside your charger also has to match the 2.1A rating if it's going to have any effect. There are multiple phases and the fast charging process accounts for only about 80% of the total.

What's the difference between normal USB slots and dedicated charging ports?
The normal ports have a 500mA rating, and the dedicated ports come with a rating of up to 3000mA. As a result, if you take any device that has, let's say, a 1A charger, you can easily plug it into a 2.1A USB slot. This won't damage your device and can even ensure faster charging.
I am worried about the different ratings. Is there a chance my phone or tablet will get damaged?
Nope. There's pretty much no chance of that happening since you can plug in any device into any USB port. You only need to be concerned about the adapter's voltage conversion capabilities.
Some of the adapters even come with USB type-C, is that faster?
USB type-C chargers are extremely fast—they deliver 100 watts of power at 20V, while a standard USB can only handle 5V. If you happen to have a USB type-C compatible device, this would aid you greatly. Also, this slot is backward compatible, so you can just as easily insert your regular phone charger cable into the USB-C slot.
Voltage Conversion: There are a few items on our list that do not convert voltage. Different countries have different voltage settings. It can be a pain to try to remember the voltage used in every country or region, especially if you are on a relaxing vacation. We recommend you look for an adapter that converts voltage, or simply check to see if your laptop, hairdryer, or whichever device you intend to bring with you works in dual voltages. Voltages typically range between 100 – 240V across all regions.
How do I know if my device is dual voltage?
Typically, newer devices run smoothly on dual voltages. Although the dual voltage support is becoming less and less of an issue on newer devices like hair dryers, smartphones and the like, it's always best to check. Check the label on your phone charger or whichever device you are looking to take with you.

Make sure you look at the "INPUT:" section. It should read "100-240V," which means you don't need a voltage-converting travel adapter. If it reads "120V" or "240V" then ensure you do use a voltage-converting adapter so you don't damage your device.
Other Factors: Grounded options are preferable as they protect your devices, and most of the time they are also better designed. The three-pin options grasp the wall better than some two-pronged options. Weight and the amount of wires might be something else that matters to you. If you are traveling with family or a group of friends, a power strip type like the Maxboost or even the Syncwire wall charger could be great so no one has to wait around to charge their device.
Sources:
Pocket-Lint, USB Type-C is here
ExtremeTech, How USB charging works, or how to avoid blowing up your smartphone
The Spruce, Two-slot vs three slot outlets